Regular price
Sale price
$42
Unit price
per
SALE!
Sold out
Read Important Note section below before purchasing.
Keep everything running during a power failure with this mini-UPS 12V DC power bank made especially for Konnected. This 7800mAh Li-ion battery can power your entire Konnected system for up to 14 hours!

This device plugs in to your 12V power adapter and automatically and instantaneously switches over to battery power if the household power fails.
It's also suitable for backup power for a WiFi router, cable modem, or any 12V DC consumer electronic device.
View full details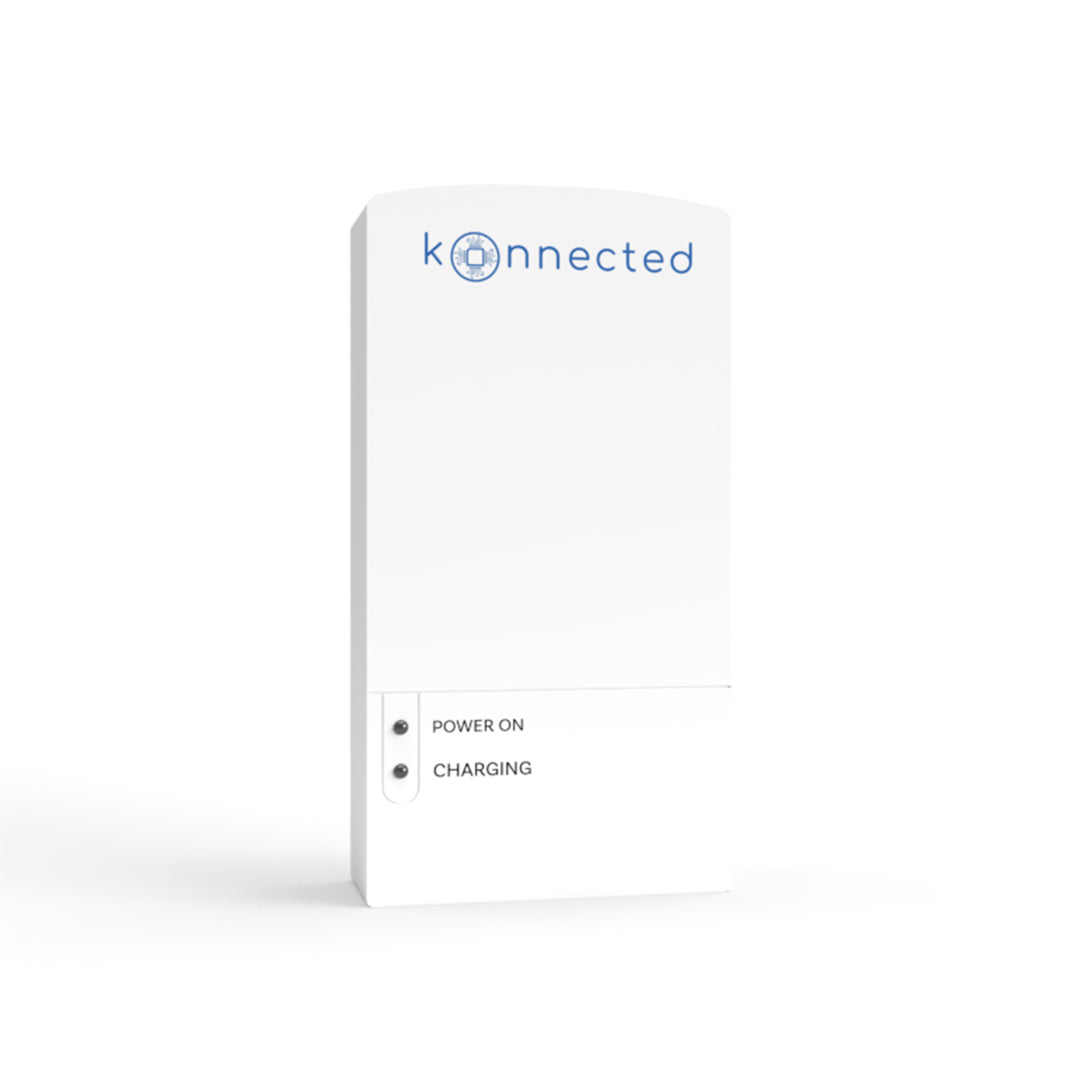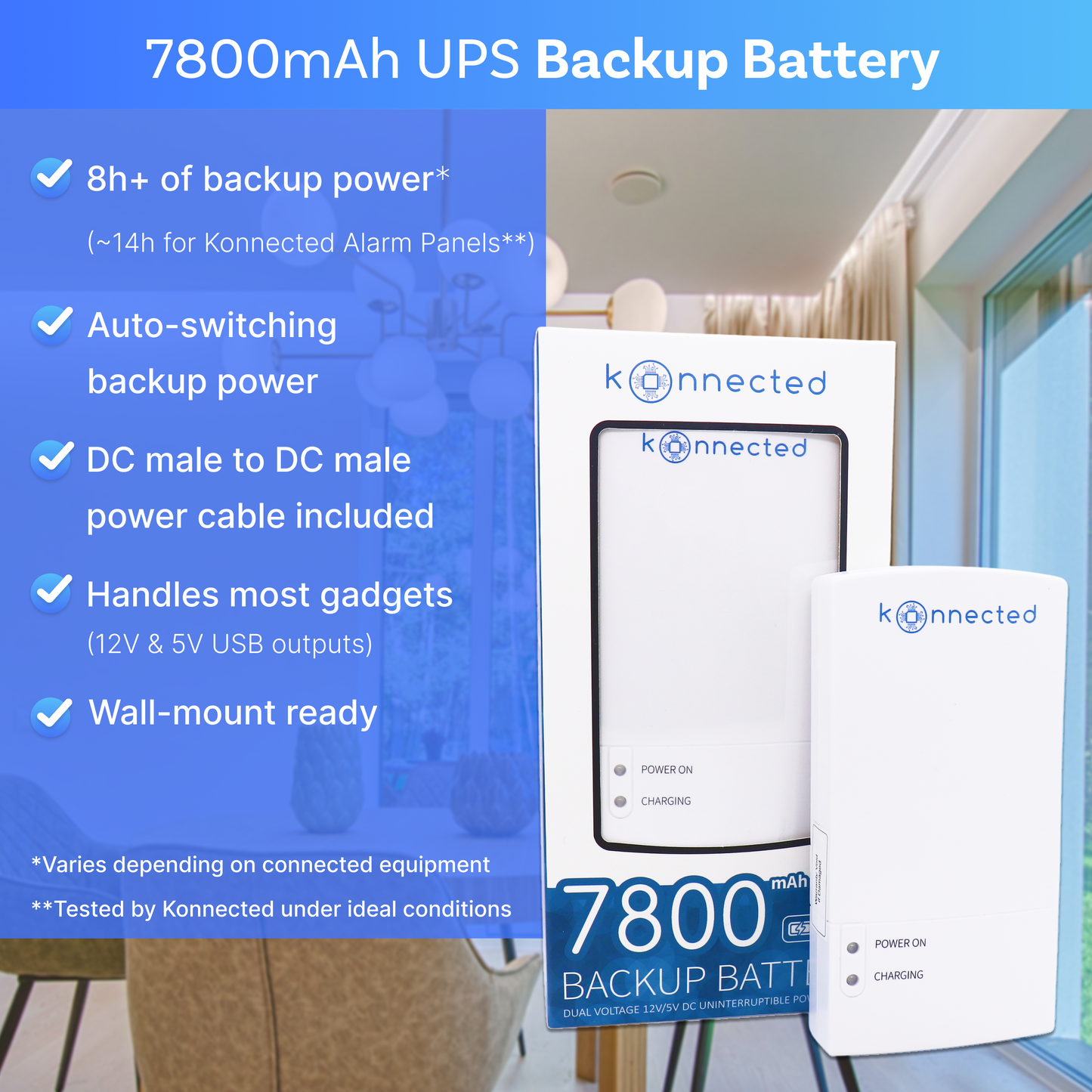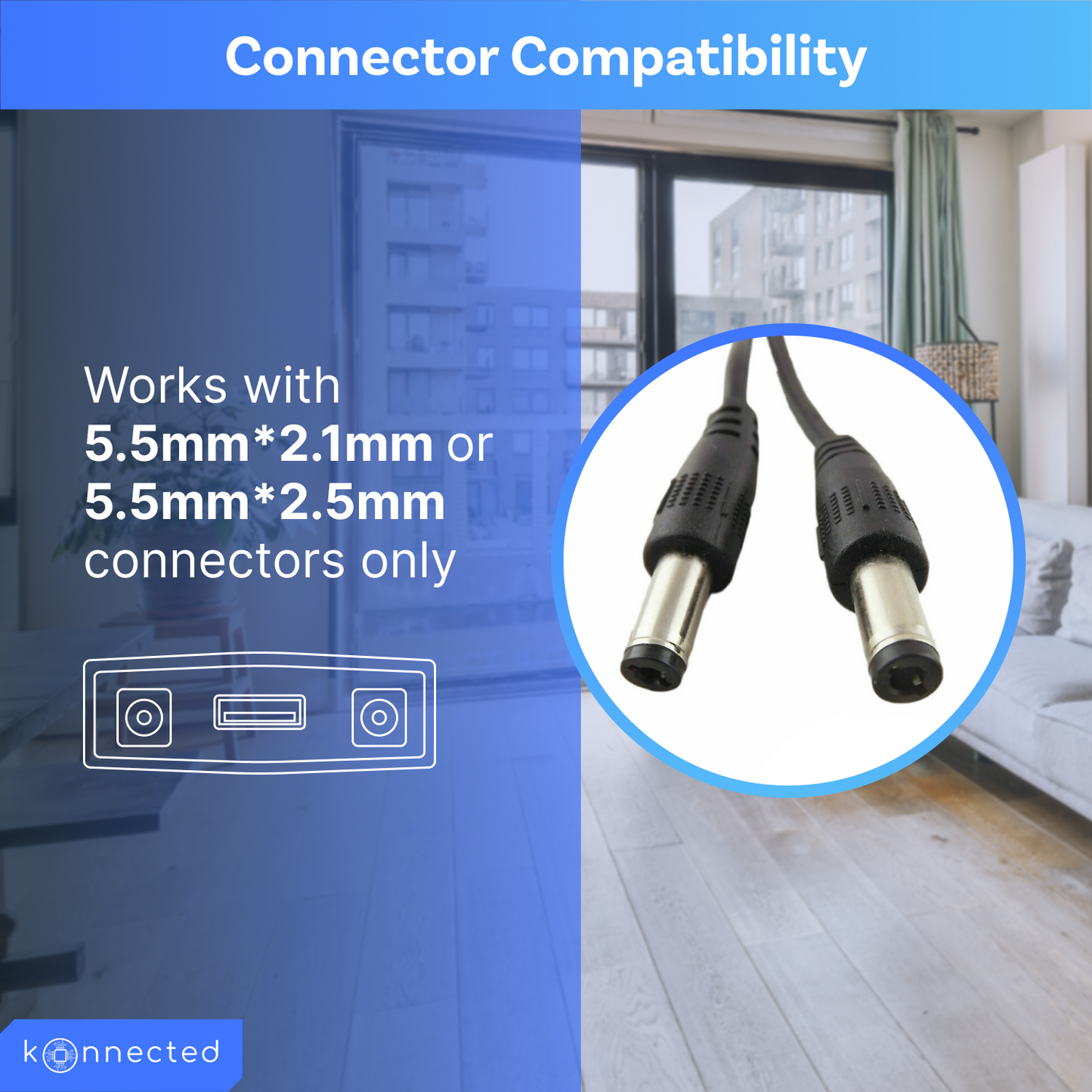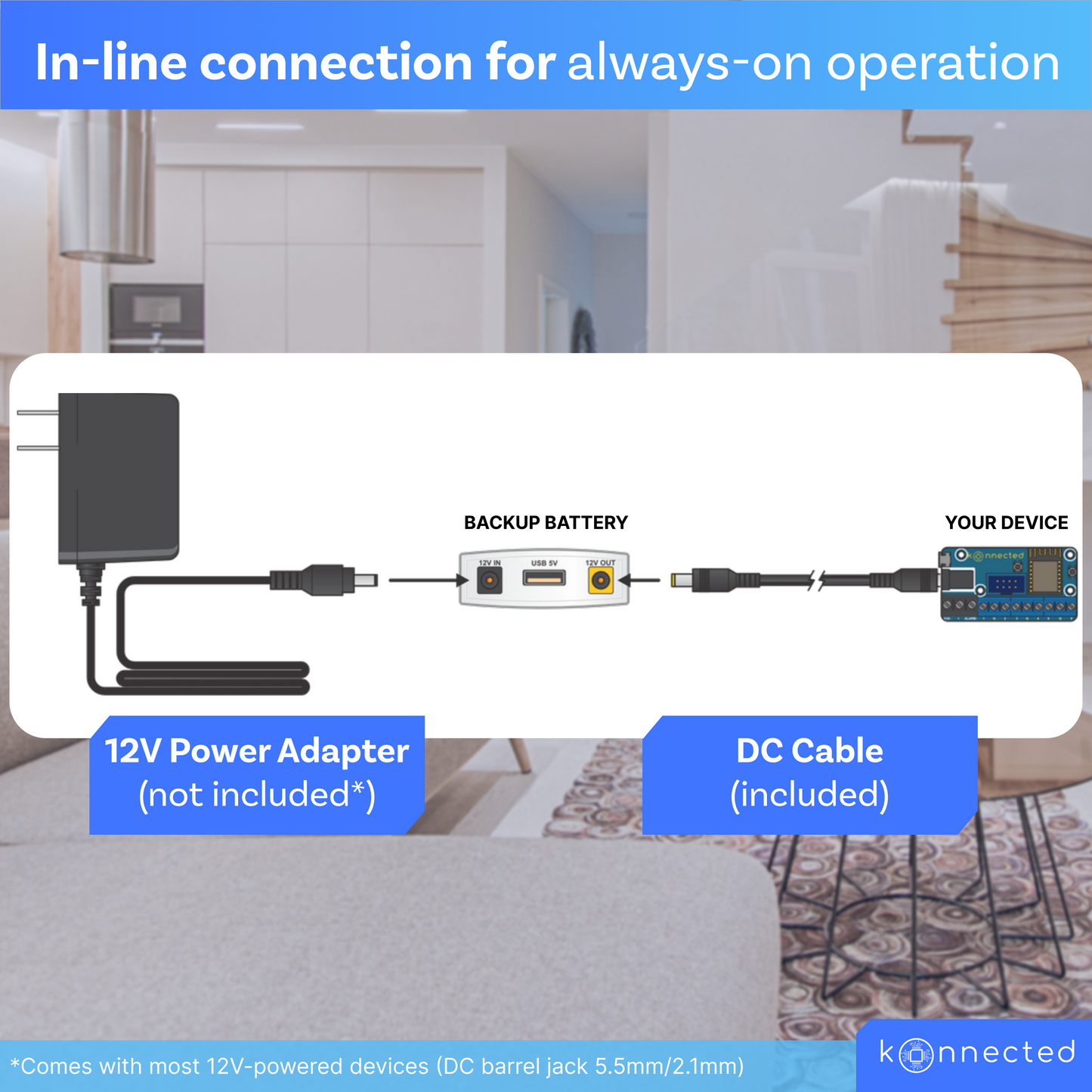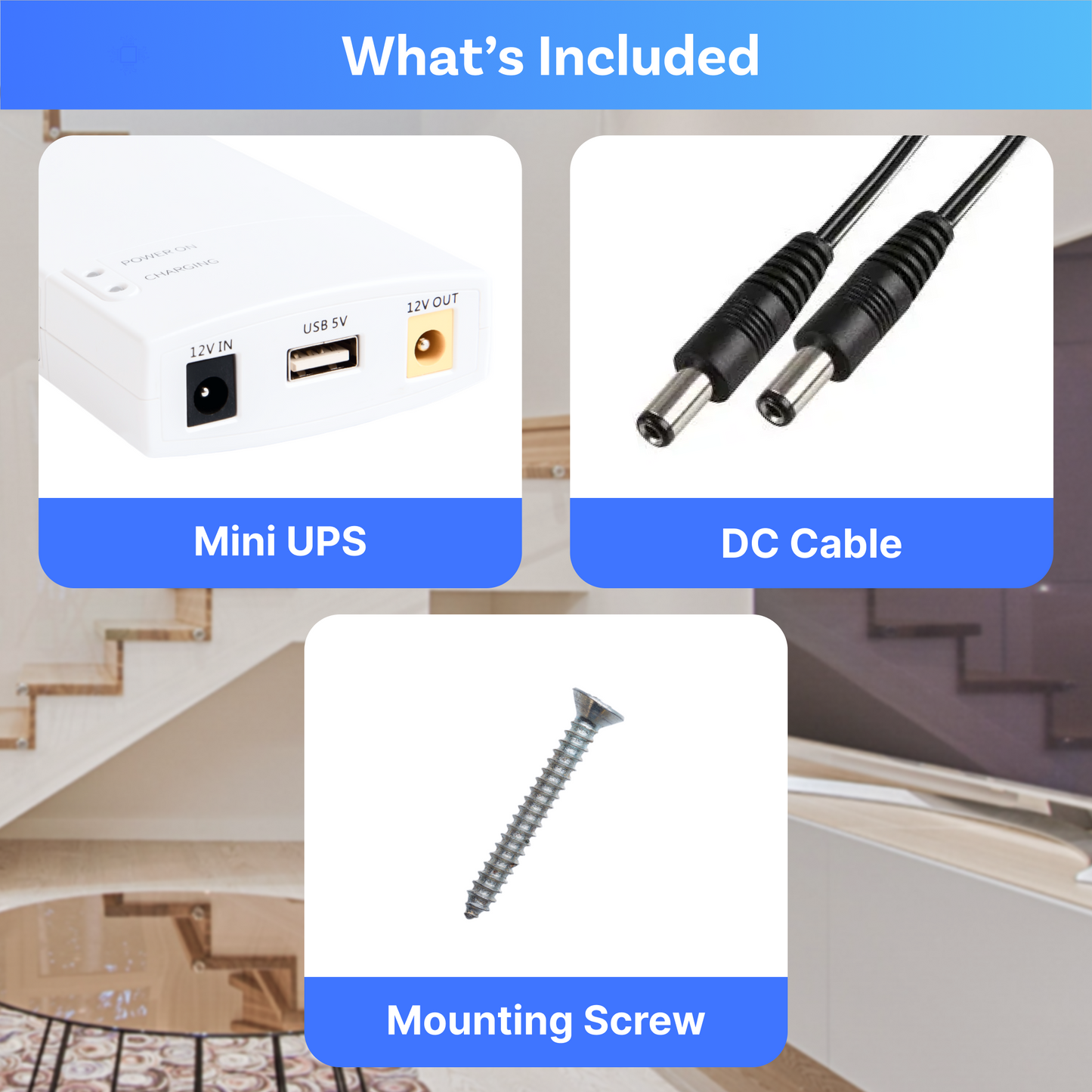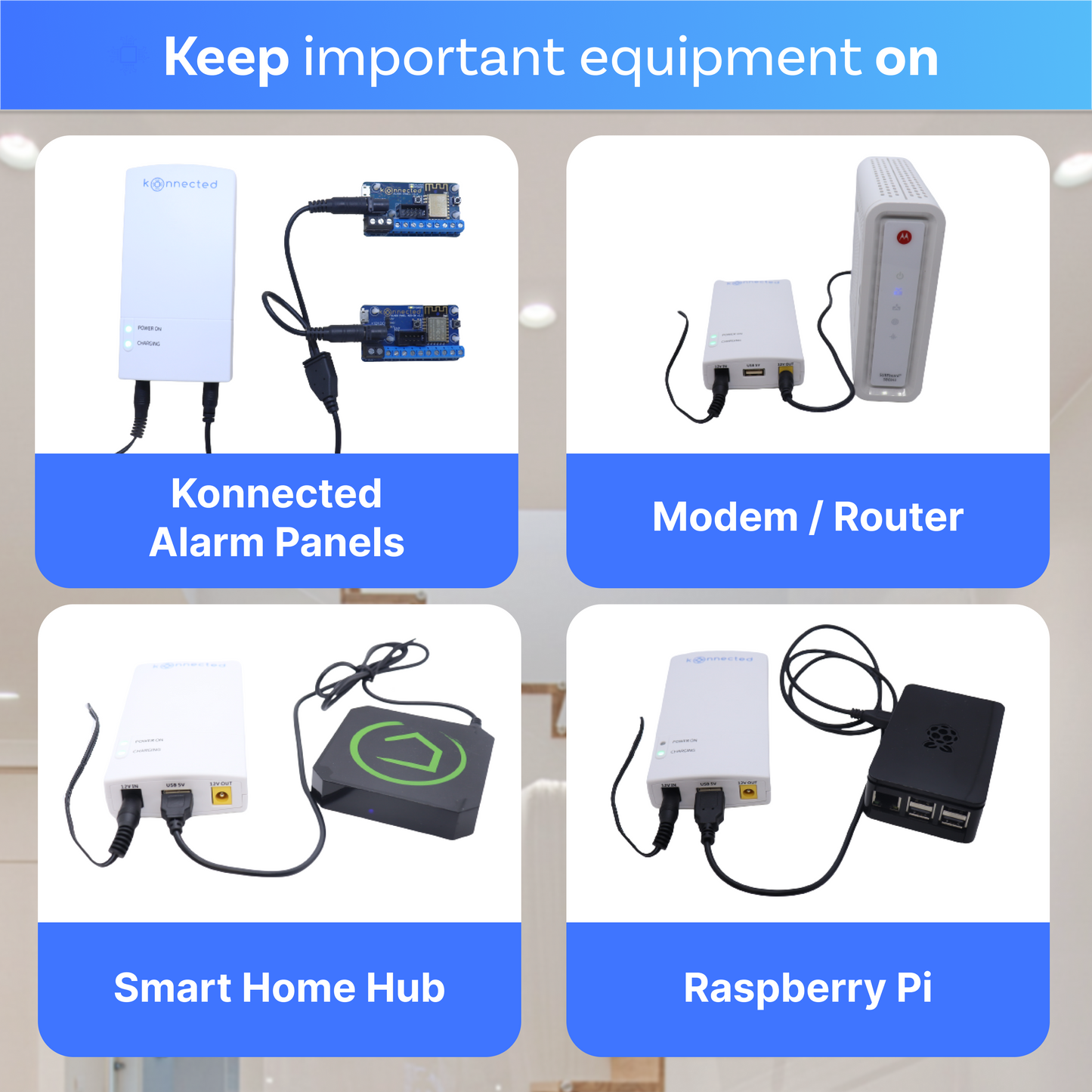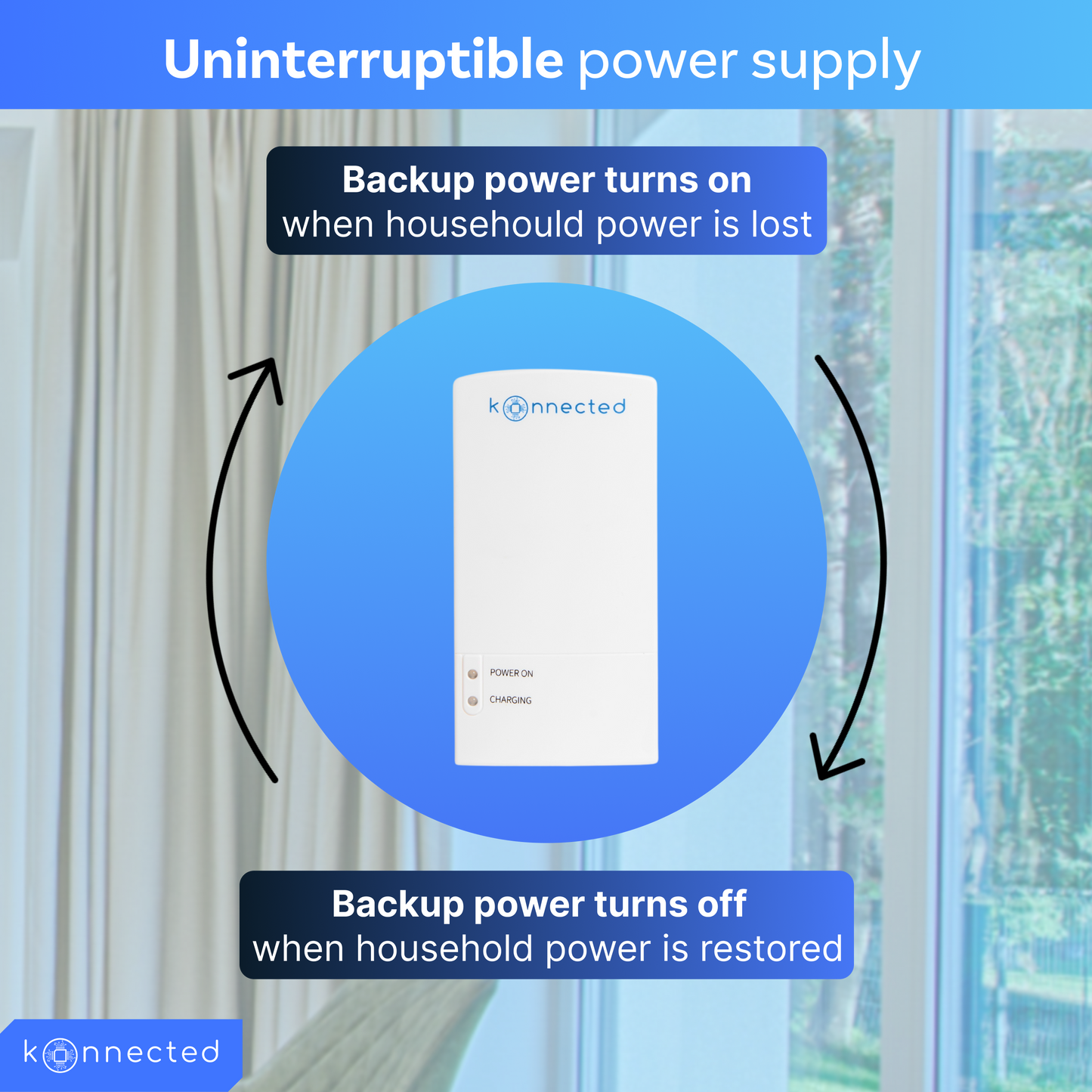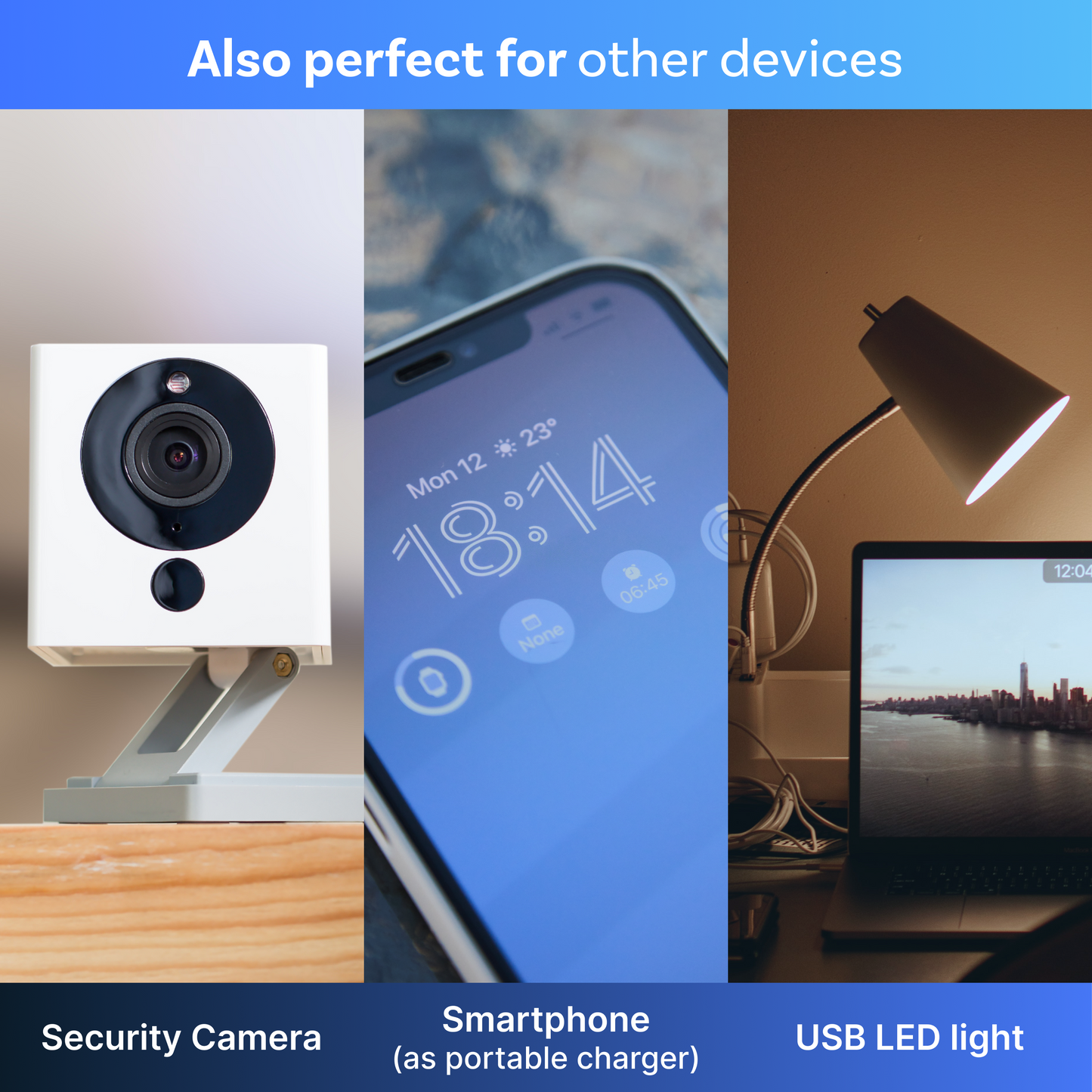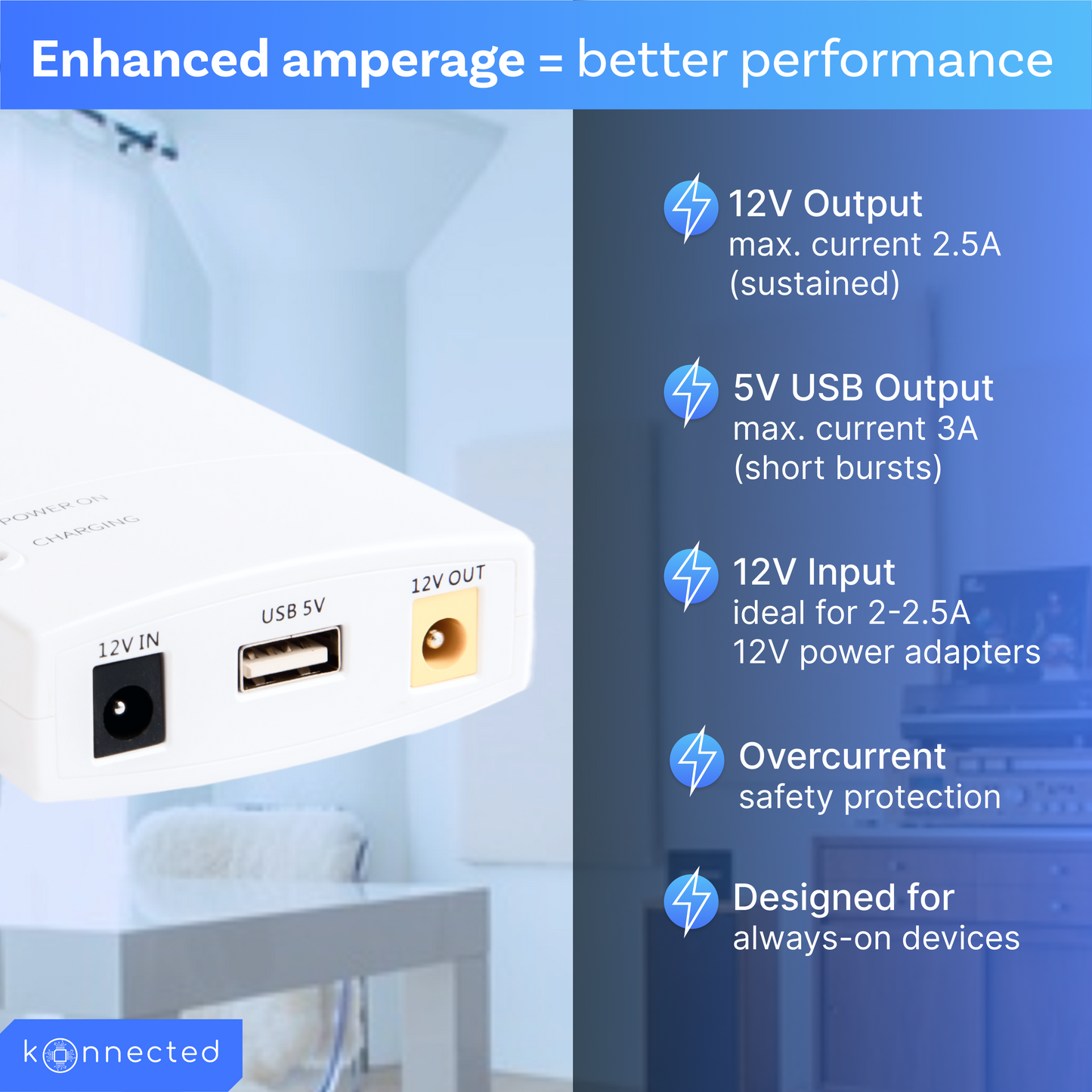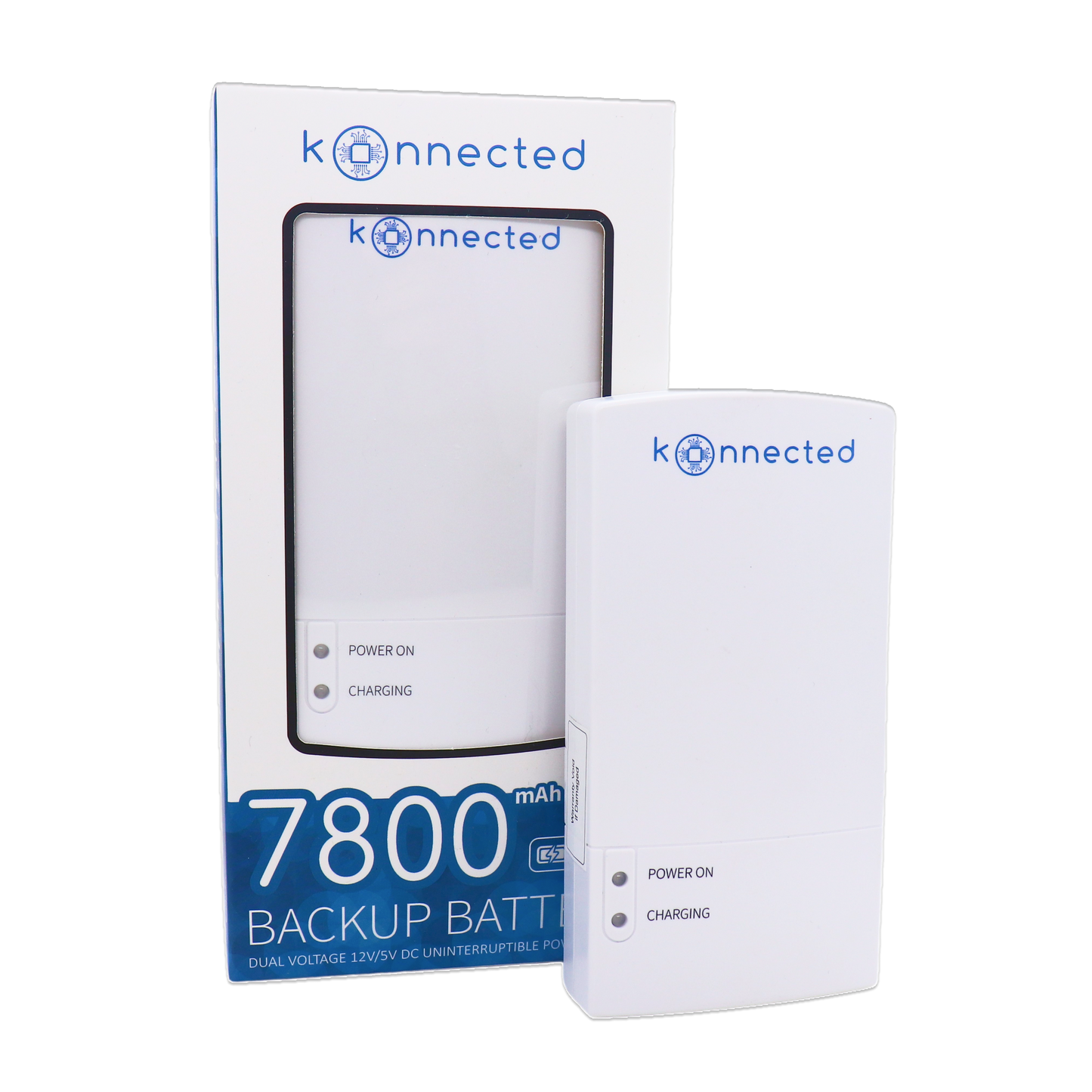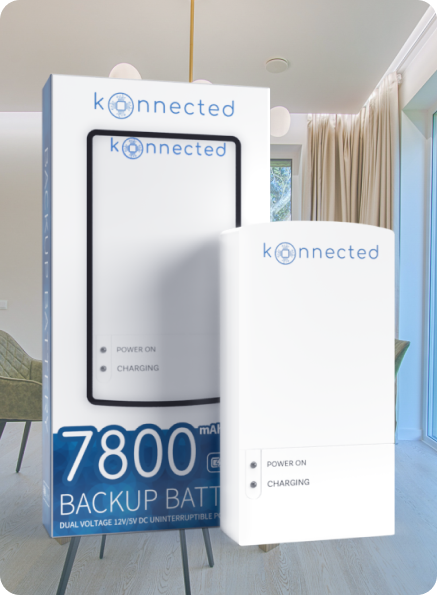 7800mAh UPS
Backup Battery
Up to 8h of backup power
Auto-switching backup power
DC male to DC male power cable included
Handles most gadgets
(12V & 5V USB outputs)
Wall-mount ready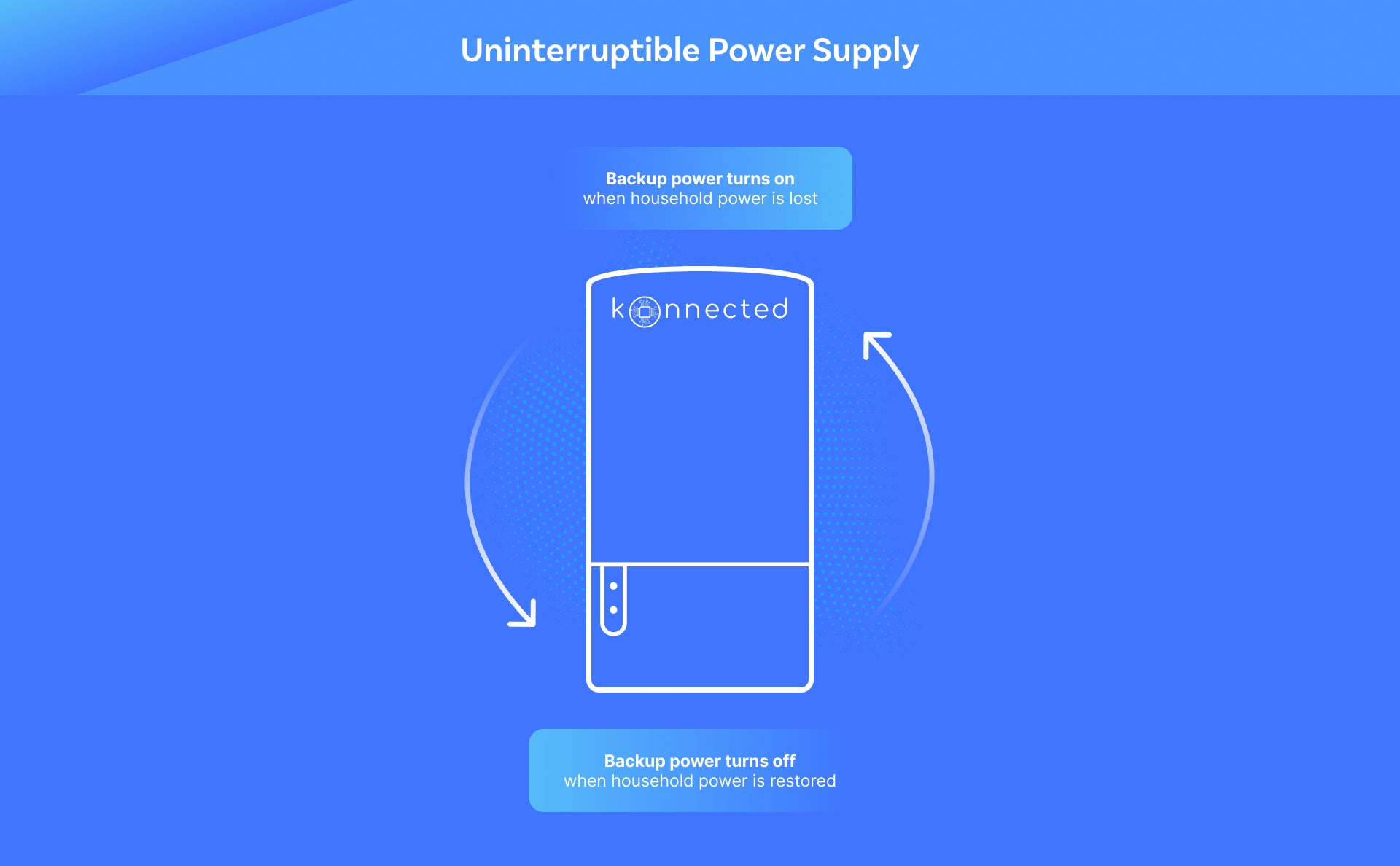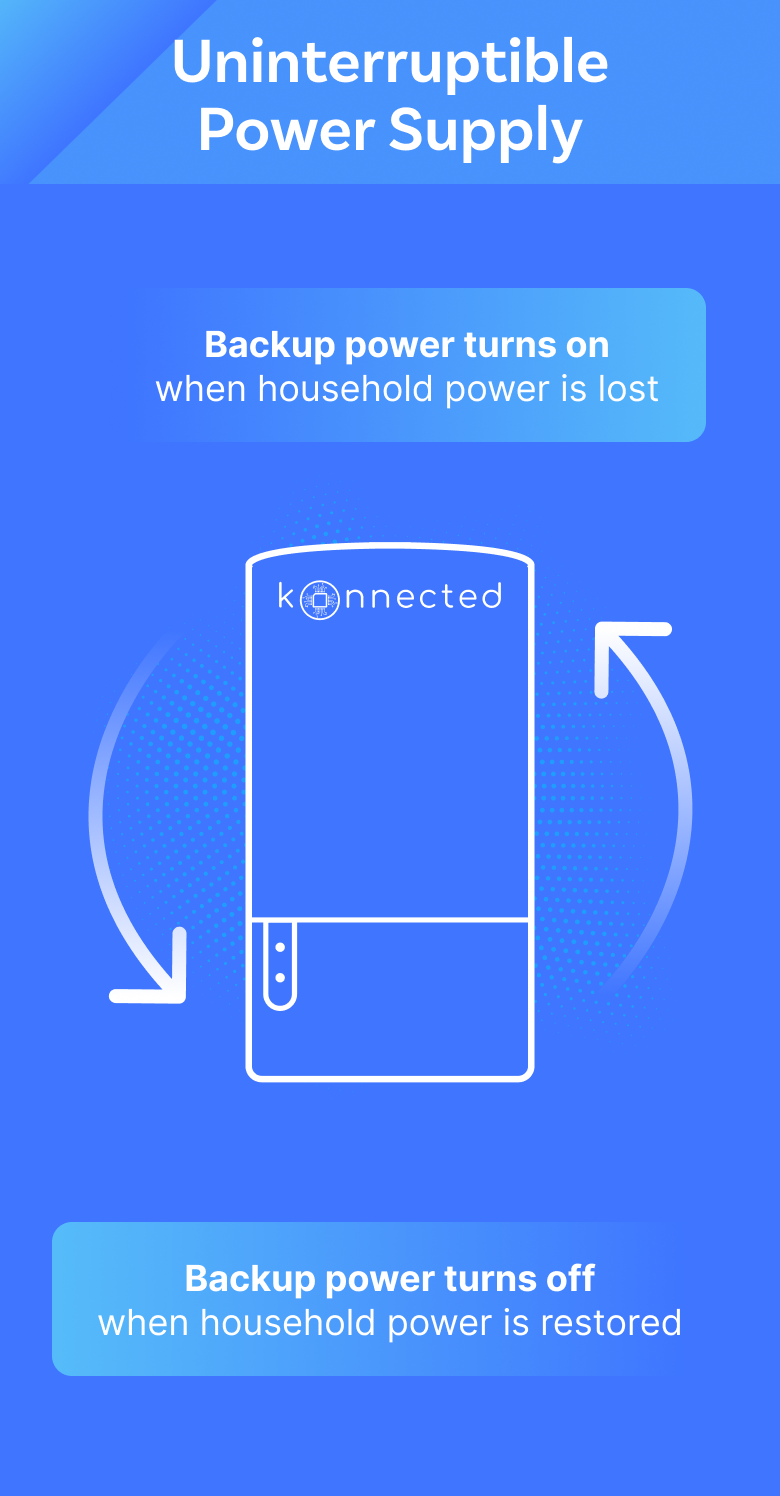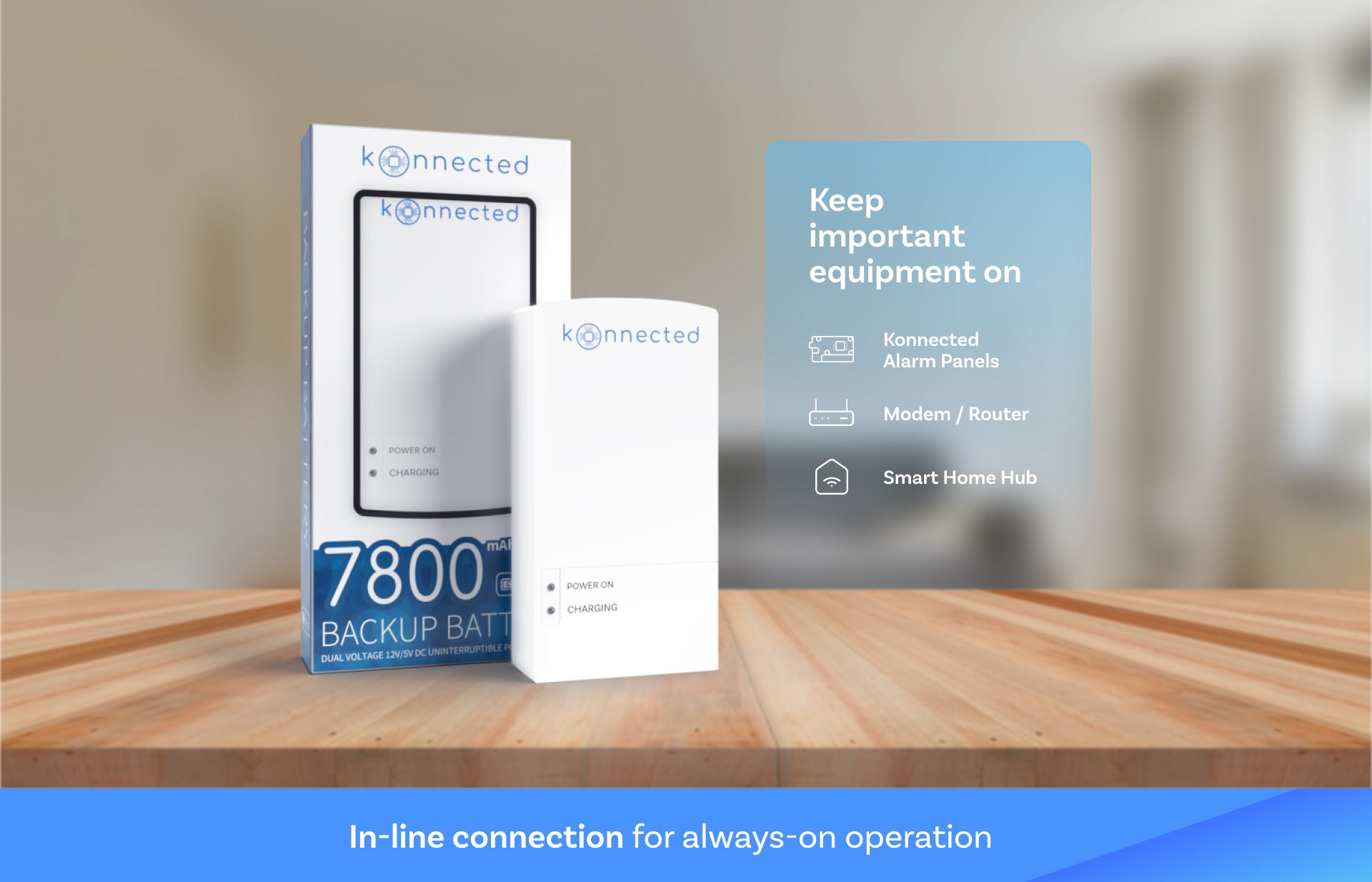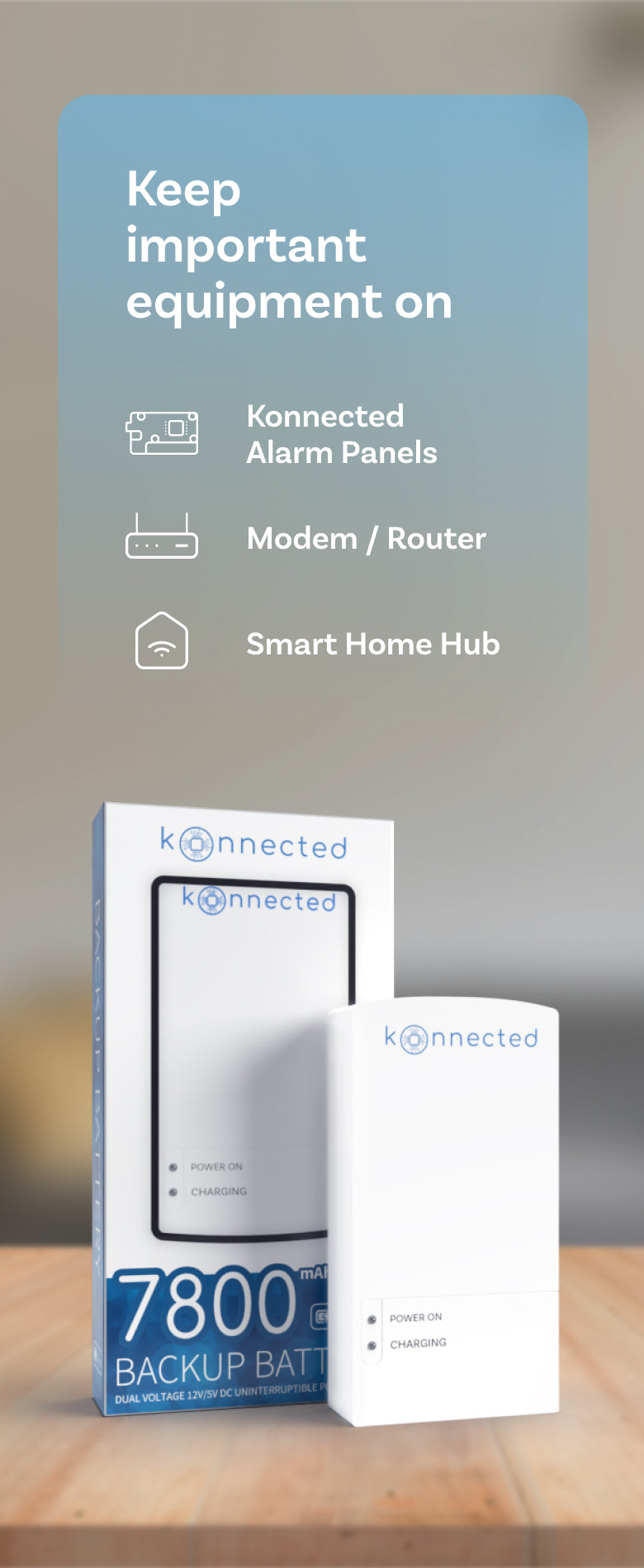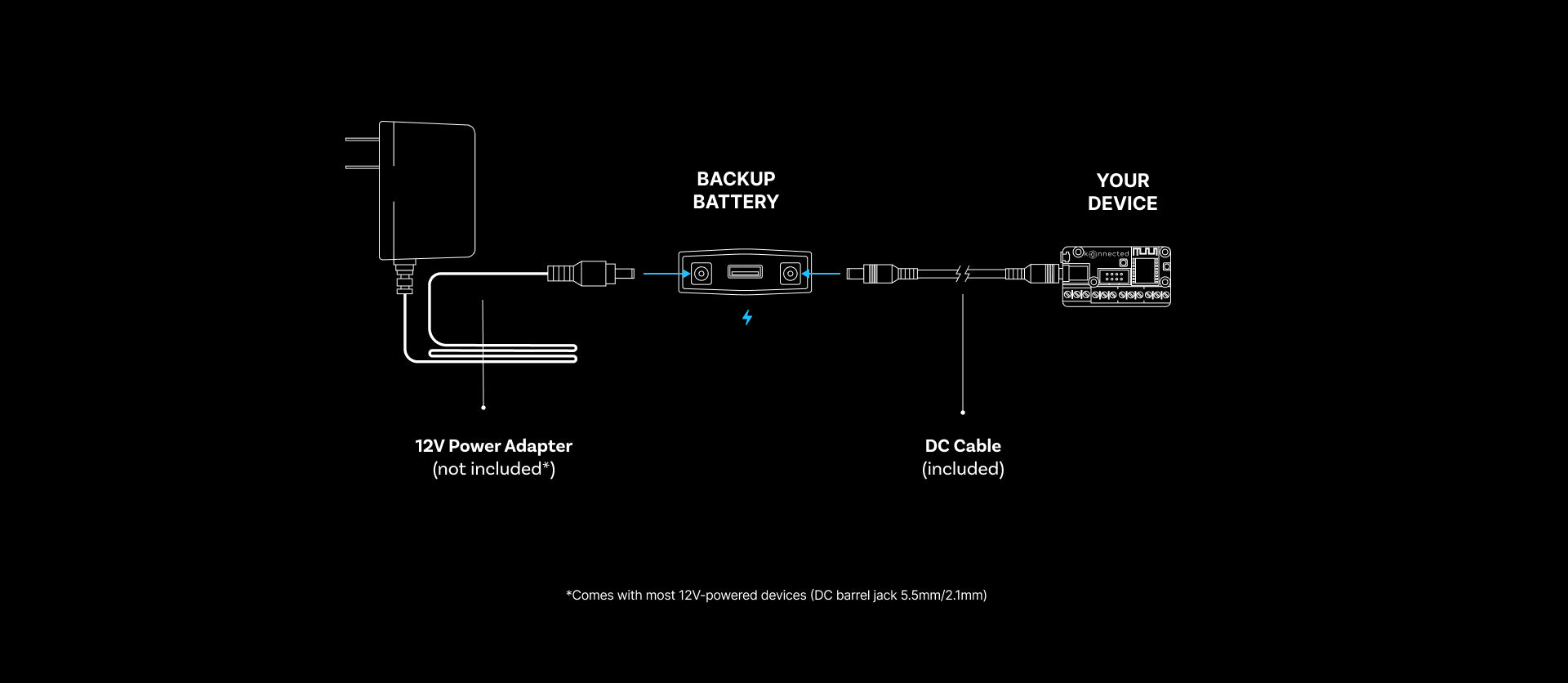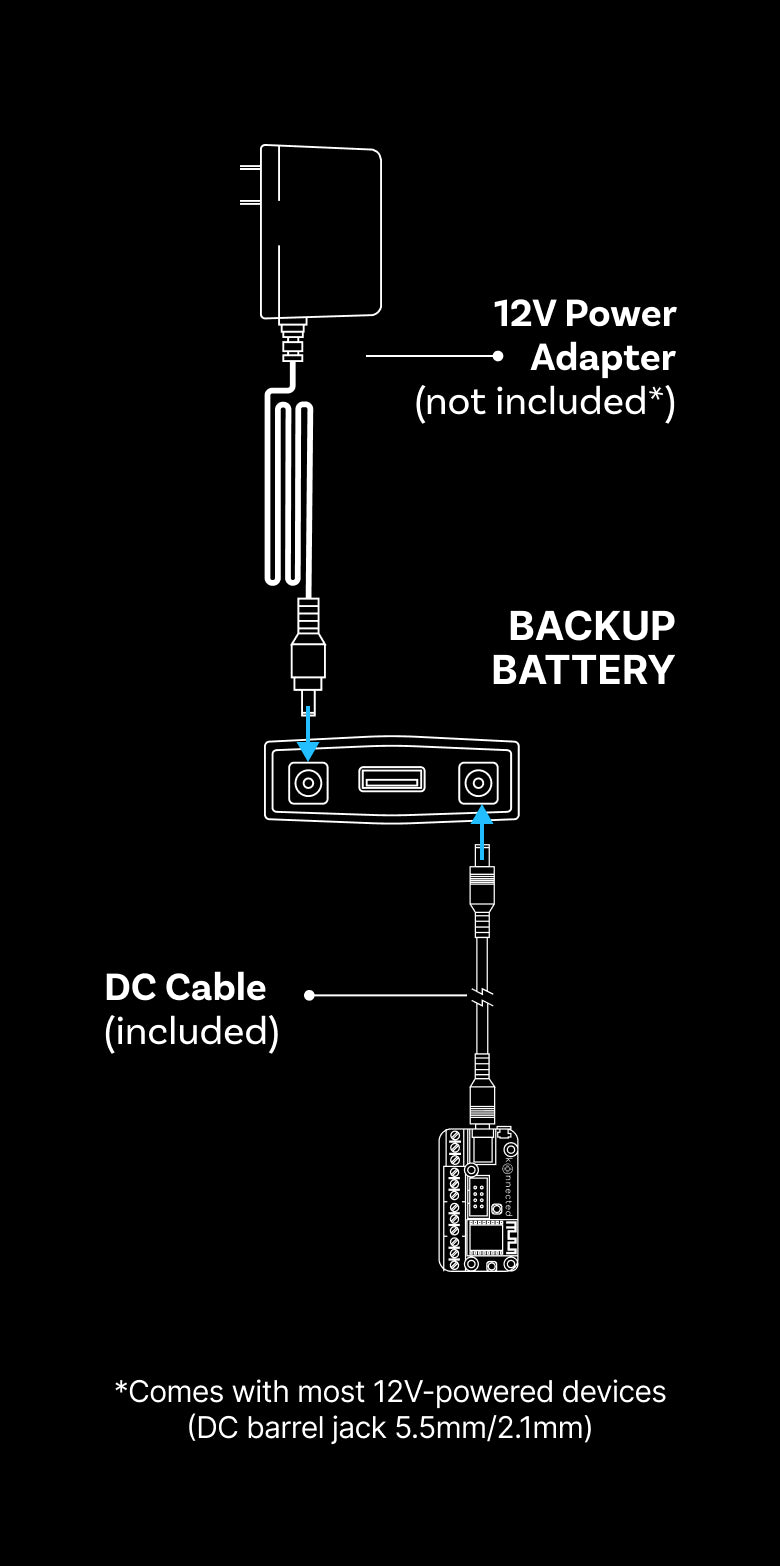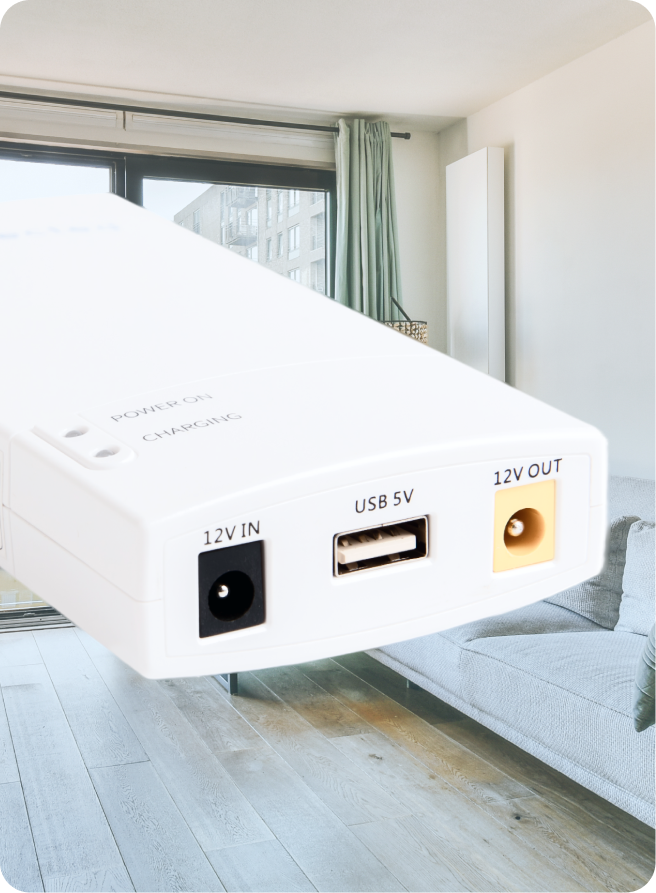 Enhanced
amperage =
better perfomance
12V Output
max. current 2.5A (sustained)
5V USB Output
max. current 3A (short bursts)
12V Input
ideal for 2-2.5A 12V power adapters
Overcurrent safety
protection
Designed for
always-on devices
Frequently Asked Questions
What devices are compatible with Konnected's backup battery?

Konnected's Backup Battery is compatible with many consumer 12V or USB-powered consumer gadgets. This includes all of Konnected's Alarm Panels (of course!), many (but not all) home routers and modems, Raspberry Pi and other mini-computers, smart home hubs such as the Aeotec SmartThings hub or Hubitat Elevation hub, USB-powered cameras such as Wyze cameras or Ring cameras, LED lights, portable fans, and many more!
How can I check if my router or modem is compatible?

First, check the power adapter that came with your device. Compatible devices will either have a "wall-wart" or "plug pack" style power adapter or a USB adapter. Check the specs on the back of the power adapter and make sure the OUTPUT voltage is 12V or 5V, and the OUTPUT amperage is 2.5A or less (for 12V devices) or 3A or less (for 5V devices).

If your router or modem accepts household power directly (no DC power adapter), or anything other than 12V or 5V DC, then it's unfortunately not compatible.
Can Konnected's Backup Battery also be used as portable phone charger or power bank?

Yes! This Backup Battery also doubles as a standalone power bank. Use it when on the go as a backup charger for your smartphone or other USB gadgets.
How does the auto-switching feature work?

Konnected's Backup Battery has no buttons or switches! It automatically detects when your gadget is plugged into the 12V OUT or 5V USB OUT socket and starts delivering power. It will remain on while your gadget keeps using power (or until the battery is exhausted) as long as your device draws at least 30mA of current (1% of the maximum current). The Backup Battery will switch off automatically when your gadget is unplugged, or if your device turns off or drops below 30mA of current draw.

For this reason, this product is suitable for devices that are always-on and require continuous power. It will not work well with gadgets that periodically switch on and off, or that go into a very low-power standby mode.
How do I connect a Aeotec SmartThings hub or other 5V device that's NOT a USB connector?

The Aeotec hub and some other devices use a DC barrel jack connector but require 5V power. In this case, you need a USB to Barrel Jack cable, and plug the USB end into the 5V USB OUT on the Backup Battery.

DO NOT connect the 12V OUT to a device that requires 5V! It will damage your device!
Is there a status charge indicator on the device?

No, there is no indicator showing the remaining charge on the device.
Can you double the batteries to extend the cutover duration?

Doubling the batteries by daisy-chaining them is not very effective. To extend runtime, it's best to use separate batteries for different devices rather than daisy-chaining them. For example, use one battery for the router and another for the modem.
What's the diameter of the 12V input?

5.5mm (outer) x 2.1mm (inner).
Customer Reviews
Write a Review
Ask a Question
Filter Reviews:
Konnected
battery
system
power
alarm panel
Works
sensors
help
siren
device
31 Oct 2023
Tal S.

United States
27 Sep 2023
Kevin F.

United States
I've now got a UPS for my alarm system
I updated an old wired installation to the new Konnected system. It was easier than I thought. 100% would recommend!
16 Jun 2023
Shawn M.

United States
Battery back up
Battery backup has now been installed for two weeks. So far everything is working fantastic.
22 May 2023
Mike H.

United States
Doesn't work with PoE.
This seems good, but I am powering the Konnected Pro from PoE... and the product page doesn't say this battery requires you to plug from the wall -> to battery -> to barrel connector on the Konnected Pro. So now I have to cut the Konnected Power supply and splice to the old Alarm.com system's power cable (routed behind wall) and then splice to the barrel connector into the battery, and patch from battery to the board. So the Battery is fine, but wasn't what the website explained.
01 May 2023
Jerry K.

United States
Working Great
This item provides power as it is charging unlike most other power banks. Great replacement for a worn out APC unit.
25 Apr 2023
Stephen C.

United States
Good but not powerful enough
Battery indicates that it would support four boards but mine does not. I have to disconnect by motion sensor to get it to work.
05 Apr 2023
Dave A.

United States
Requires minimum load
Nice battery pack but ut requires a minimum load on the output for it to power on. If you only have a Konnected alarm panel without any powered sensors connected to it, it will not stay powered on. At least 1 powered sensor (motion or glass break sensor) is necessary for the battery pack to work
09 Mar 2023
Michael K.

United States
Great backup battery
Great backup battery for my new Konnected Alarm Panel Pro
14 Jan 2023
Radoslav I.

Canada
Konnected is great!
I got the panel pro from Amazon and battery with magnetic legs from connected website. Great device! Very happy with it. The only issue is ordering to Canada, with UPS delivery $50 order was extra $60 for delivery.
29 Nov 2022
Joe M.

United States
Works Great!
SO far it is working well.
31 Oct 2022
Chandresh P.

United States
7800 Backup Battery
I love it. It will definitely help during short power outage.
25 Sep 2022
Glenn S.

United States
Konnected Battery Backup Perfect for Routers
Easily installed this inline battery backup for our Frontier's fiber router. Plug-n-play. Just unplug the router's power supply, plug it into the Konnected, and plug the Konnected back into the router. Both the voltage and amperage matched the router's specs perfectly.
25 Sep 2022
Glenn S.

United States
Konnected Battery Backup Perfect for Routers
Easily installed this inline battery backup for our Frontier's fiber router. Plug-n-play. Just unplug the router's power supply, plug it into the Konnected, and plug the Konnected back into the router. Both the voltage and amperage matched the router's specs perfectly.
20 Apr 2022
Dominic L.

Canada
Perfect
I recommand this product
20 Mar 2022
David B.

United States
Battery Backup
Great addition to my starter kit. No longer fear the power going out and taking the alarm system with it. Extremely easy to hook up and gives piece of mind.
18 Mar 2022
john g.

United States
Wired to Wifi
I'm not real computer moxie, but I'm fumbling my way through. I love all I have purchased, but some is a little overwhelming, and have to sit back and refocus.