Regular price
Sale price
$229
Unit price
per
Sale
Sold out
Retrofit your existing alarm and make it smart, all by yourself! The Pro Conversion Kit with 12-zones per panel, Ethernet or Wi-Fi connectivity, two outputs for sirens or strobe lights, and added Power over Ethernet (PoE) is a perfect replacement for all traditional wired alarm systems and a great home security solution for new pre-wired homes. Control and monitor your smart home with apps like SmartThings, Home Assistant, Amazon Alexa, and more - without any monthly fees!

Kit Contents

12-Zone Alarm Panel Pro
12V Power Adapter
Piezo Buzzer
Jumper Wires
Adhesive-backed Mounting Standoffs
Mini Screwdriver-pen
Wire Labels Sheet
Konnected Window Stickers
Features

Compatible with popular smart home platforms and voice assistants
Expandable by adding any of our alarm panels
No mandatory monthly fees or subscriptions
Receive real-time notifications for remote home monitoring
Automatic home arming/disarming functionality
Customize with your preferred smart home app
Utilizes your existing wired sensors and siren
Set up smart home routines and automations
Documentation

Learn more details and explore a product manual here.
View full details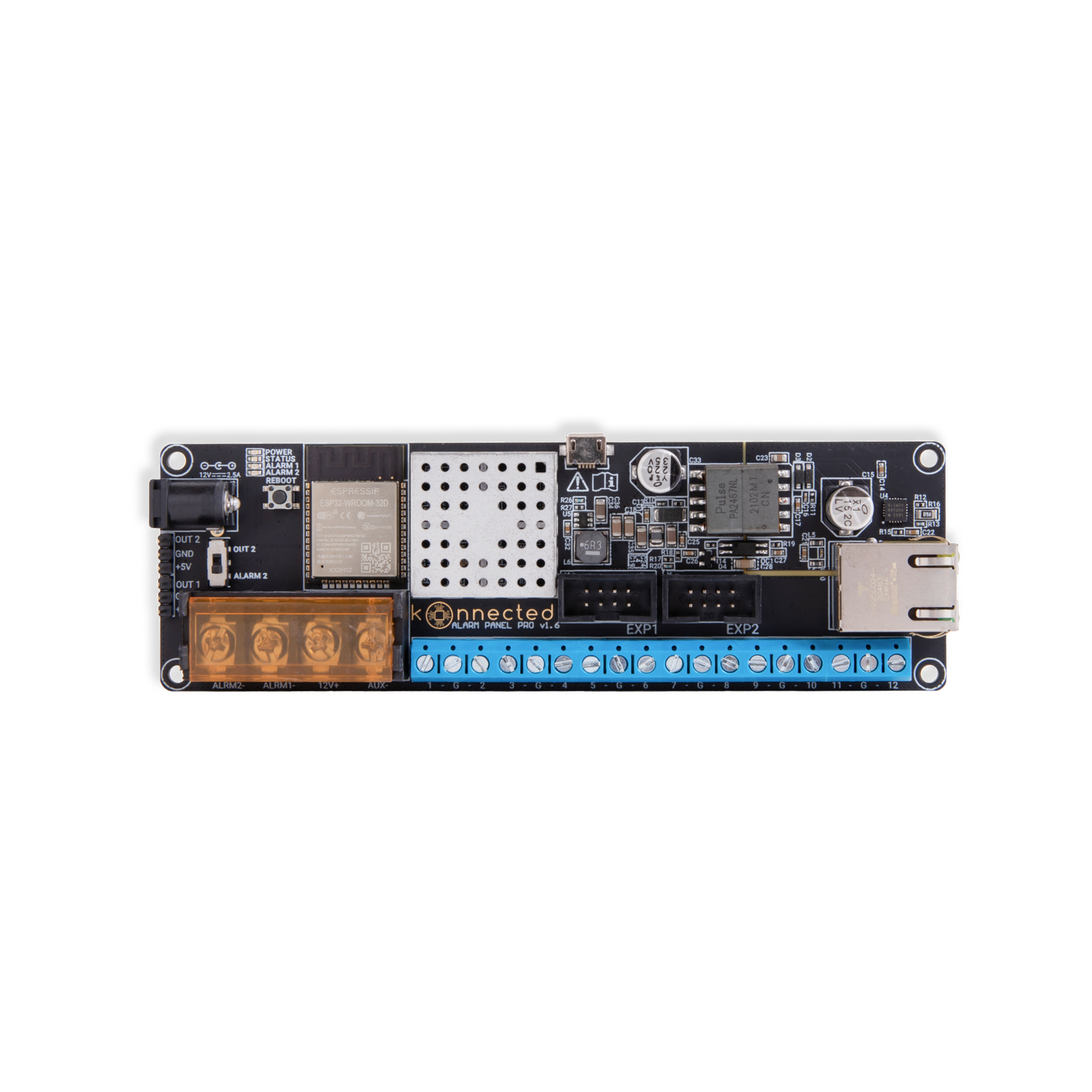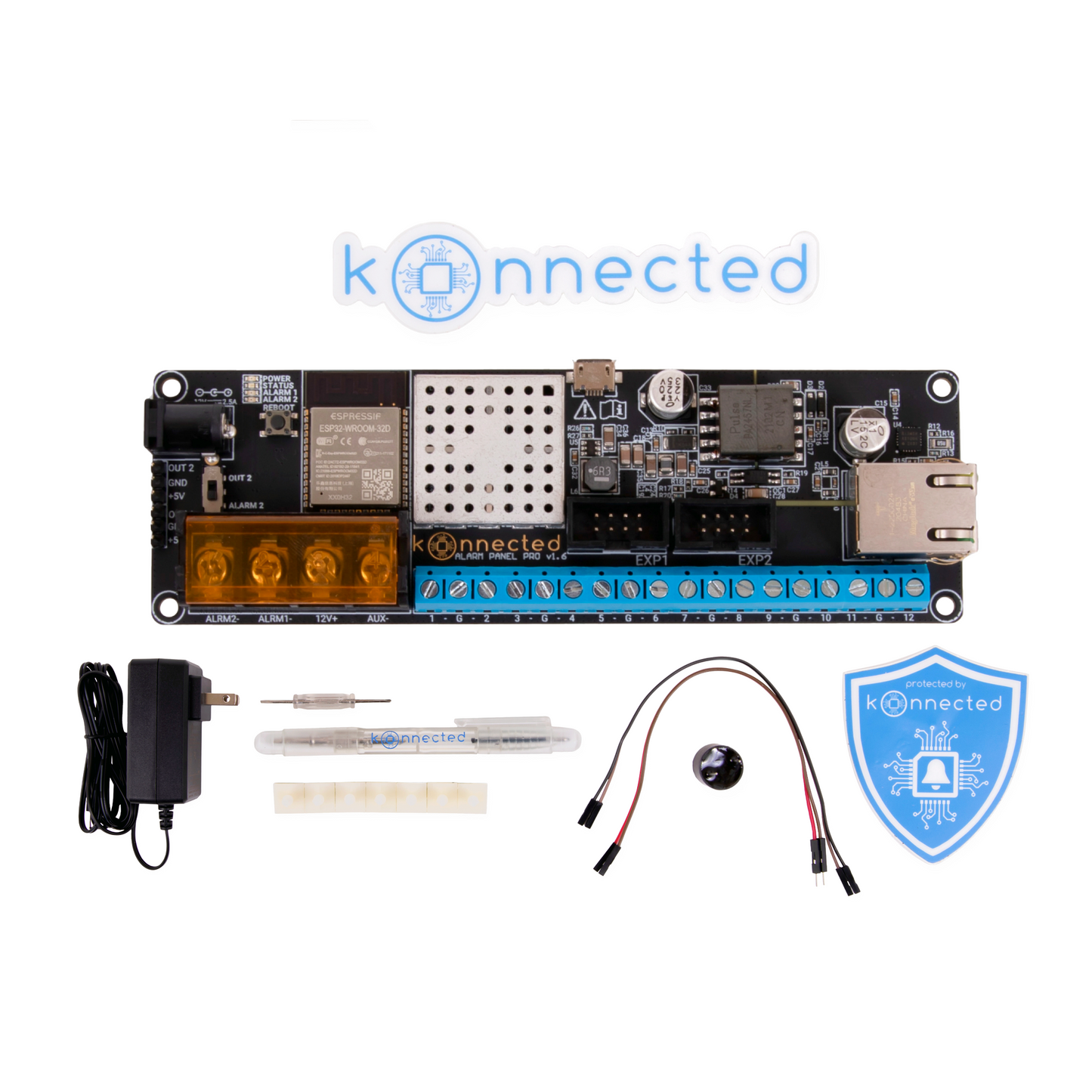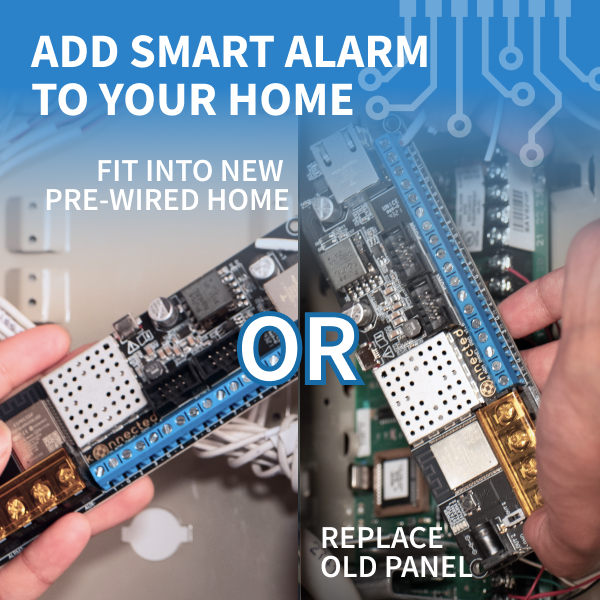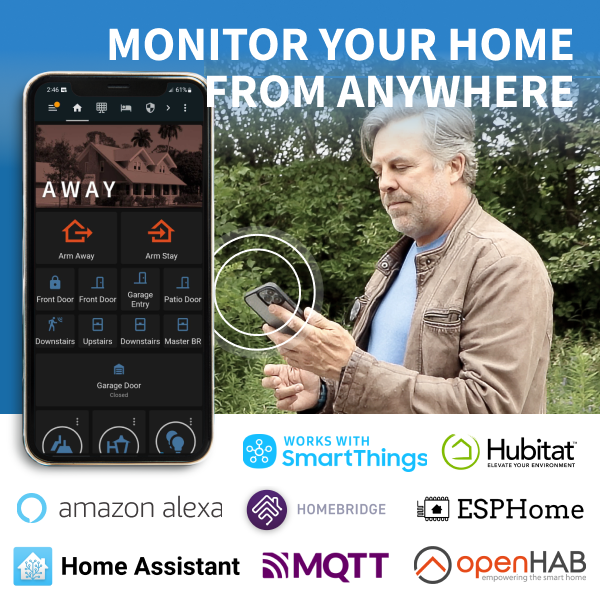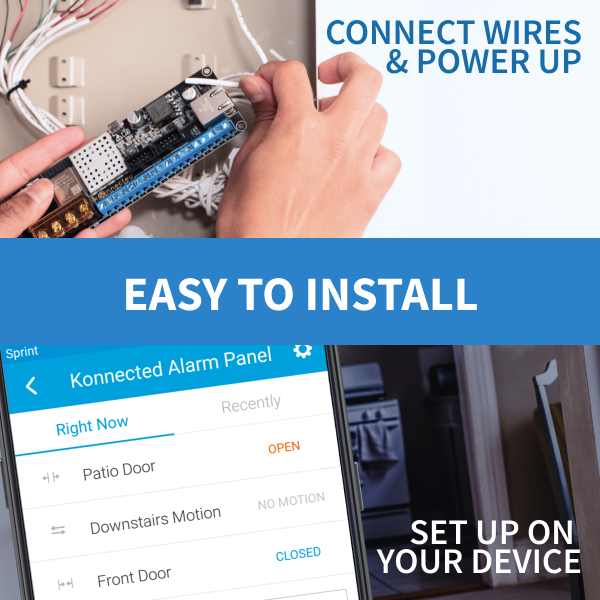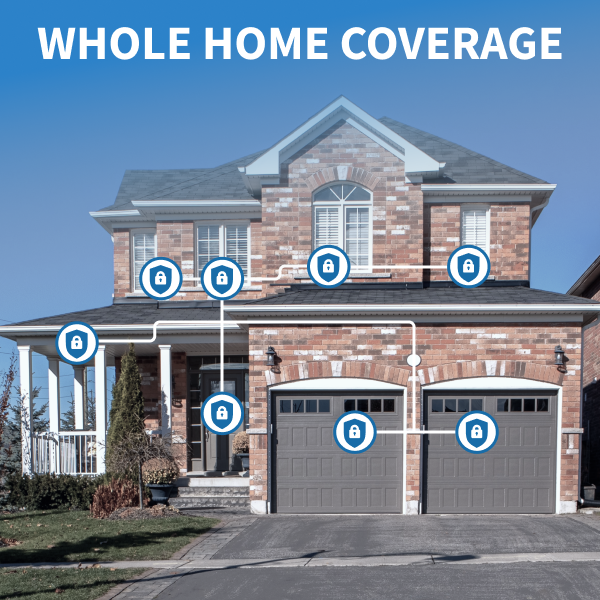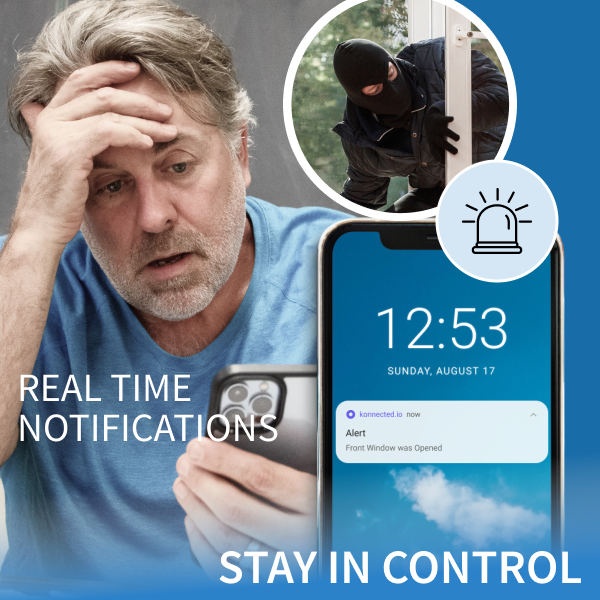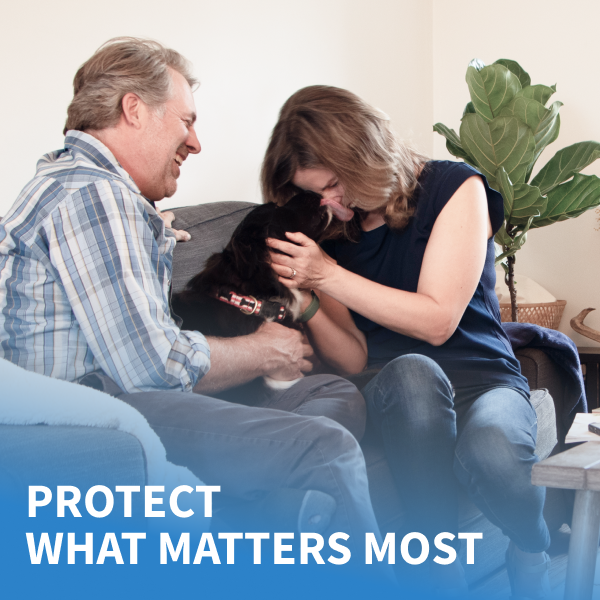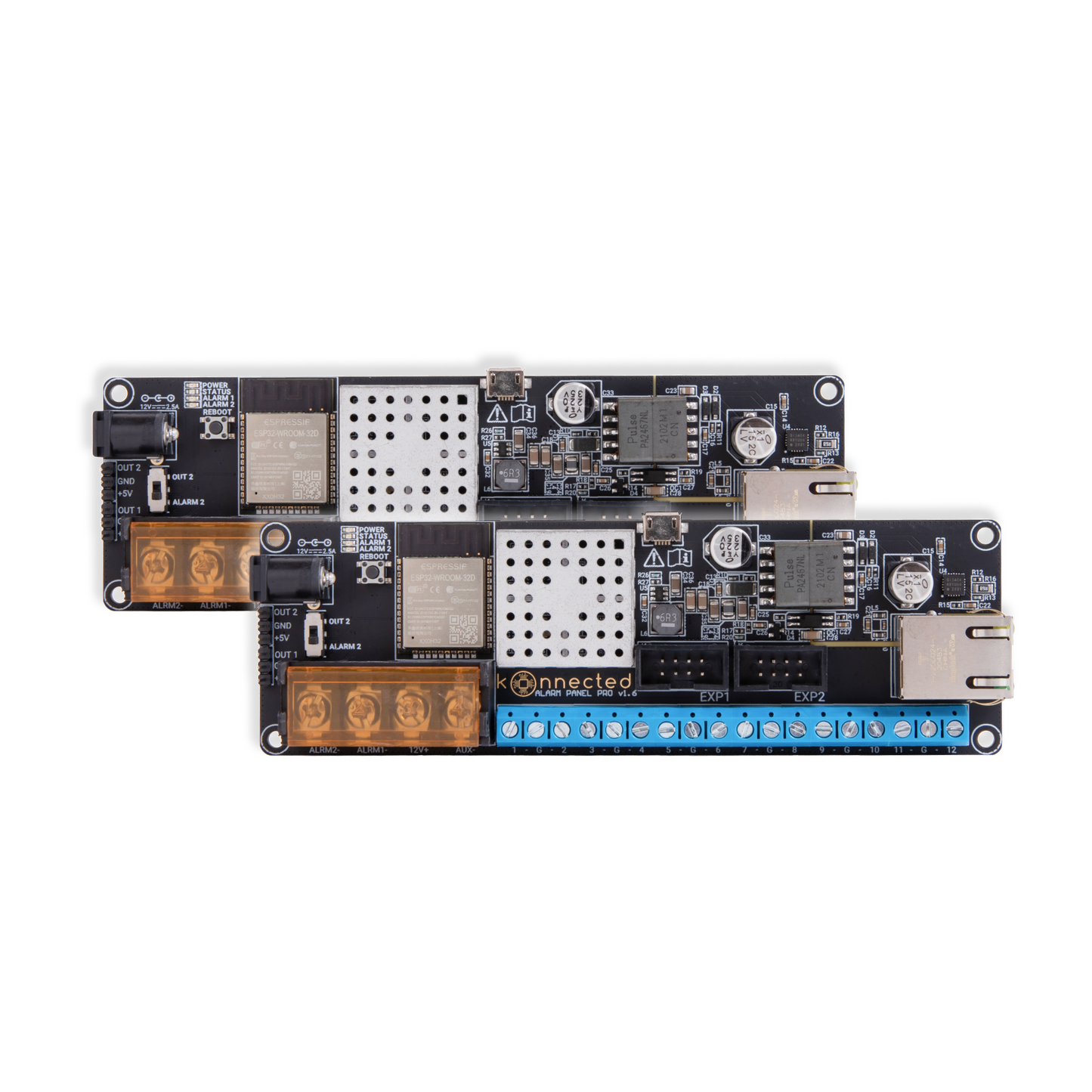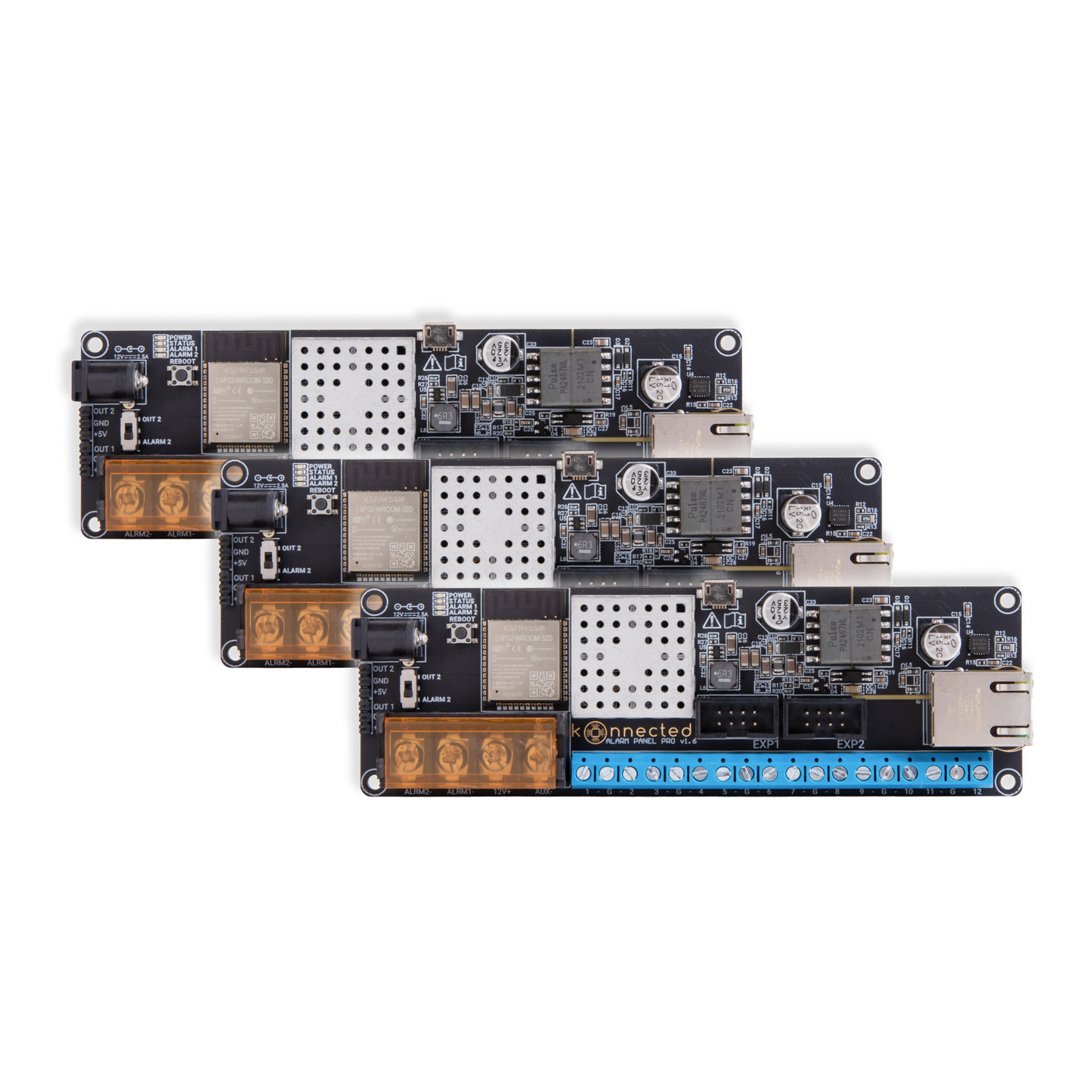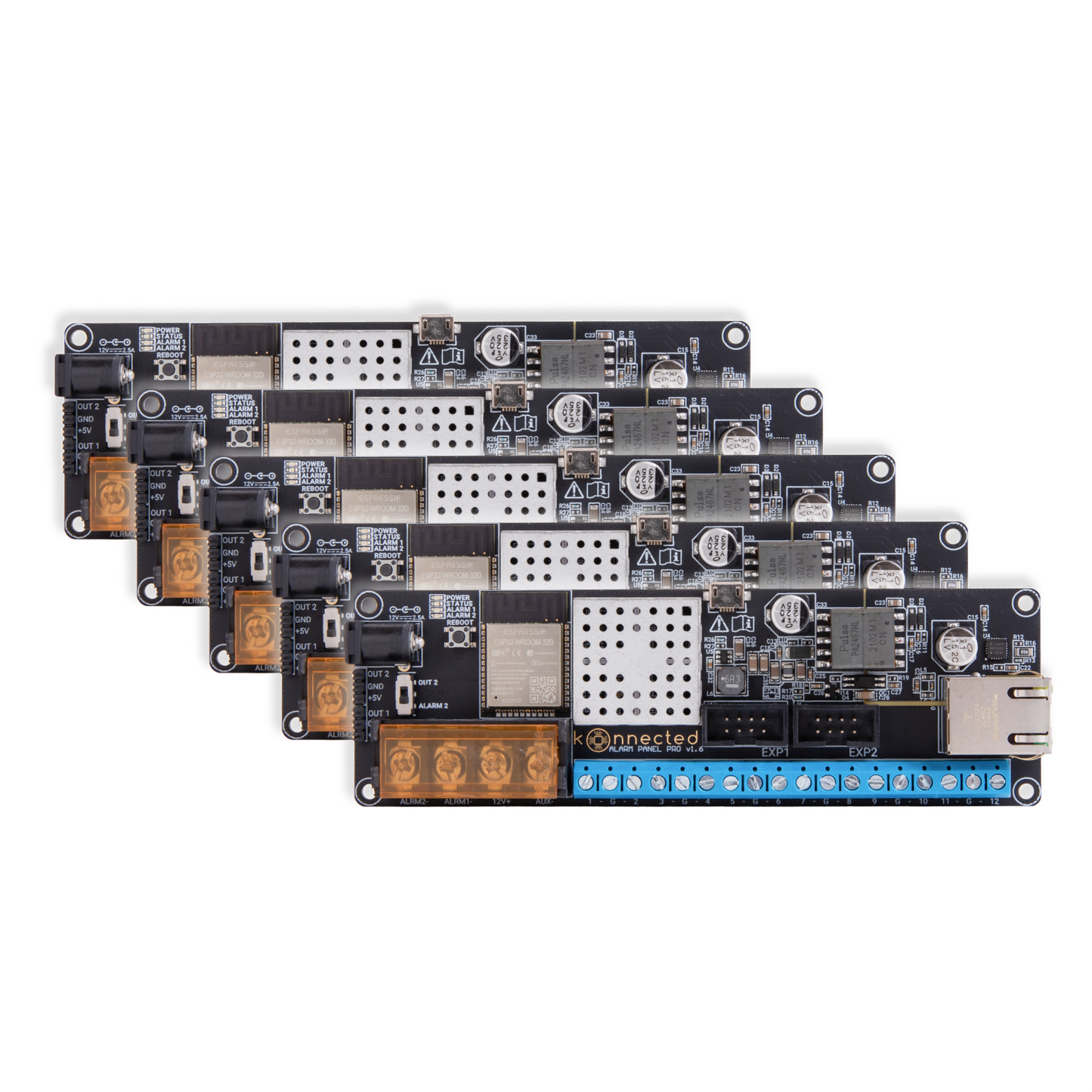 WIFI OR ETHERNET CONNECITVITY
use existing wired sensors
get notifications anywhere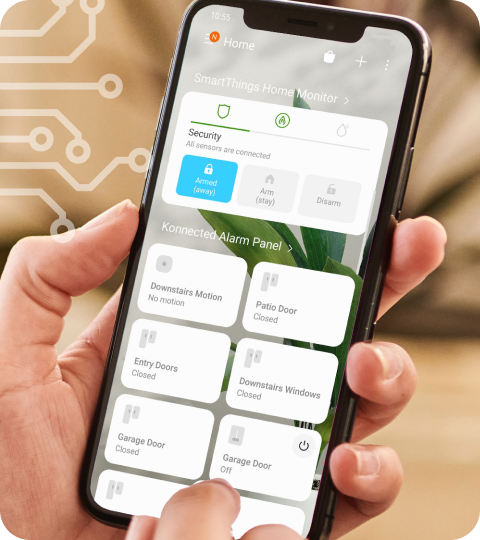 Use Your Existing Wires to Create a Smart Alarm System
Did you know millions of homes are pre-wired for an alarm system?
With the Konnected Conversion Kit, you can easily replace your old alarm panel or take advantage of your newly pre-wired home and create a smart alarm system.
This DIY wired alarm system retrofit works with leading consumer smart home platforms that allow you to monitor and control your home from anywhere, without expensive monthly security fees.
Not into DIY's? We've got you covered with our network of dealers!
Konnected works across all leading smart home apps:
How The Alarm Panel Pro Conversion Kit Works
The Konnected Alarm Panel Pro replaces a traditional wired alarm system through your existing wired alarm sensors in five easy steps.
If you wish to fit it into your newly pre-wired home, skip Step 2.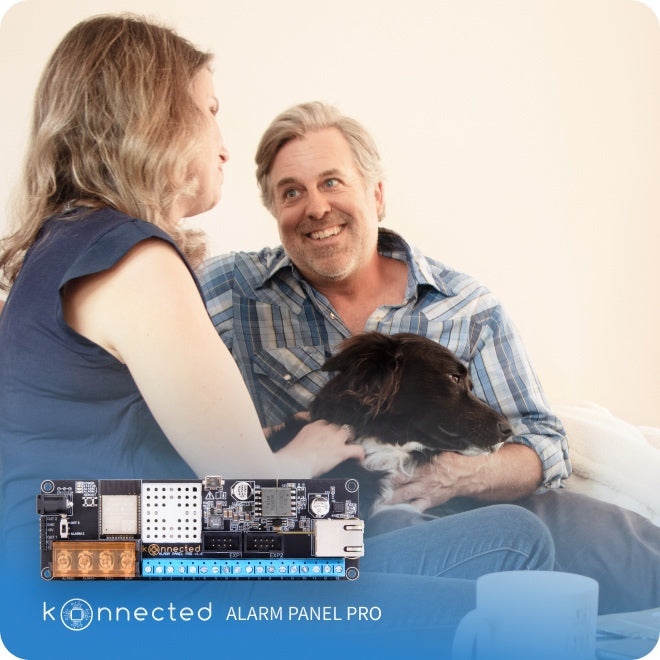 Choose the Alarm Panel Pro Conversion Kit If You:
Need Ethernet connectivity and/or PoE because your home is pre-wired for Ethernet
Want to have 12 zones and 2 siren/strobe outputs per panel
Don't want to pay any monthly fees and switch fully to app-based self-monitoring
Don't want to use the original alarm system anymore
Want the ability to replace original keypads with touch-screen tablets
Have a pre-wired home without any alarm system installed yet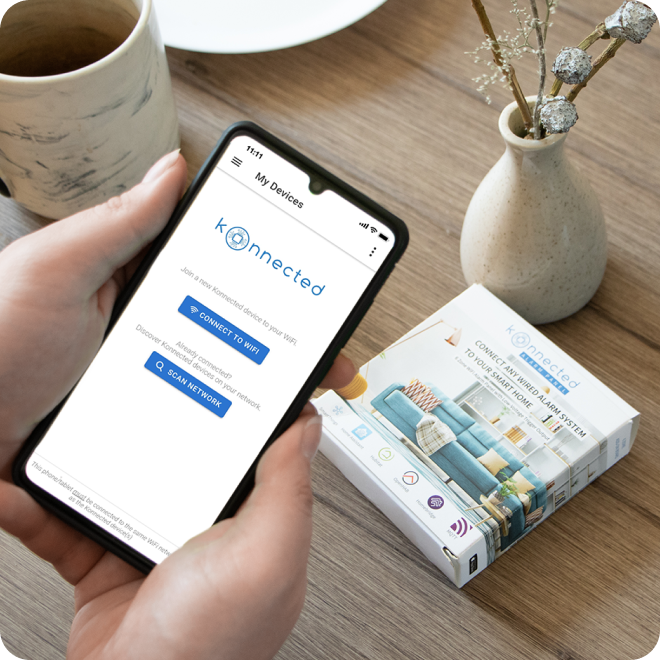 Reasons to Love Konnected for App-Based Home Monitoring
Works with leading smart home platforms and voice assistants
Infinitely expandable by adding any of our alarm panels
No required monthly fees or subscriptions
Real-time notifications so you can monitor your home from anywhere
Automatically arms/disarms your home
Choose your favorite smart home app
Uses your pre-existing wired sensors and siren
Create smart home routines and automations
WORKS WITH MOST WIRED SENSORS & DEVICES
Breathe new life into all the sensors already wired in your home and make them visible and actionable in your smart home app.
Door and Window Sensors

Wired PIR Motion Sensors

Wired Glass-Break Detectors

Water Leak Detectors

Smoke and Carbon Monoxide Detectors*

Alarm Siren and Strobe Light
*THIS PRODUCT IS NOT A FIRE OR LIFE SAFETY DEVICE. Use with smoke and carbon monoxide detectors is for informational purposes only. Do not rely on Konnected alone to notify you in a life threatening emergency.
Conversion Kit
Interface Kit
Conversion Kit
Starting at
Makes any wired alarm system smart
Makes any wired alarm system smart

✓

✓

✓

✓

Works with common wired sensors & signaling devices
Works with common wired sensors & signaling devices

✓

✓

✓

✓

Works with leading smart home platforms
Works with leading smart home platforms

✓

✓

✓

✓

No required fees or subscriptions
No required fees or subscriptions

✓

✓

✓

✓

Smartphone monitoring & notifications
Smartphone monitoring & notifications

✓

✓

✓

✓

Replaces traditional wired alarm panel
Replaces traditional wired alarm panel

✓

–

✓

–

Adds smart home features by connecting to any traditional alarm panel
Adds smart home features by connecting to any traditional alarm panel

–

✓

–

✓

Open-source technology
Open-source technology

✓

✓

✓

✓

Wi-Fi connectivity
Wi-Fi connectivity

✓

✓

✓

✓

Ethernet connectivity
Ethernet connectivity

–

–

✓

✓

Power-over-Ethernet (PoE)
Power-over-Ethernet (PoE)

–

–

✓

✓

More zones by adding Konnected panels
More zones by adding Konnected panels

✓

✓

✓

✓

6-zones per panel
6-zones per panel

✓

✓

–

–

12-zones per panel
12-zones per panel

–

–

✓

✓

Availability
Availability
Learn More
Learn More
Learn More
Learn More
INFINITELY EXPANDABLE
Konnected is infinitely expandable by simply adding more Konnected Alarm Panel boards! Our unique decentralized approach means that each Konnected Alarm Panel board works independently and has its own WiFi connection to your smart home platform. You can add any of the Konnected devices, even mix either 6-zone WiFi model or the Alarm Panel Pro, anywhere there's a WiFi signal. The smart home app syncs everything together into one cohesive system.
12 Zones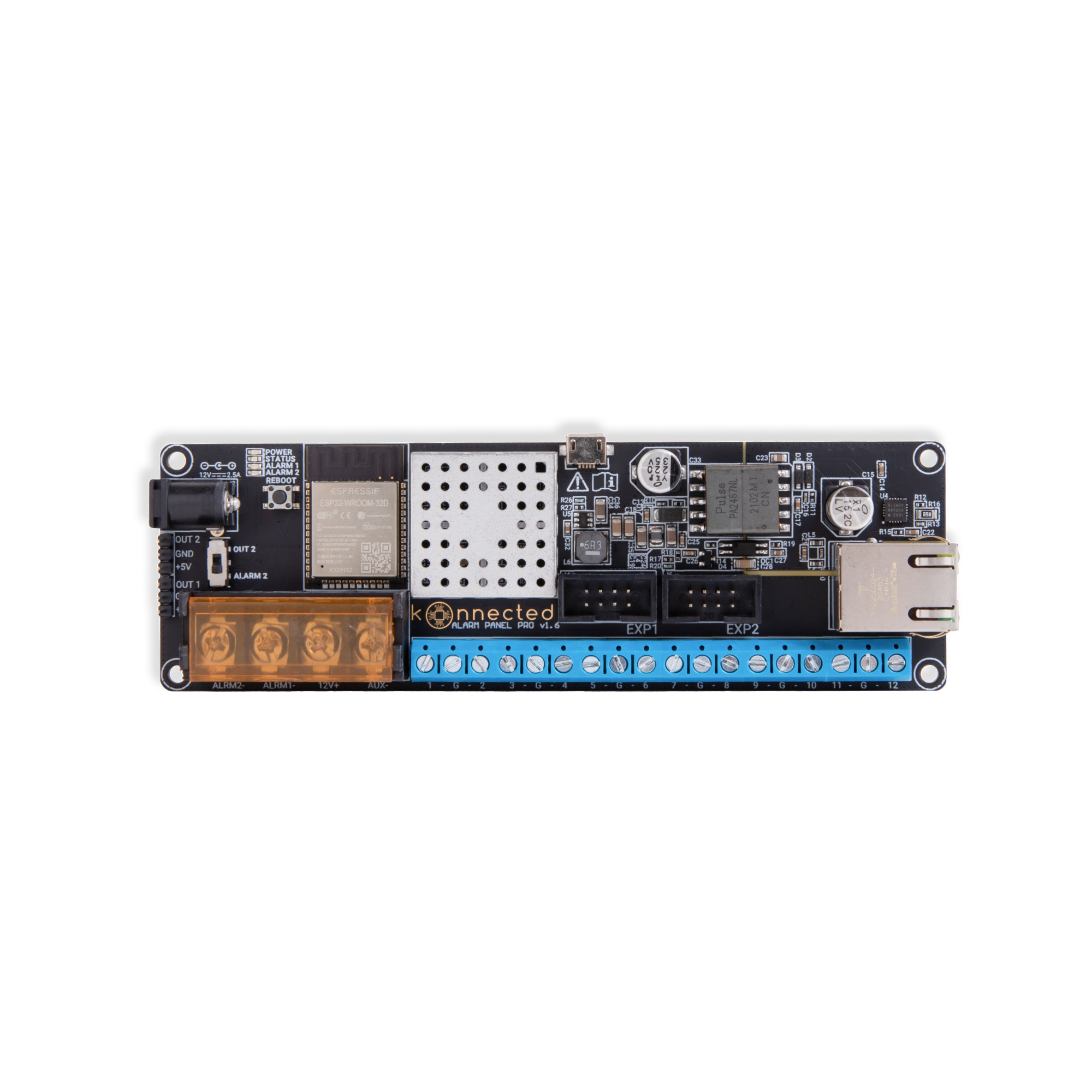 24 Zones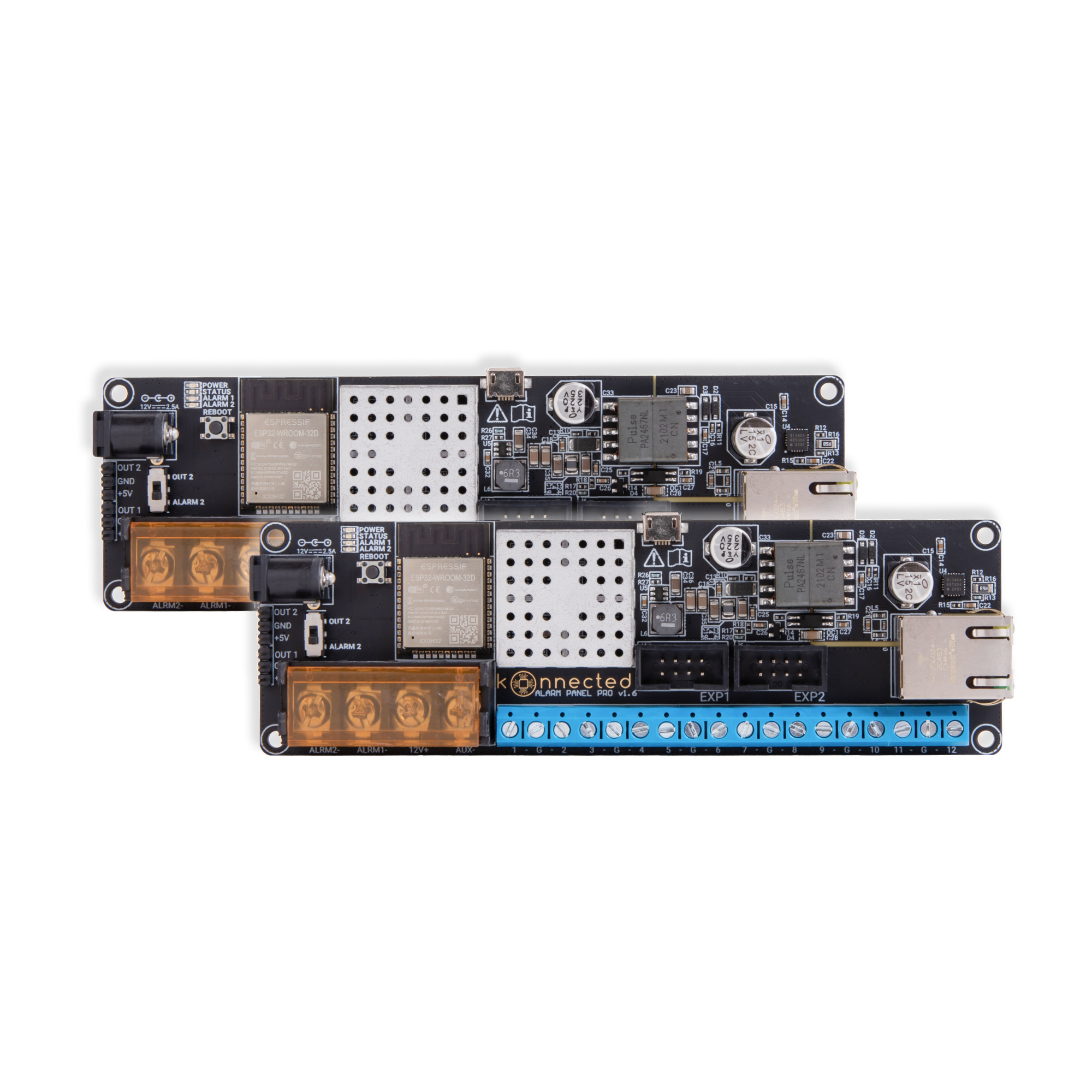 36 Zones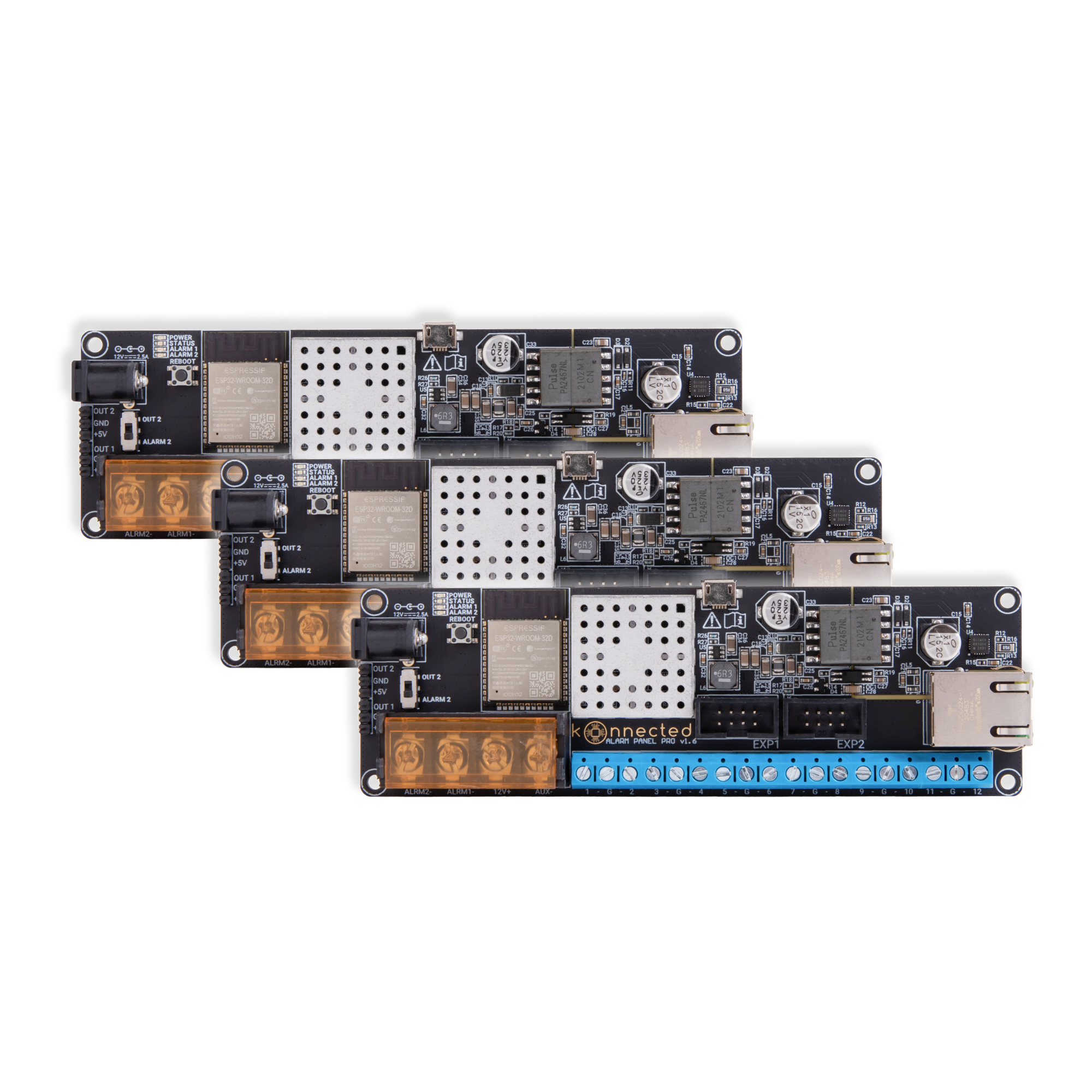 60 Zones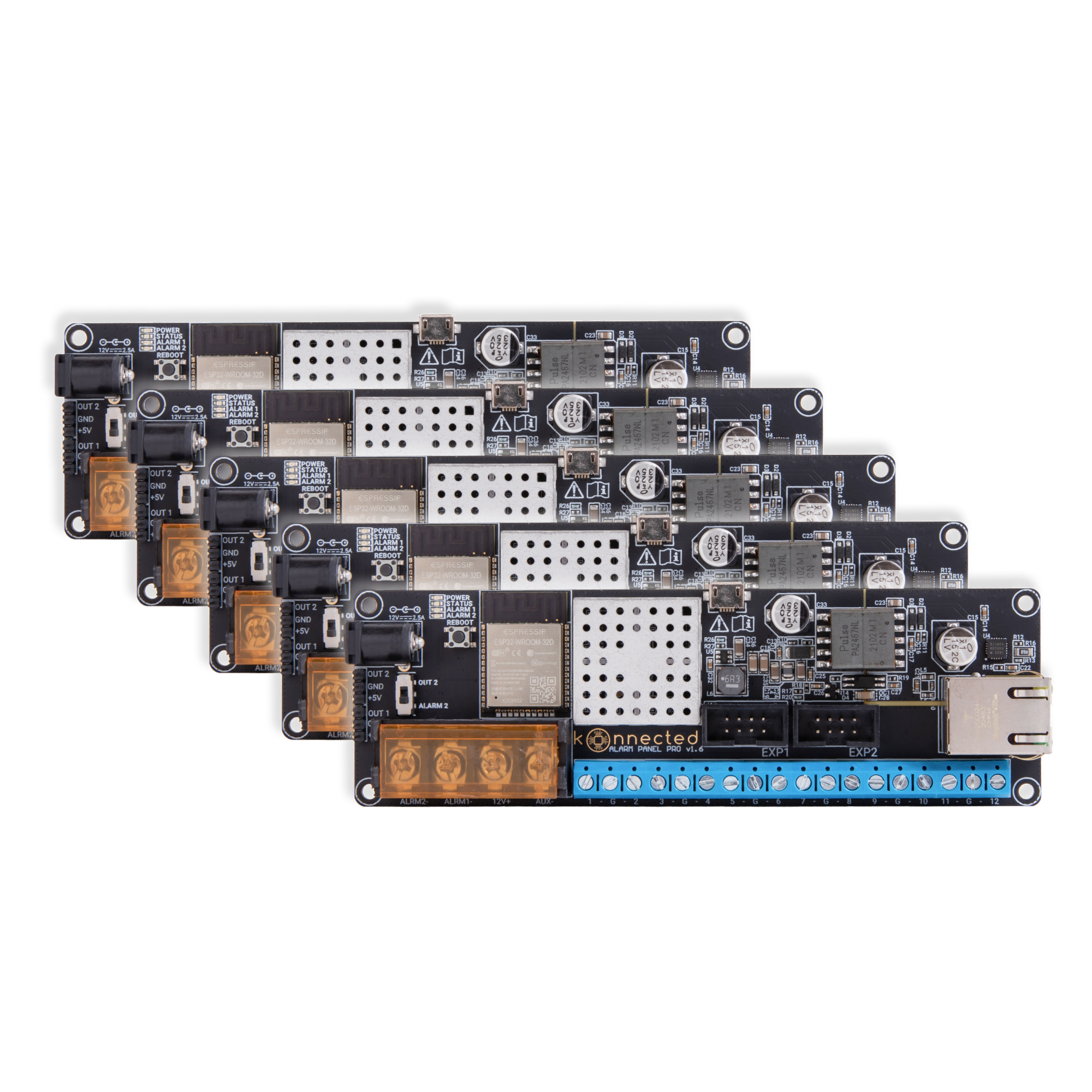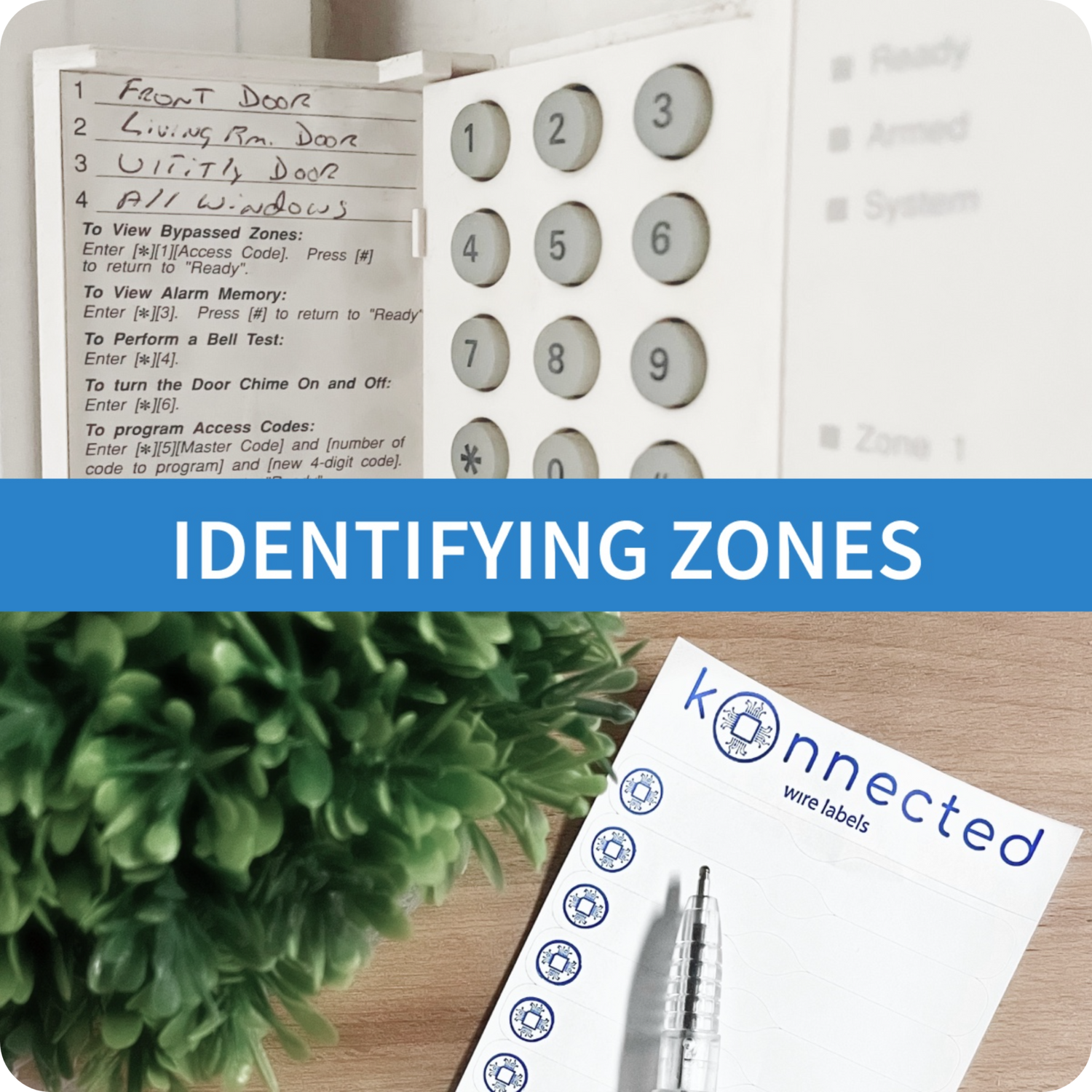 How Many Zones Do I Need?
A good rule of thumb is that smaller homes usually require less coverage. But don't worry, there's an easy way to learn how many zones you need.
If your home has a pre-existing traditional alarm system, the zones are most likely listed by the keypad or inside of the alarm system box (the one with all the wires). Count them and voila - you're ready to select the right Konnected panel!
Not sure how many zones you need for your new pre-wired home? The industry standard is grouping your windows together - each floor or cardinal direction is one zone. We also recommend that you keep each door and motion sensor as separate zones to ensure the most precise monitoring possible!
Alarm Panel Pro Features

Ethernet connectivity & PoE
ESP32 microcontroller with integrated Wi-Fi
5V output & 3.3V triggers
12V AUX output & two alarm outputs
12 zones
Expansions ports for interface module(s)
USB port
RF shield
12V input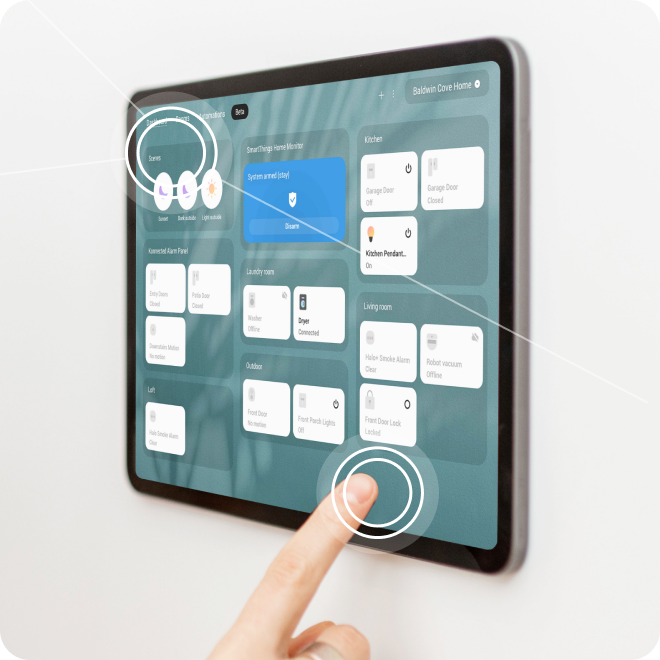 Looking to Replace Your Old Keypad?
You can upgrade the look and function of your home by replacing your old alarm system keypads with wall-mounted tablets after you've converted your wired alarm system. Wall-mounted Amazon Fire tablets are a beautiful and inexpensive way to create a DIY smart home dashboard.

Run power to the tablet using your alarm system's pre-existing keypad wiring and our 12V to 5V USB adapter and 3D printed tablet frames.

Prefer to keep the traditional keypads? Shop our Interface Kit that allows parallel connection with your existing system.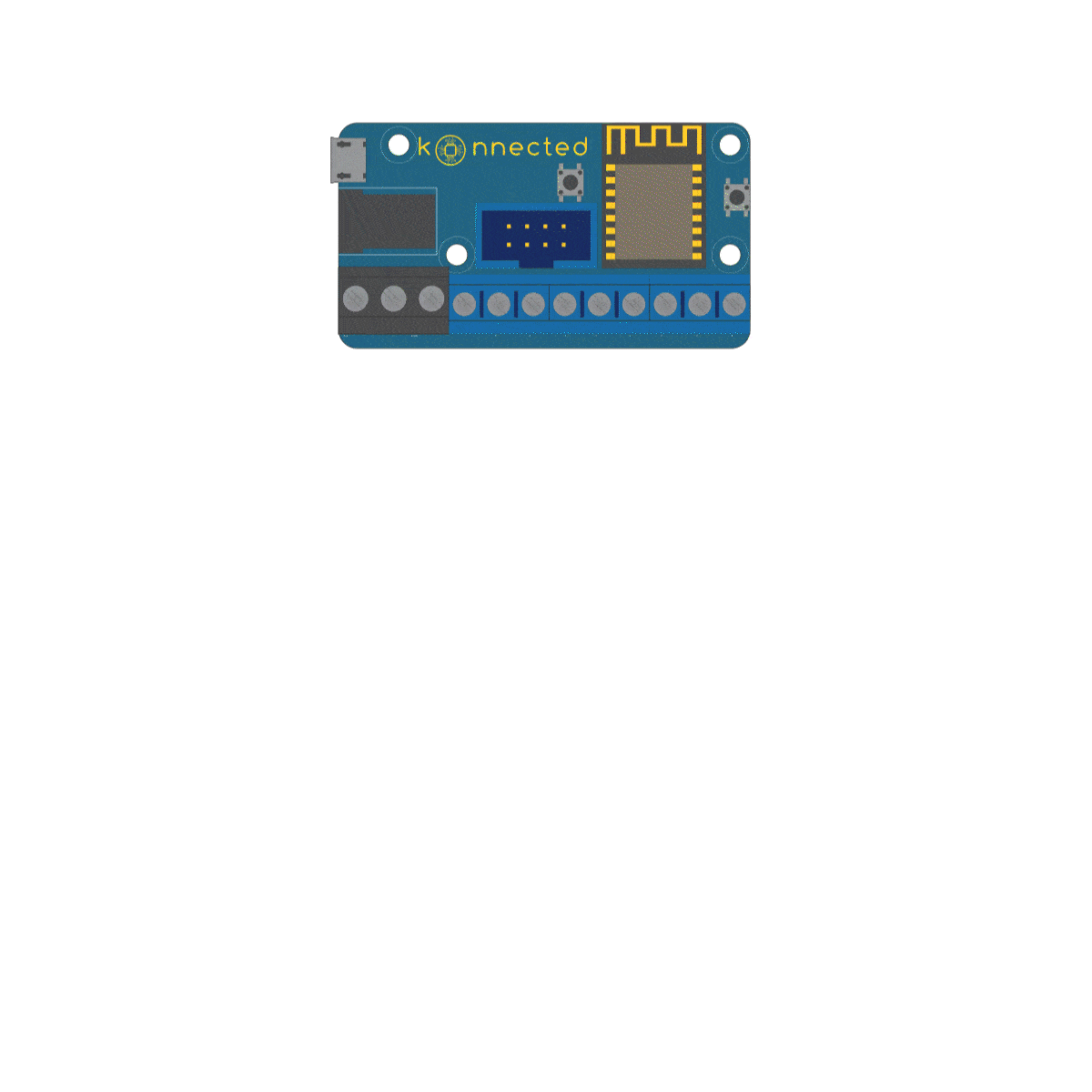 LOCAL AND/OR CLOUD BASED AUTOMATION
Konnected supports LAN-based local home automation or convenient & secure cloud based platforms via our free to use Konnected Cloud service. Learn more about cloud vs. local on the blog
Local Platforms
Self managed
Private
Flexible
LEADING SMART HOME INTEGRATIONS

Monitor and control smart devices and home appliances wherever you are.

Integrate your smart home monitoring with Alexa-enabled devices.

The open-source home automation platform that focuses on privacy and local control.

Compatible with popular home automation devices, may include a variety of built-in apps.

Community-oriented, native, powerful and beginner-friendly.

A universal integration platform for all things around home automation.

A general framework for controlling an IoT device from mobile, using your JavaScript files.

Control MQTT Enabled smart devices.
WHAT KONNECTED USERS ARE SAYING
Phil S

"My experience with the store & setting up the Konnected panel was really easy to accomplish! Plan to purchase more & add-on's!"
Fred K

"The instructions and videos guide you through the connections to the alarm panel, setting up the Konnected app, and then getting it into the SmartThings app. Worked right away out of the box."
Stuart H

"OMG, this piece of kit is outstanding and works seamlessly. It kinda pays for itself too because I've made some of my Smart Motion Sensors redundant and then sold them on eBay."
TECHNICAL SPECS
ALARM PANEL PRO
Wireless:
802.11b/g/n 2.4GHz
Ethernet:
100BASE-TX 802.3u
PoE+ 802.3at
Microcontroller:
ESP32
Inputs/Outputs: 
Up to 12 NC/NO input zones for wired sensors
Zones 1-8 may be used as 3.3V signal outputs
Zones 1-8 may be used for temperature sensors
1 dedicated 12V alarm output (max 2A)
1 dedicated 3.3V signal output
1 toggleable 12V/3.3V output
Toggleable 12V/3.3V output
Power Requirements:
Input Power: 12VDC 2.5A or power via PoE+ compatible network switch
300mA @ 12VDC max power consumption (device only)
Total power consumption varies depending on attached auxiliary powered devices and siren.
DC barrel jack connector 5.5mm outer x 2.1mm inner (center positive)
Expansion Port: 
Works with up to 2 Konnected Alarm Panel Interface modules
Auxiliary Power Output:
Outputs 12VDC
Limited to 1A when powered via PoE
Signal Output:
5VDC supply (max 300mA)
3.3V output for switching a relay or piezo buzzer
Micro-USB port:
Upgradable and serviceable via USB connectionto a computer
Warranty:
1-year limited warranty
Physical:
14.5cm L x 4.6cm W
Designed in the USA 
Assembled in North America
FREQUENTLY ASKED QUESTIONS
A zone in the context of alarm systems refers to a sensor or a group of sensors. Each zone in your system will show up in your smart home app as an individual device that you can name. For example, a single door sensor wired to a zone may be named "Front Door". You may also have a group of windows wired together on one zone and call it "Downstairs Windows". A good place to start is by looking at your existing alarm system and count the number of zones. Often the keypad from your old system will have a zone listing either handwritten on a label, or programmed into the display.
Conversion kits work as a replacement to your traditional alarm panel or an addition to your new-pre wired home. Interface kits allow you to keep the traditional alarm panel and add smart home functionality to it.
If you'd like to keep using your existing keypad, make sure to purchase one of our Interface Kits (instead of the Conversion Kit). Interface Kits allow you to keep the functionality of your traditional keypad, while adding the all-new smart home possibilities controlled from your phone, tablet or computer. If you want to stop using your keypad and monitor your home only with smart home platforms, choose any of the Conversion Kits. No matter your requirements, Konnected has a solution for you.
Customer Reviews
Write a Review
Ask a Question
Filter Reviews:
Konnected
board
system
alarm
Smartthings
sensors
integration
Home Assistant
documentation
zones
09 Mar 2023
Michael K.

United States
Gemini Upgraded
Works perfectly. Upgraded my Gemini system and it works flawlessly.
09 Mar 2023
Ilan P.

United States
Great product, this is the future of alarms
Very easy to setup took less than 10 min. Competitively priced. Lots of zones compared to the competition. The home assistant integration is both robust and lightning fast. My sensors update in real time.
21 Feb 2023
Gary C.

United States
Excellent Support
Allowed me to convert a dormant wired alarm system from when bought house 6 years ago to a working smart system. Support Services amazingly helpful in getting my conversion setup.
13 Feb 2023
David K.

United Kingdom
Superb addition to the the 21st century home!
This was exactly the product I was looking for. Thanks to Nate and the team for putting it all together, what a brilliant way to snaz up your old home alarm system! Power over ethernet worked fine for me and the board immediately powered on and subsequently was recognised in my home assistant instillation :) I had no trouble wiring up my existing wired door sensor and 5 motion sensors to the board as it has nice handy screw terminals for the wires, once again these appeared correctly in home assistant after configuring them. It was also a breeze to wire up the piezo buzzer so we still have a door open / close sound just like the old system using the existing wiring from the old keypad. Also, I had no trouble using home assistant's manual alarm panel configuration and setting the konnected board up for remote monitoring / notifications depending on what state the unit was in. Its all working exactly as I expected. *Just as random project, I wired up a simple push button doorbell button to one of the 12 output zones and that works great in home assistant too! so I managed to have a very cheap and simple configurable doorbell that I wasn't planning for but this board gave me an easy platform to do so :) The documentation is great for this unit from konnected's website which pretty much helped me do everything, thanks again! Overall I would score this unit an easy 10 out of 10 if your use case is the same as mine. 1. to upgrade old wired alarm system to 21st century 2. to combine with existing home assistant installation for remote monitoring Bonus 3. to pass the wife friendly test when I told her she would be able to disarm the alarm system with her phones NFC reader after setting up an NFC tag and/or that presence detection could do it automatically. Job done!
09 Feb 2023
Chuck

United States
Worked out perfect for my smart home!
Extremely easy to wire and connect to the internet. I was able to easily connect to SmartThings (without hub) and then connect SmartThings to Google Home. My virtual switches in SmartThings show up in Google Home and enabled me to create routines. With routines in Google Home is was able to automate messages throughout all my smart speakers. Currently my house announces the following: Door Open, Alarm is disarmed, Armed Stay will be active in 20 seconds, Armed Away will be active in 20 seconds, Intruder Alert. Siren will sound in 20 seconds. I purchased 3 Fire 7 tablets to use as control panels and installed ActionTiles on them. The fire tablets display (Always on) time, date, 3 day weather, front door Nest camera, driveway Nest camera, garage open (with security code), arm stay, arm away, disarm (with security code).....and status of all door, window and motion sensors. Battery backup was installed in modem, router, all wifi points and Konnected alarm board. I did this all for less than half the price of the most affordable alarm company I could find and don't need to pay a monthly fee for their ineffective monitoring. I may add more smart switches to my panels for home control....still deciding since I can already control all the switches with voice commands. Added bonus is that I know how everything works if there are ever any issues in the future. Highly recommended!