Regular price
Sale price
$8
Unit price
per
SALE!
Sold out
This high precision temperature and humidity sensor module lets you easily monitor the ambient temperature and humidity with Konnected and SmartThings*
Kit includes:
1 x Digital Temperature & Humidity sensor module
4 x Jumper wires 
4 x adhesive standoffs for mounting
Use with a Konnected DIY Prototyping Kit or Konnected Alarm Panel Add-on Board (sold separately).
Specifications
Power requirements: 3V - 5V DC
Dimensions: 39 x 22 x 10mm
Temperature range: -40°C to 80°C ± 0.5°C
Humidity: 20-90% RH ± 2% RH
Country of origin: China
For installation in dry locations only.
* Supported in Konnected 2.2.0 and newer. Home Assistant support coming soon!
View full details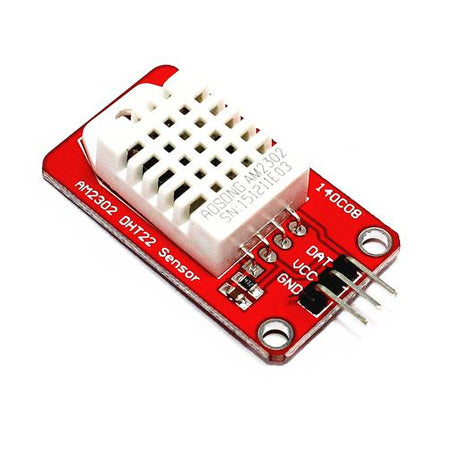 Customer Reviews
Write a Review
Ask a Question
Filter Reviews:
Works
house
humidity
temp
sensors
install
everything
zone
weather
levels
17 Nov 2023
Robert G.

United States
Temperature & Humidity Sensor Module - AM2302 DHT22
Works perfectly. Shows the temperature and relative humidity every 3 minutes. Great to monitor HVAC functionality when not at home.
17 Jan 2023
Andrew A.

United States
Not Accurate
Temp Sensor is 6.5 degrees hotter .Also have to ask for a wiring diagram, They need more into on there products on the same page.
23 Nov 2022
Pablo M.

United States
Great little product
Works flawlessly. Using it currently to monitor my server room.
06 Mar 2021
Bart B.

United States
Getting to Know the Temperatures In and Outside My Home
I hooked these up and after figuring out had wires crossed these are working like a champ. Hubitat can display both temp and humidity in a single tile if you use the weather but the wind and direction not being part of the sensor is a little weird. So I have them in side by side tiles. works great. Will make a suggestion for Hubitat to make a temp/humidity tile.
17 Jan 2021
Brady P.

United States
Gather Temperatures Around the House
This is a great way to gather temperature readings around the house where you have access to wiring and an open zone on one of the alarm boards. I have 3 sensors, 1 in the wiring closed for the house temp, 1 in the garage for the garage temp, and 1 in the gate box for outside temp. They work great!
20 Dec 2020
Dan V.

United States
Humidity sensor
Any way we can get longer wire?
26 Sep 2020
Avery

United States
Works great(ish) with Hubitat
Got two in the mail today, straightforward install, configured in Hubitat and everything is working, one little thing though... in the HE dashboard I can only get the temp or the humidity to display in a single tile, I have to spin up a second tile and get the 'other' sensor to display... it's annoying, but not a deal breaker - these are going in the attic and the basement.
17 Sep 2020
Tim T.

United States
Awesome
The 2 DHTs I ordered work wonderfully! I'm using them to control my attic fans
07 Sep 2019
Michael G.

United States
Good temp sensor
Good quality temp sensor works well with konnected hardware. Fast shipping and good customer service before and after the purchase.
17 Jun 2019
Rick K.

United States
They work great. People should be
They work great. People should be told they are 5 volt
15 Jun 2019
Corry S.

United States
Works great and easy setup.
This was easy to install and works great with the connected system. The only dropped star reason was that the wiring is only about 4 inches long. Not very easy to mount this outside of a metal enclosure box.
09 Jun 2019
Tim T.

United States
doesn't work
i got this new one as a replacement to the current one have purchased. but it's not working, no readings at all. i put the old one back, and it's working fine. it just that with the old one, once in awhile it picks up a bad reading.
Be carefull
I assumed it would work on Hubitat but it does not. Haven't read the specs before ordering (e.g. on Smartthing only). Maybe this will work later on on it (Hubitat). Keep me posted if you do.
Great service and product
Arrived quickly and works great.
Convenient Monitoring
Modules arrived well packaged in time. Excellent service! this provide me to monitor the three levels of house as well as outside instead relying on the local weather for the just outside my house