Regular price
$219.00
Sale price
$189
Unit price
per
SALE!
Sold out
Love your home monitoring system, but crave the conveniences of a smart home? The Starter Interface Kit, with 6-zones per panel and Wi-Fi connectivity, augments your traditional wired alarm for on-the-go home monitoring and smart home control. Best of all, this security system is designed to work with apps like SmartThings, Home Assistant, Amazon Alexa, and more. Installation is an easy DIY that can be done in no time. Our customer support is always here to help along the way!
Integrates with: ADT, Honeywell, DSC, Ademco, and more!
Consider purchasing our Backup Battery with this purchase.
Kit Contents

Alarm Panel Add-on board(s)
Interface Module(s) w\/ Built-In Relay
12V Power Adapter
Piezo Buzzer (2x with 24 zones)
Power Splitter (12 zones & more)
Jumper Wires
Ribbon Cable
Adhesive-backed Mounting Standoffs
Mini Screwdriver-pen
DC Power Pigtail
Wire Labels Sheet
Konnected Window Stickers
Features

Compatible with top smart home platforms and voice assistants
Easily expandable by integrating any of our alarm panels
No obligatory monthly fees or subscriptions
Receive real-time notifications for remote home monitoring
Automatic arming and disarming of your home
Select your preferred smart home app
Utilize your existing wired sensors and siren
Create personalized smart home routines and automations
View full details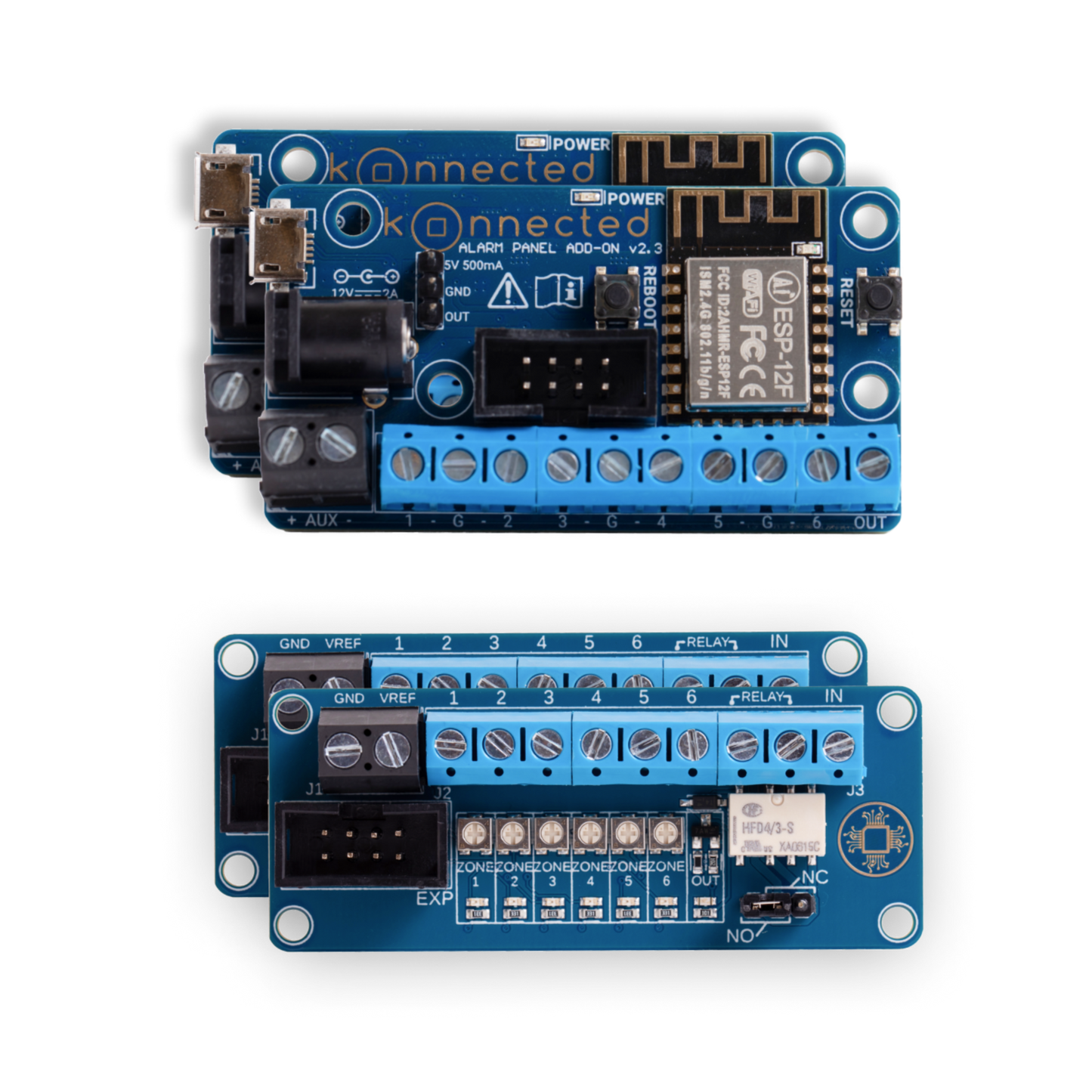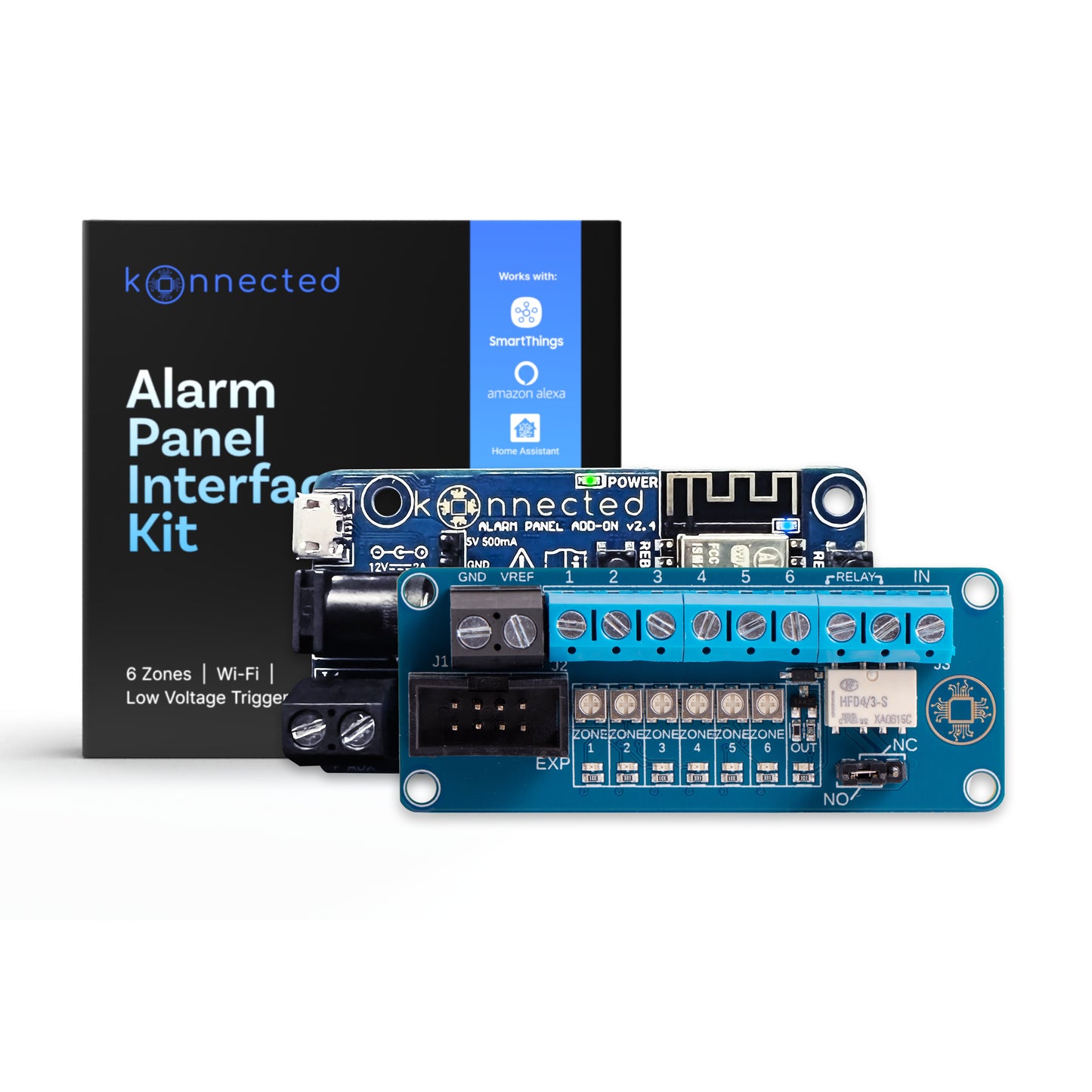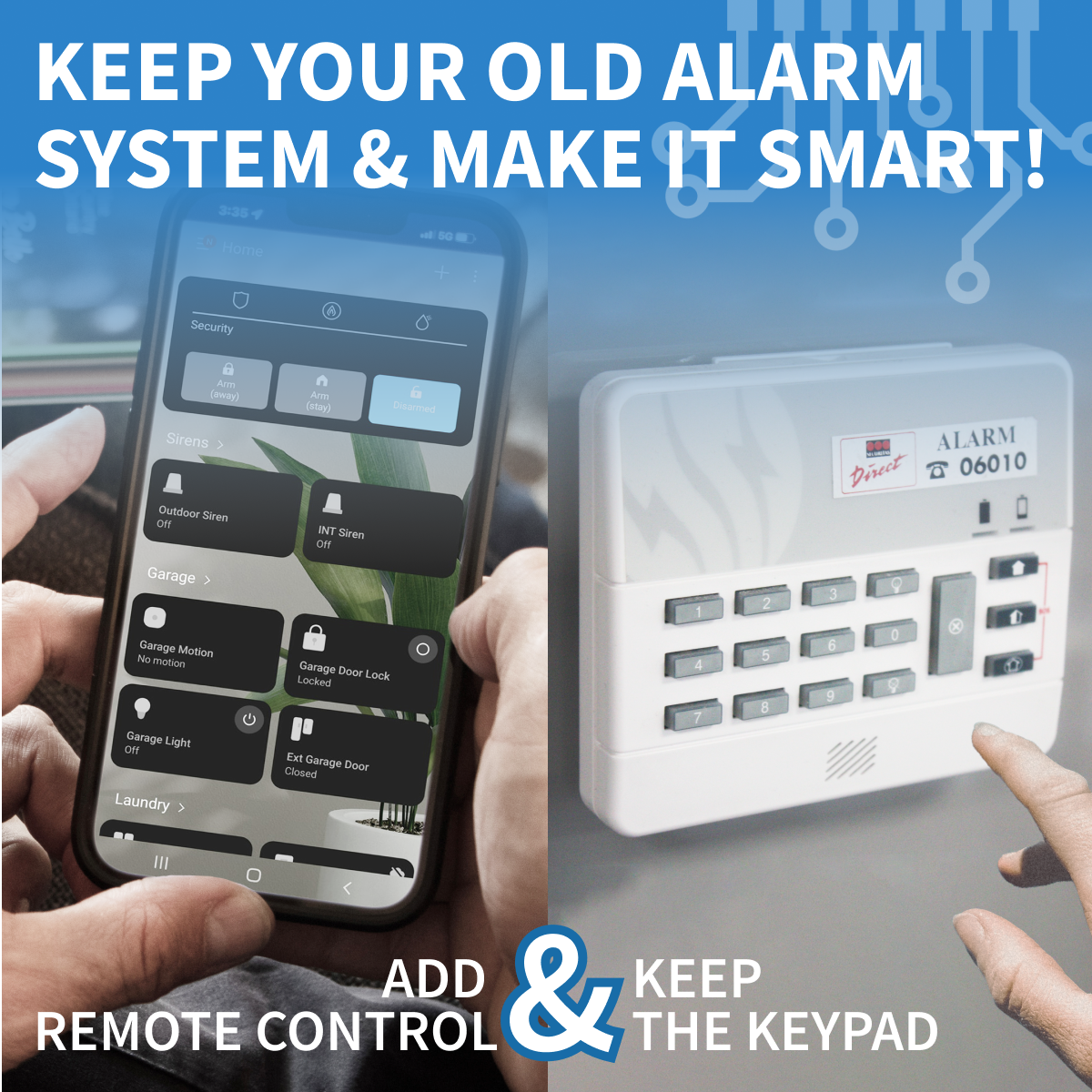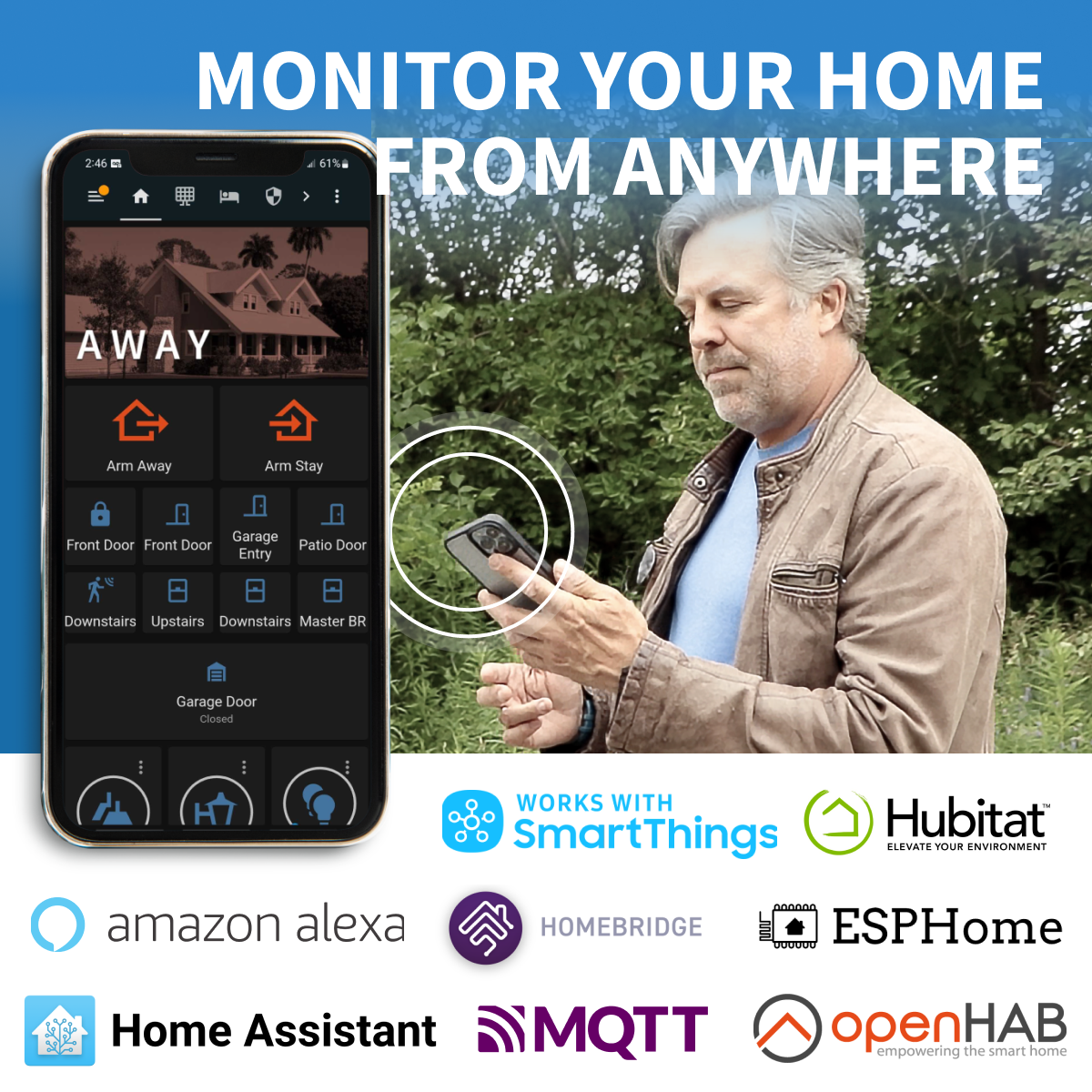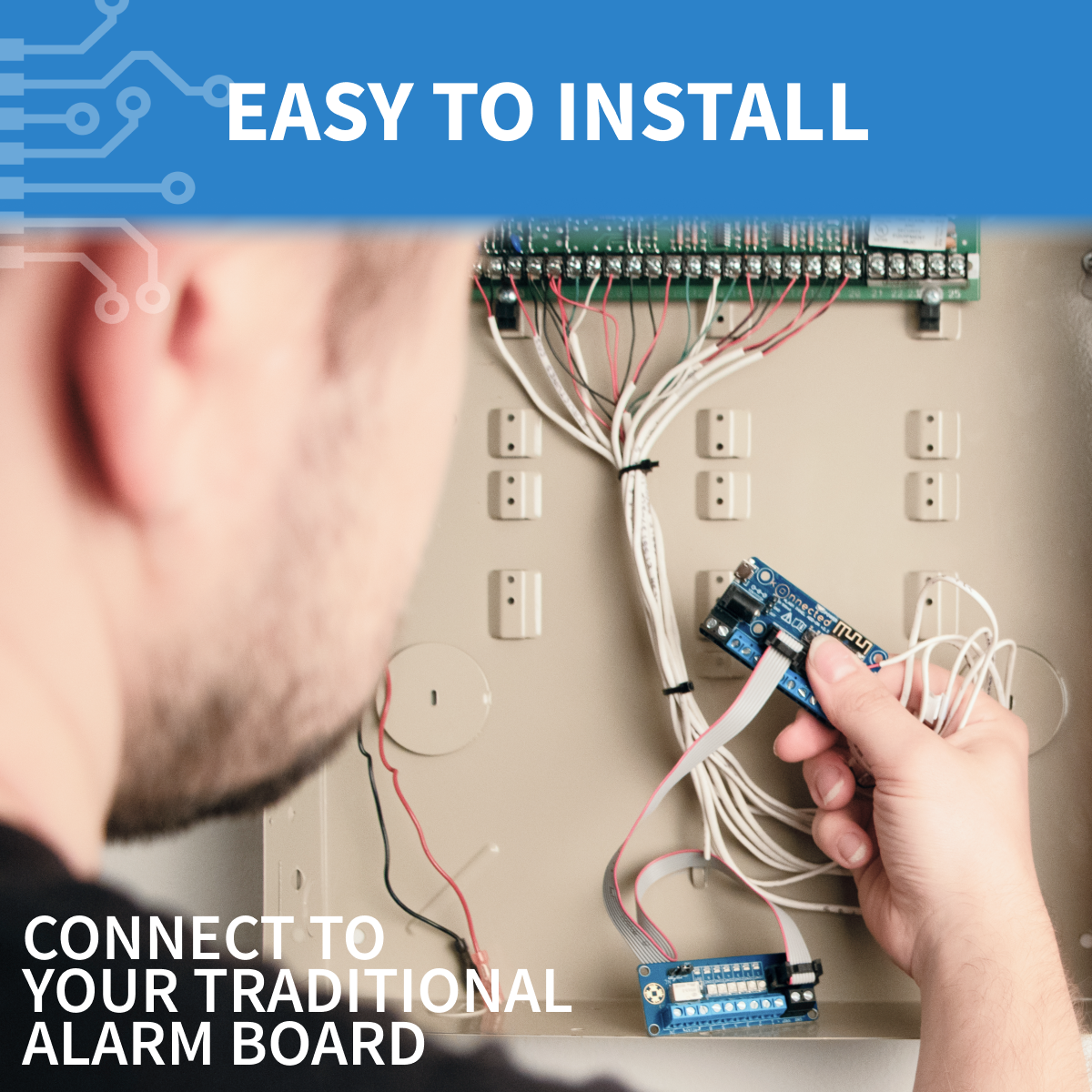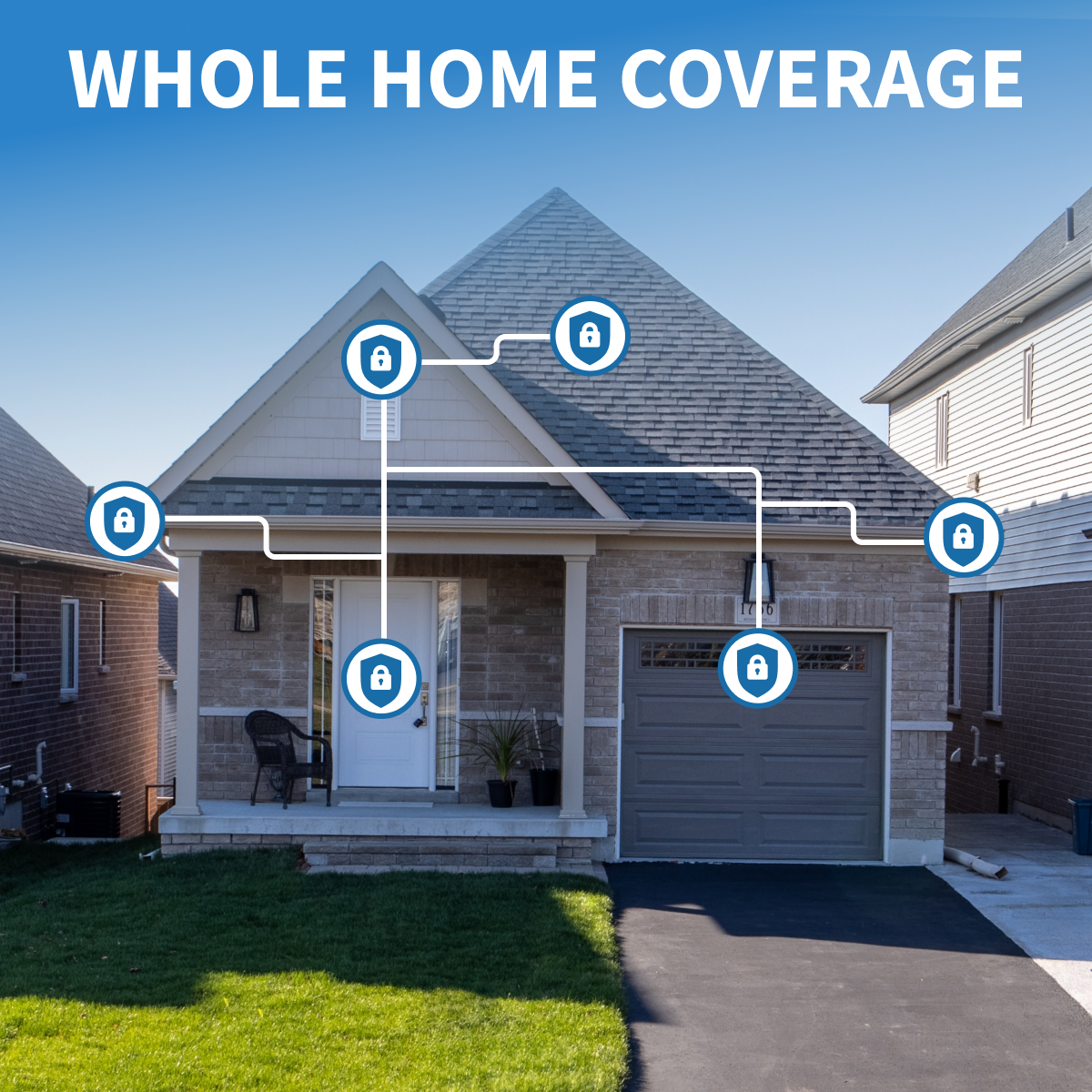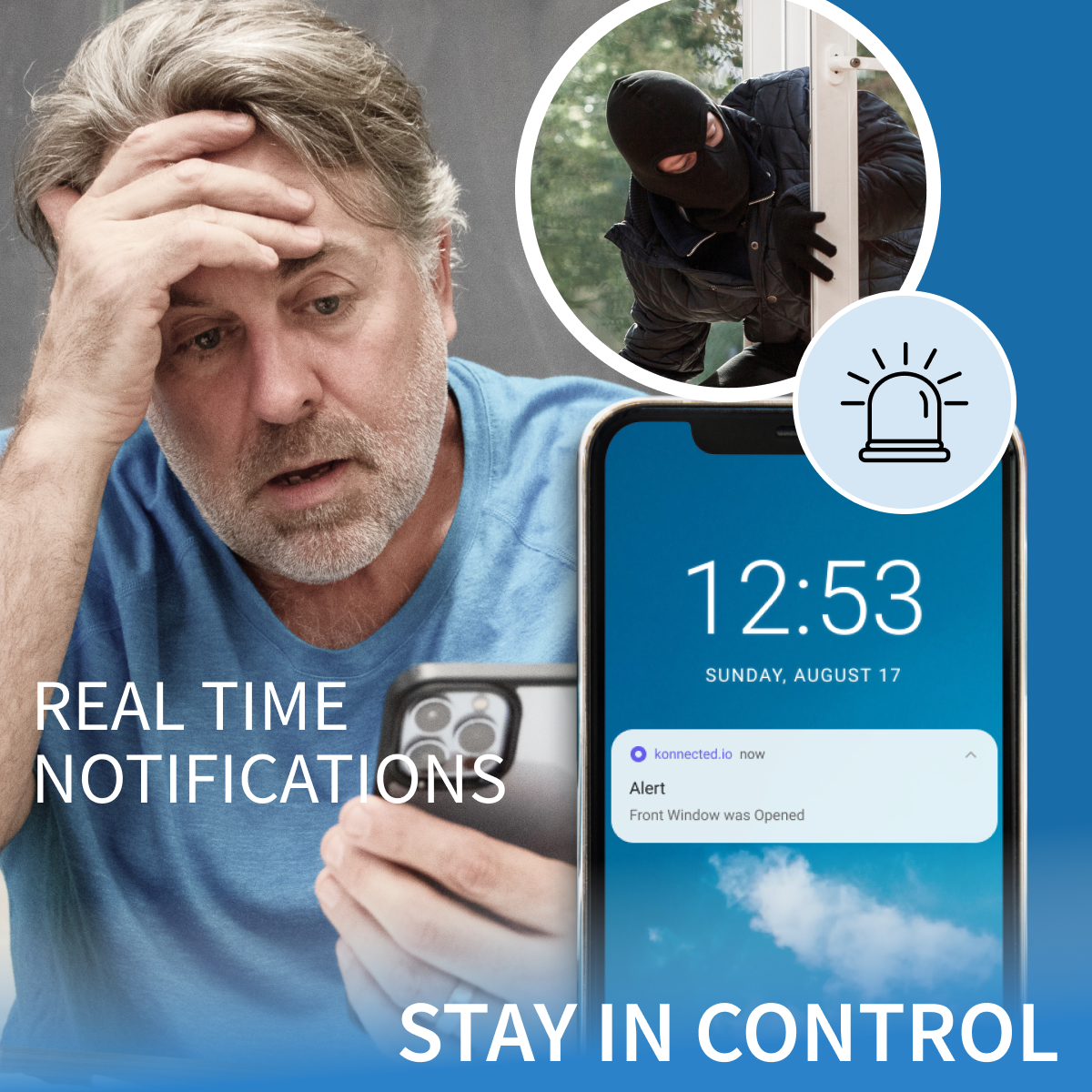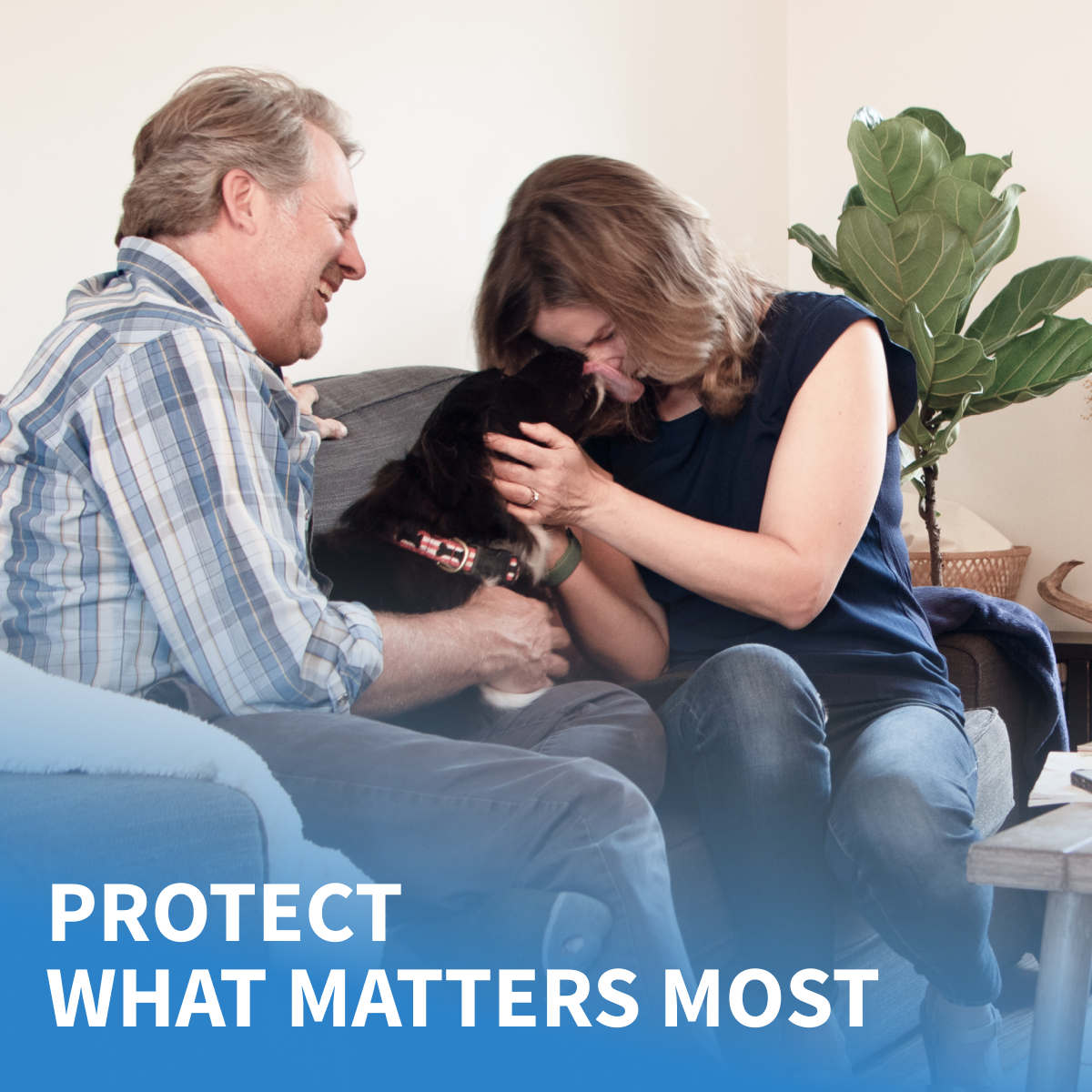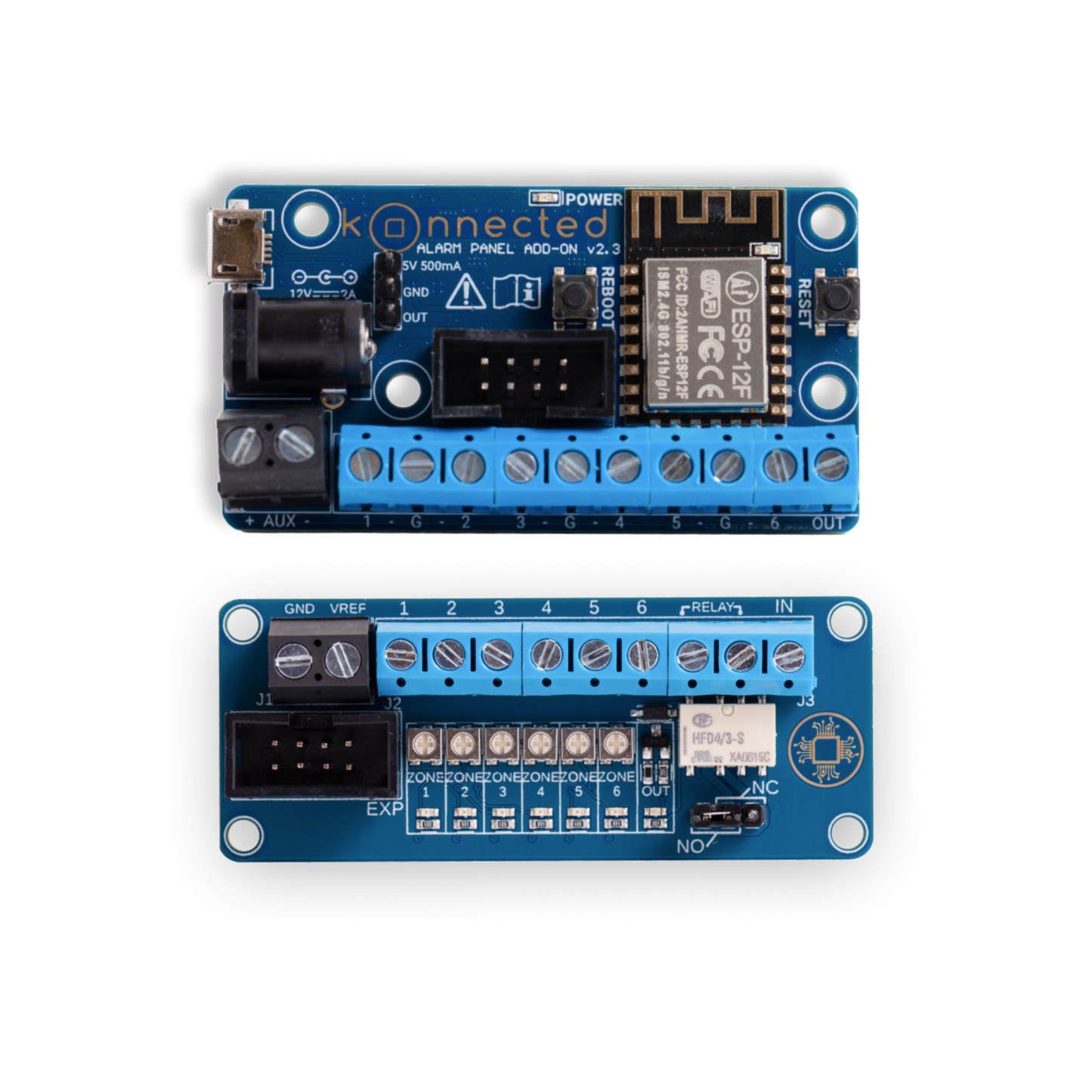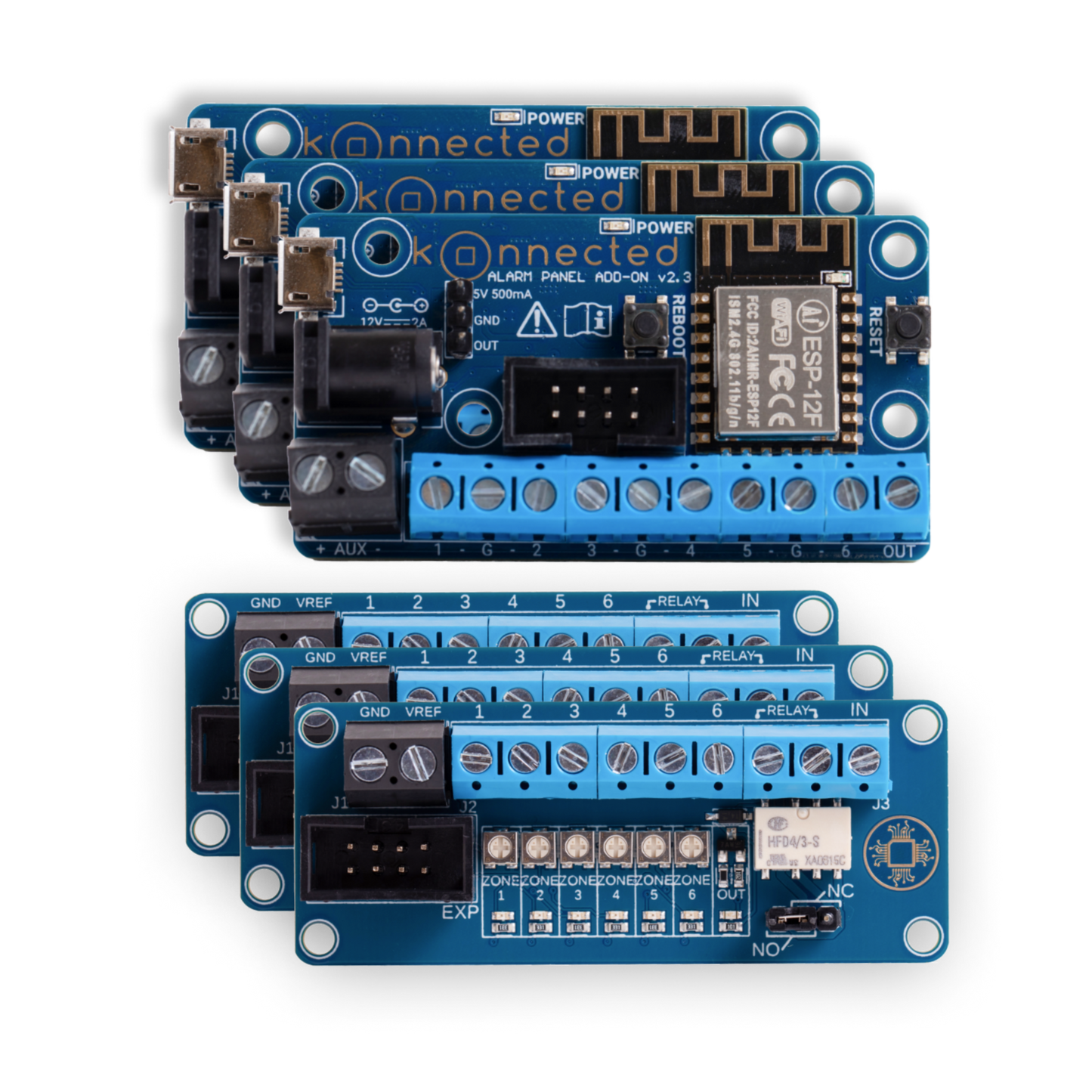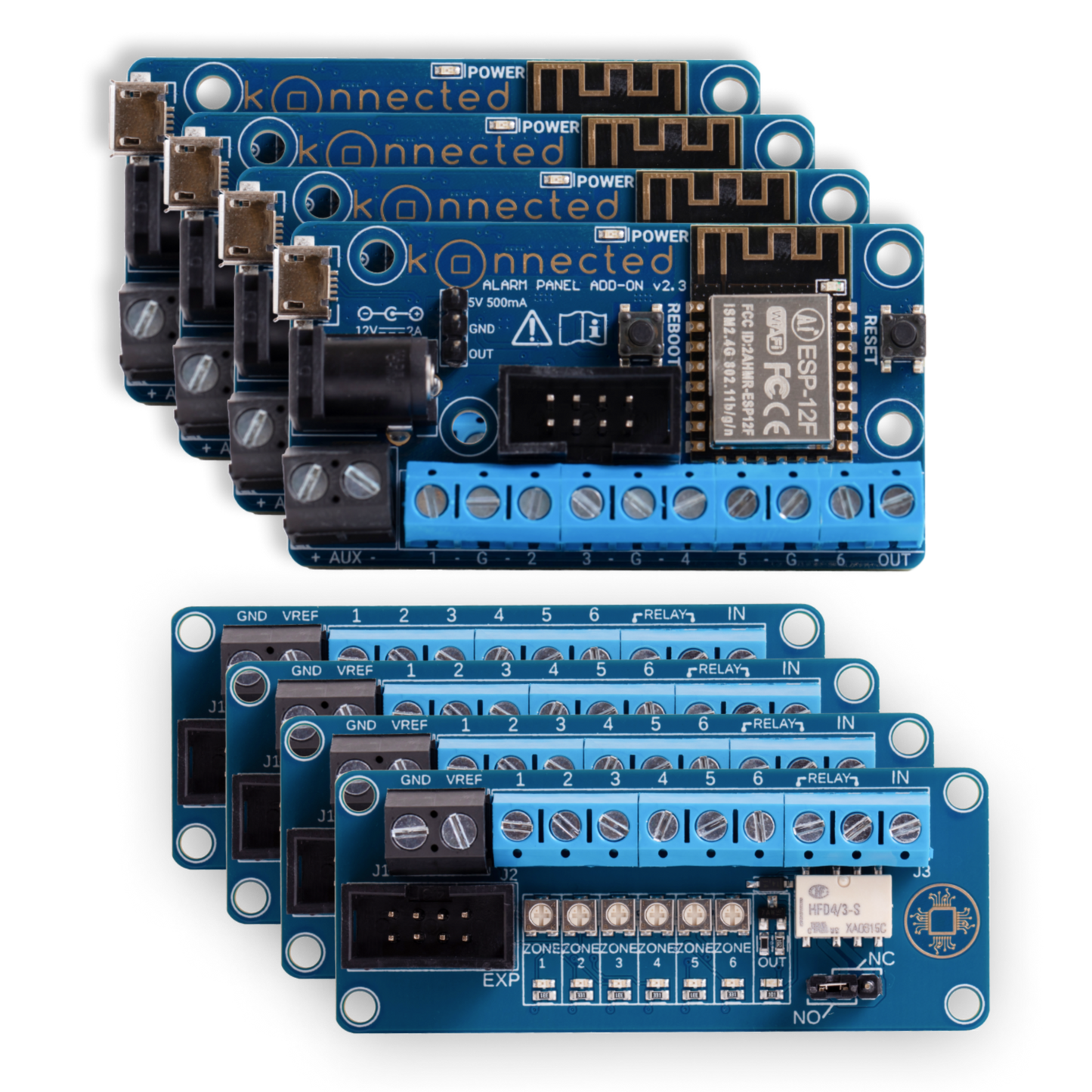 use existing wired sensors
get notifications anywhere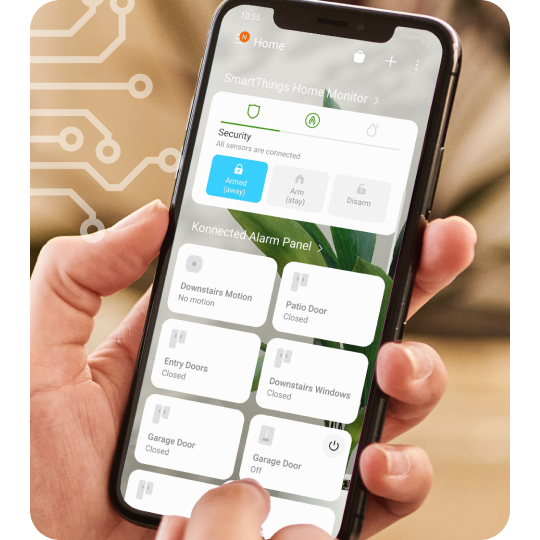 Add Smart Home Functionality to Your Traditional Alarm System
Imagine you can get the best of both worlds - keep your traditional security system with a keypad and run your alarm system from your smartphone at the same time.
With Konnected's DIY Smart Alarm System Interface Kit, you can arm and disarm remotely, check on alerts such as your back door opening, or set off a siren.
Breathe a brand new life into your wired sensors. Get ready to enjoy remote home monitoring and endless home automations - without losing any feautres of your original system!
Not into DIY's? We've got you covered with our network of dealers!
Konnected works with most leading smart home platforms:
How The Alarm Panel Interface Kit Works
The Konnected Alarm Panel Interface Kit works in parallel with your keypad-controlled alarm system by connecting directly to the traditional alarm panel in your home.
Check out these five easy steps!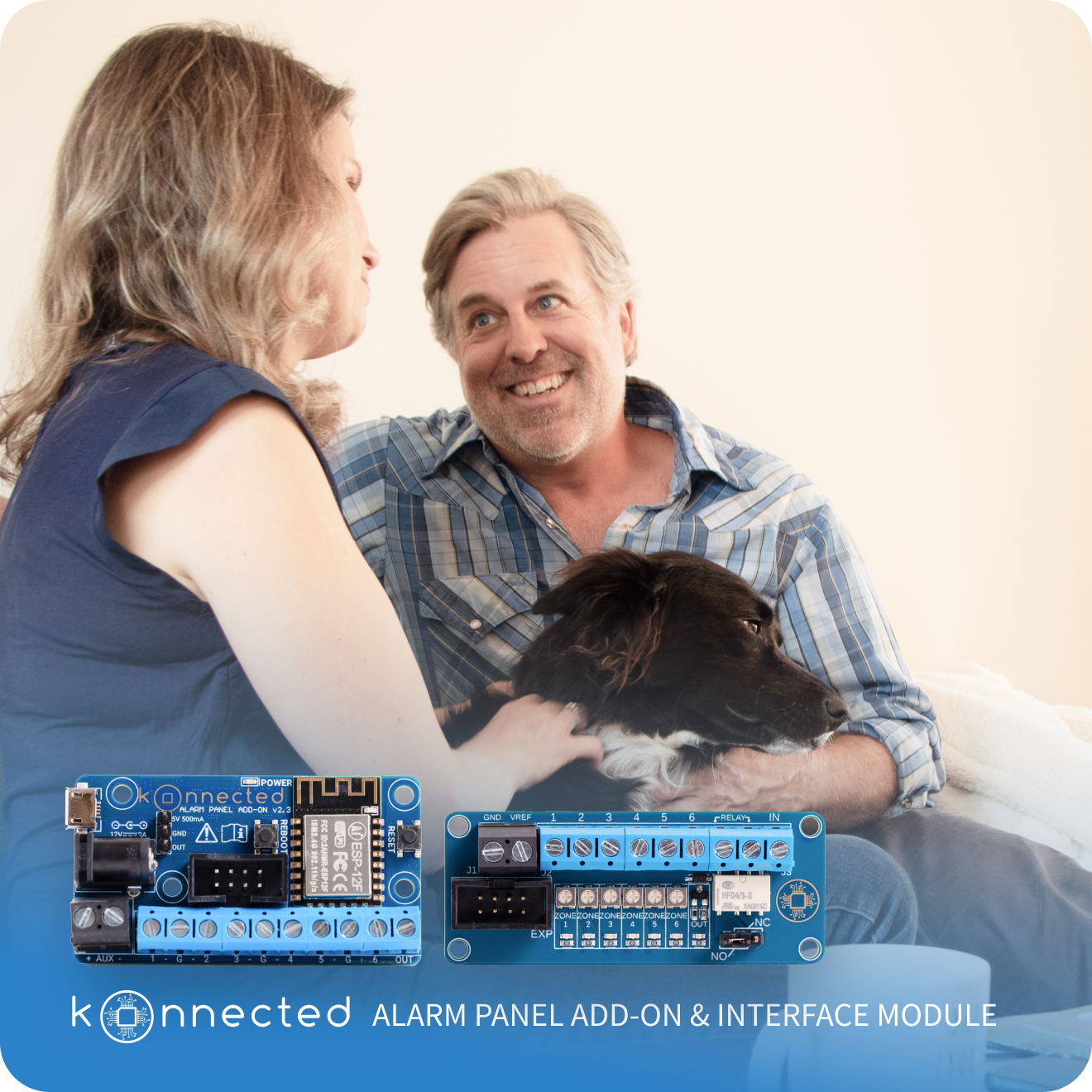 Choose the Alarm Panel Interface Kit If You:
Still want to use your traditional alarm system and add smart home functionality to it
Want to keep your professional home monitoring (if you subscribe to one)
Only seek Wi-Fi connectivity
Want to ease your way into smart home alarms before fully switching over
Love using your existing keypad and want to try using smart home apps with it to control the system
*Compare with Alarm Panel Pro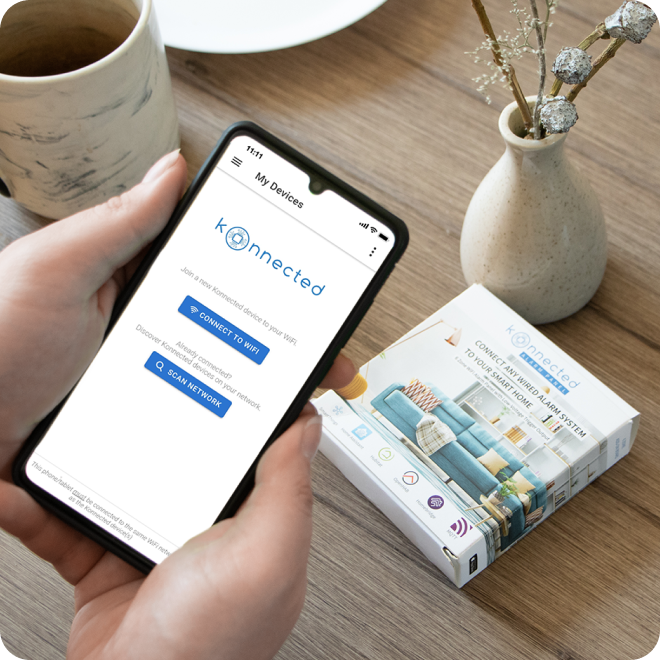 Reasons to Love Konnected for App-Based Home Monitoring
Works with leading smart home platforms and voice assistants
Infinitely expandable by adding any of our alarm panels
No required monthly fees or subscriptions
Real-time notifications so you can monitor your home from anywhere
Automatically arms/disarms your home
Choose your favorite smart home app
Uses your pre-existing wired sensors and siren
Create smart home routines and automations
Compare Kits

Conversion Kit

Interface Kit

Conversion Kit

Interface Kit

Starting at

$69

$109

$199

$259

Makes any wired alarm system smart

✓

✓

✓

✓

Makes any wired alarm system smart

Works with common wired sensors & signaling devices

✓

✓

✓

✓

Works with common wired sensors & signaling devices

Works with leading smart home platforms

✓

✓

✓

✓

Works with leading smart home platforms

No required fees or subscriptions

✓

✓

✓

✓

No required fees or subscriptions

Smartphone monitoring & notifications

✓

✓

✓

✓

Smartphone monitoring & notifications

Replaces traditional wired alarm panel

✓

–

✓

–

Replaces traditional wired alarm panel

Adds smart home features by connecting to any traditional alarm panel

–

✓

–

✓

Adds smart home features by connecting to any traditional alarm panel

Open-source technology

✓

✓

✓

✓

Open-source technology

Wi-Fi connectivity

✓

✓

✓

✓

Wi-Fi connectivity

Ethernet connectivity

–

–

✓

✓

Ethernet connectivity

Power-over-Ethernet (PoE)

–

–

✓

✓

Power-over-Ethernet (PoE)

More zones by adding Konnected panels

✓

✓

✓

✓

More zones by adding Konnected panels

6-zones per panel

✓

✓

–

–

6-zones per panel

12-zones per panel

–

–

✓

✓

12-zones per panel

Availability
Infinitely Expandable
Konnected is infinitely expandable by simply adding more Konnected Alarm Panel boards! Our unique decentralized approach means that each Konnected Alarm Panel board works independently and has its own WiFi connection to your smart home platform.

You can add any of the Konnected devices, even mix either 6-zone WiFi model or the Alarm Panel Pro, anywhere there's a WiFi signal. The smart home app syncs everything together into one cohesive system.
6 Zones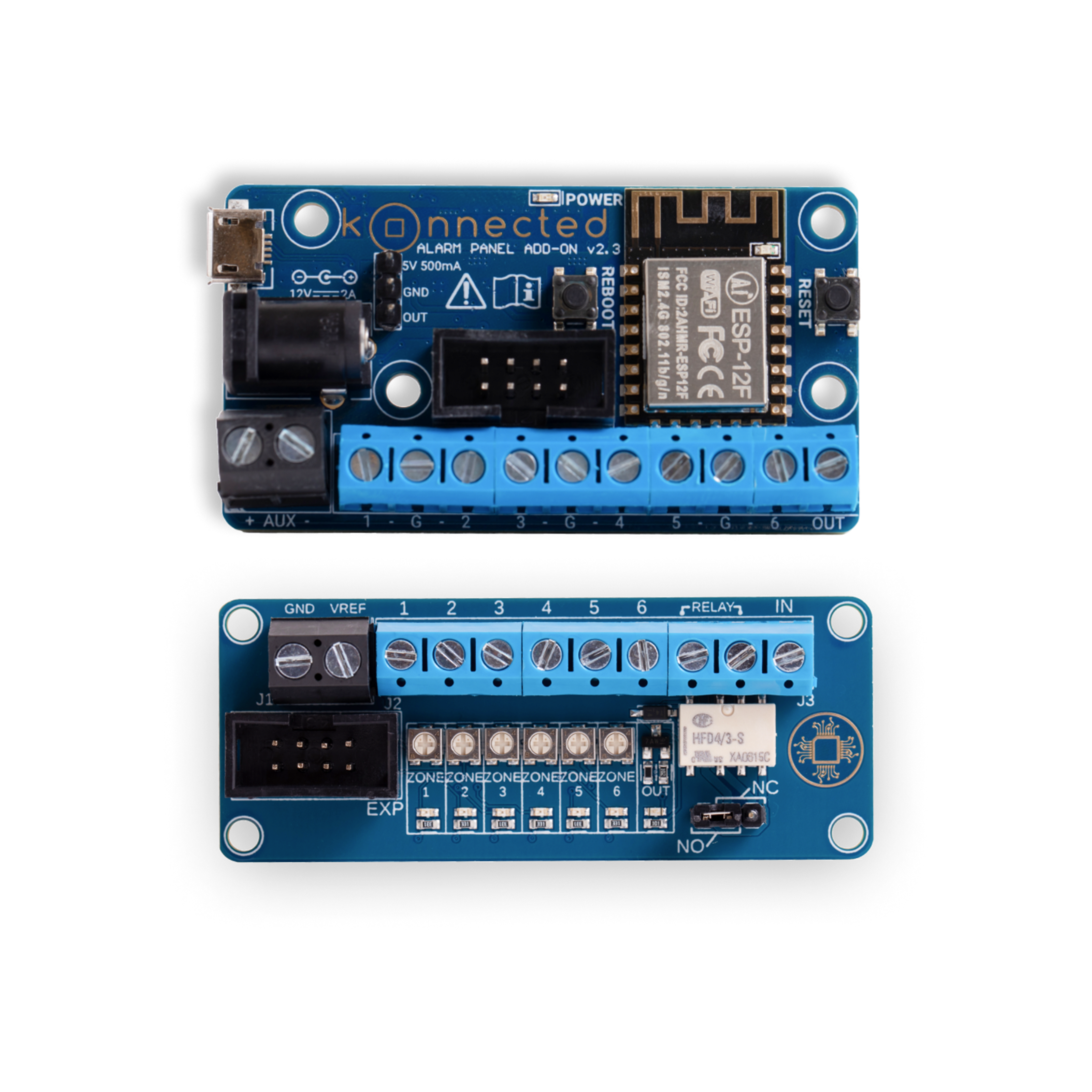 12 Zones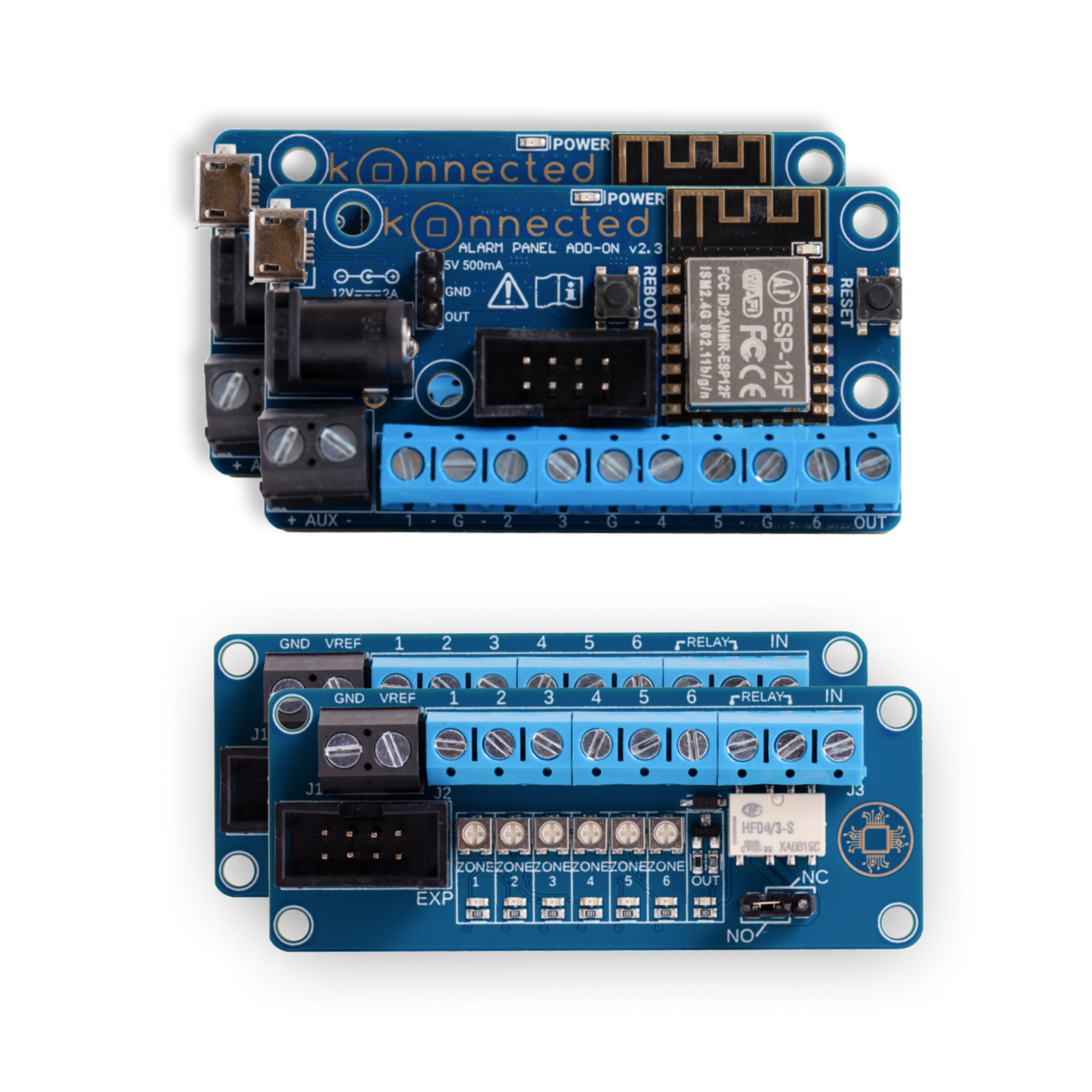 18 Zones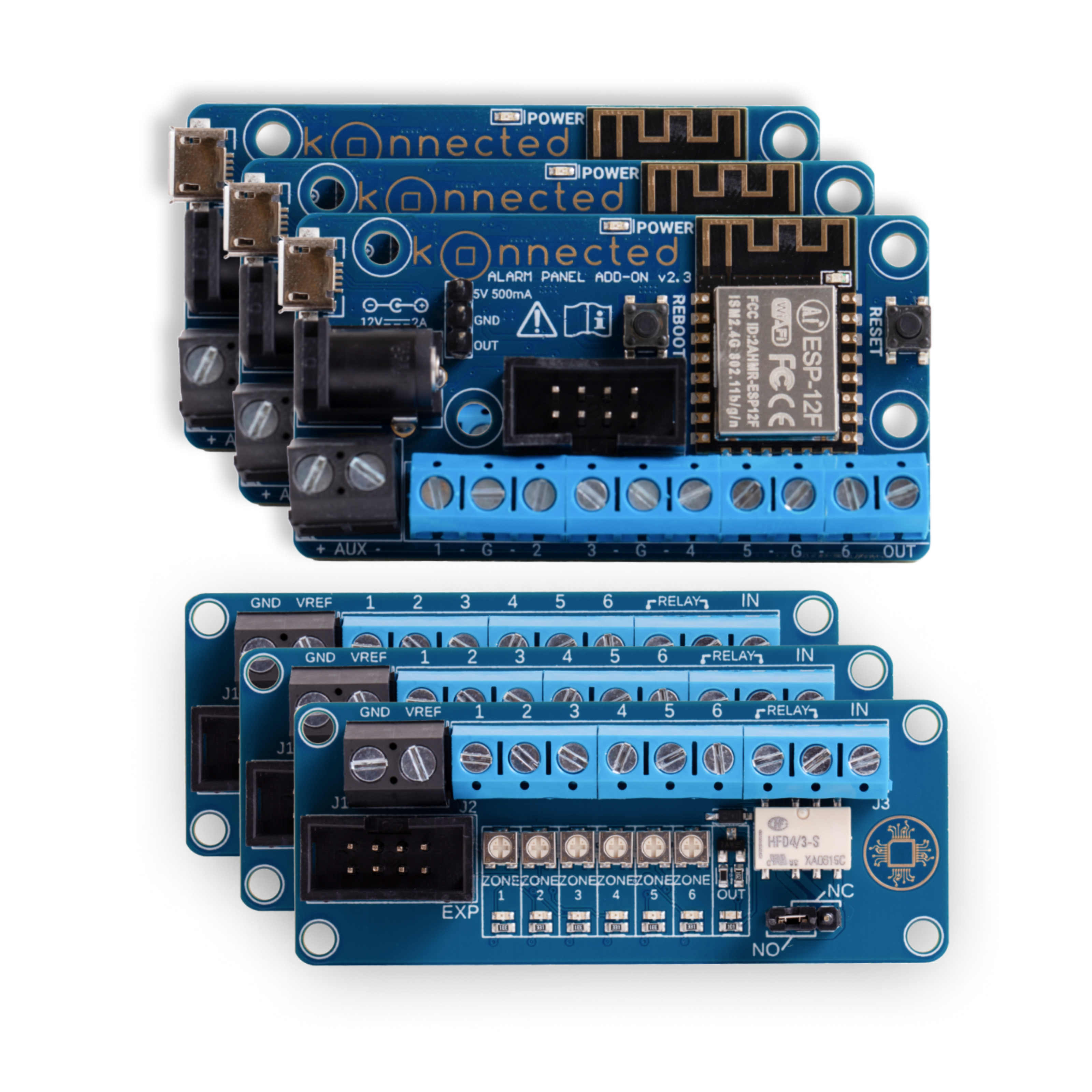 24 Zones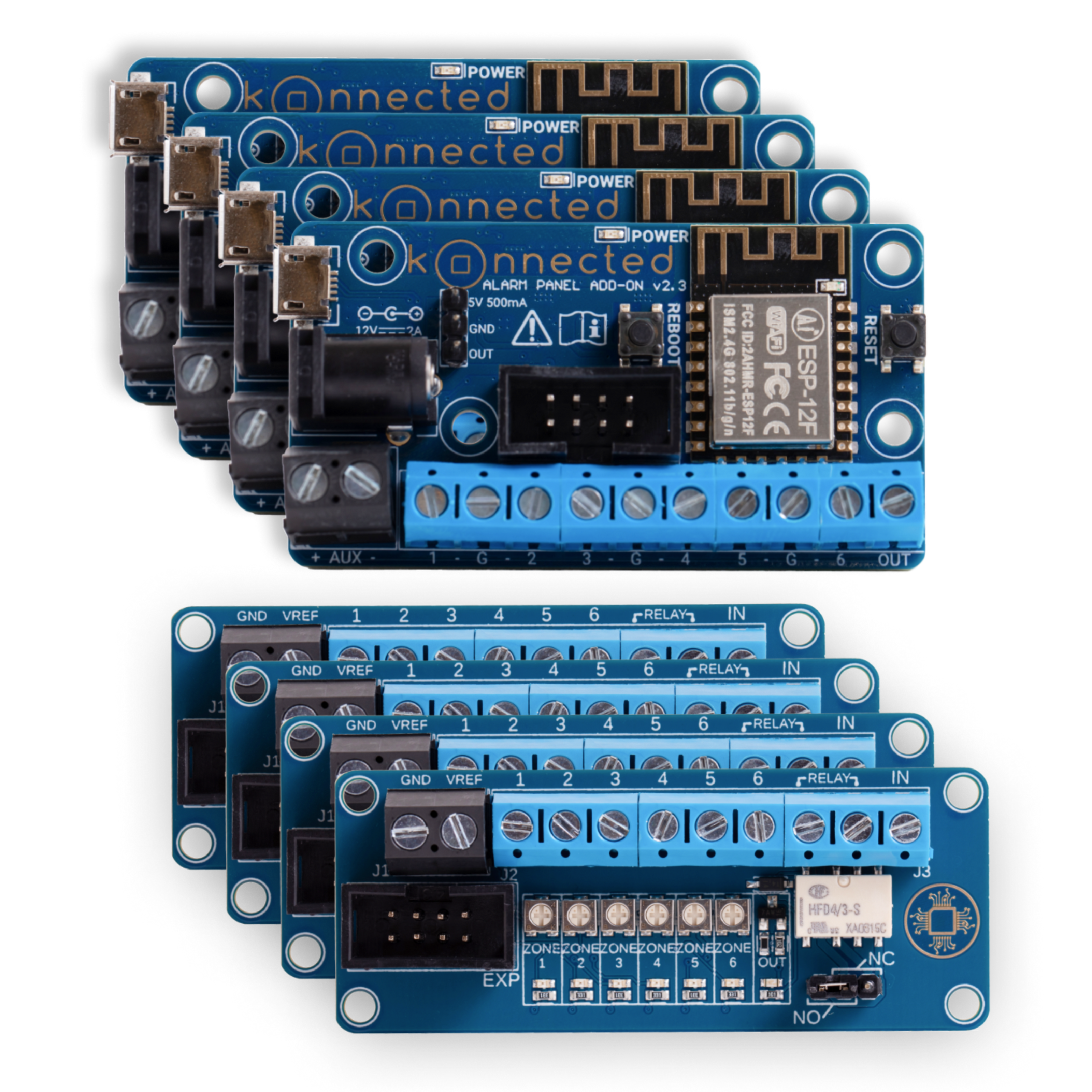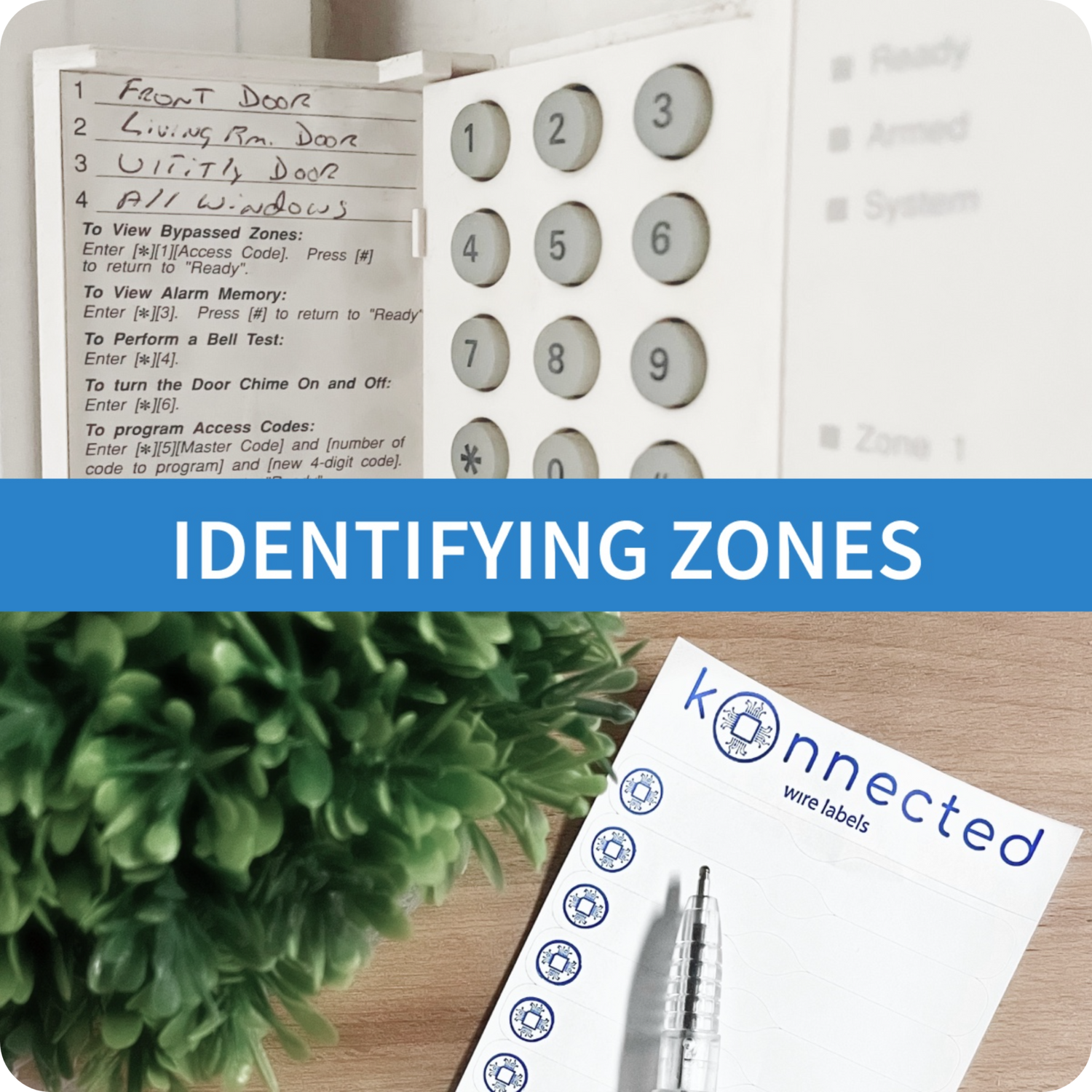 How Many Zones Do I Need?
There's a quick way to learn how many zones you need for Konnected Interface Kits:
In your traditional alarm system, the zones are most likely listed by the keypad or inside of the alarm system box (the one with all the wires). Count and note them down.
Our Interface Kits require 2 more zones than your original alarm panel. E.g., if your traditional alarm panel has 10 zones, you'll need 12 zones for Konnected. The 2 additional zones are responsible for monitoring 2 outputs (armed/disarmed indicator & alarm/idle indicator).
Alarm Panel Add-on Features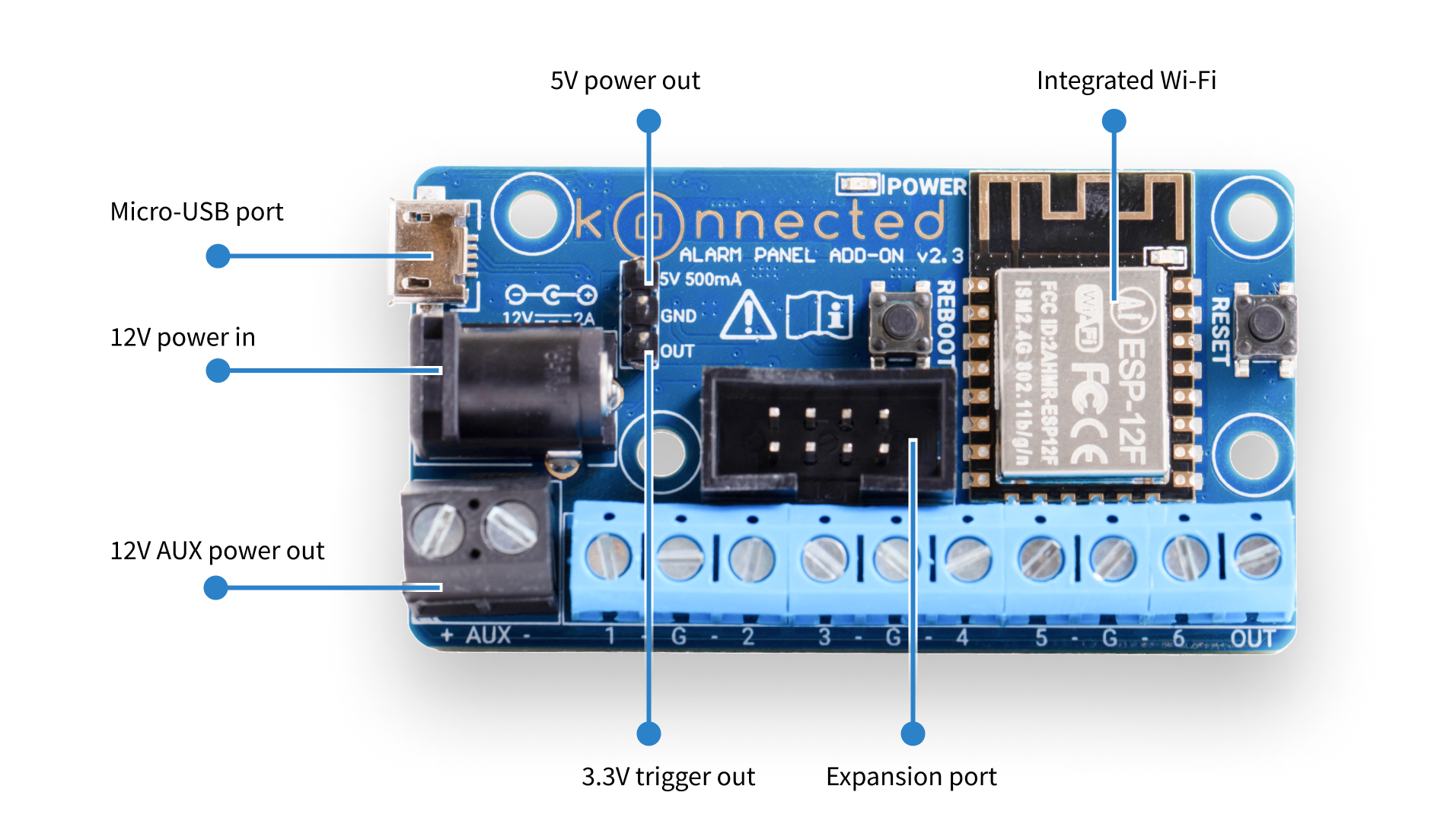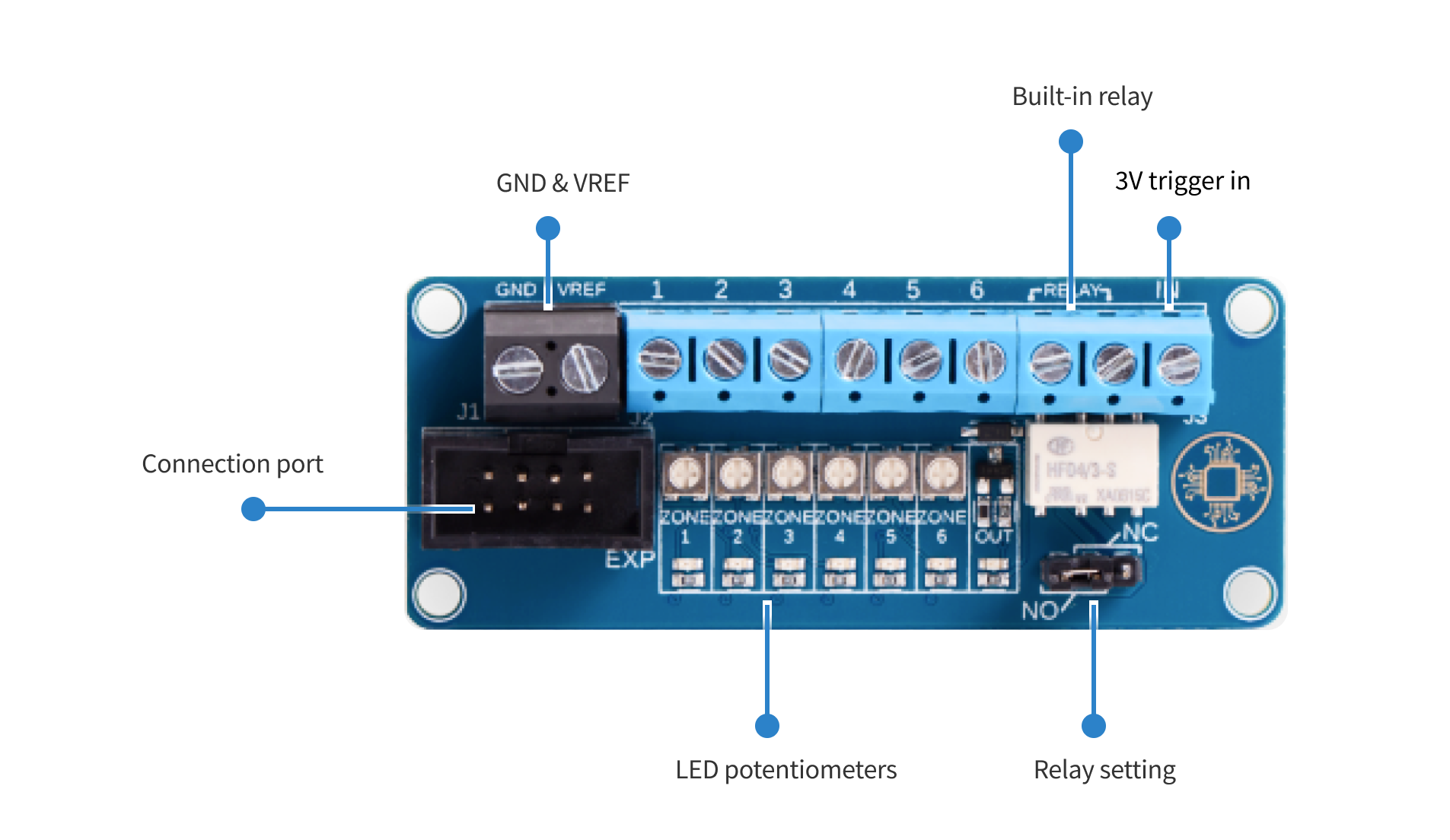 Micro USB port
Integrated Wi-Fi
12V power in/12V AUX power out
5V power out
3.3V trigger out
Expansion port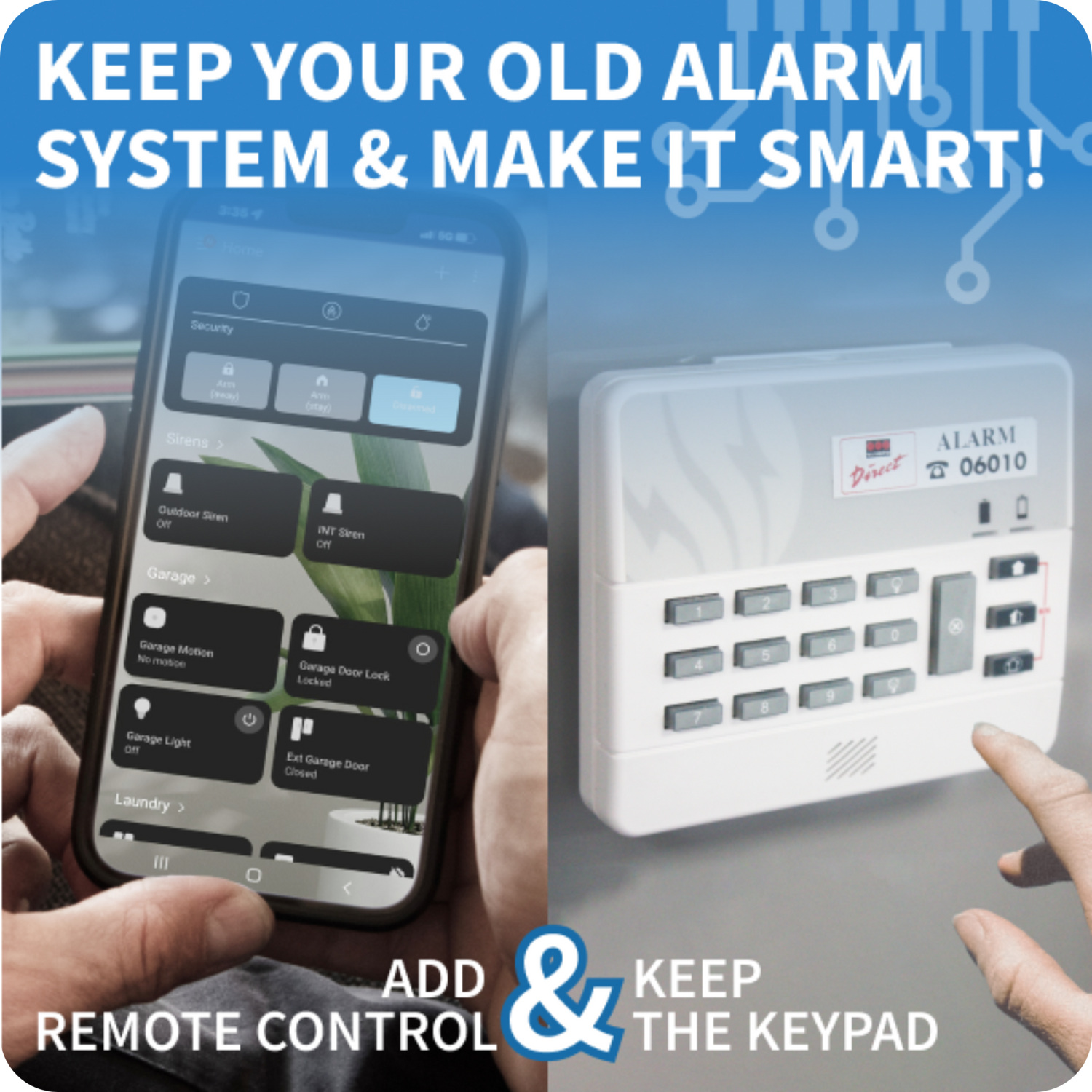 Keep Your Keypads
The Interface Kit allows you to keep the home security routine you love while enjoying top-of-the-line smart home automations.
This is the perfect way to ease yourself into the world of modern home monitoring. It's also great for everyone in your household that might be reluctant to try out new things and might need some additional time to get acquainted with smart alarms. With Konnected, there's no rush and everyone can feel comfortable!

In case you don't want the old keypad at all and/or would love to replace it with a tablet, try out one of our Conversion Kits!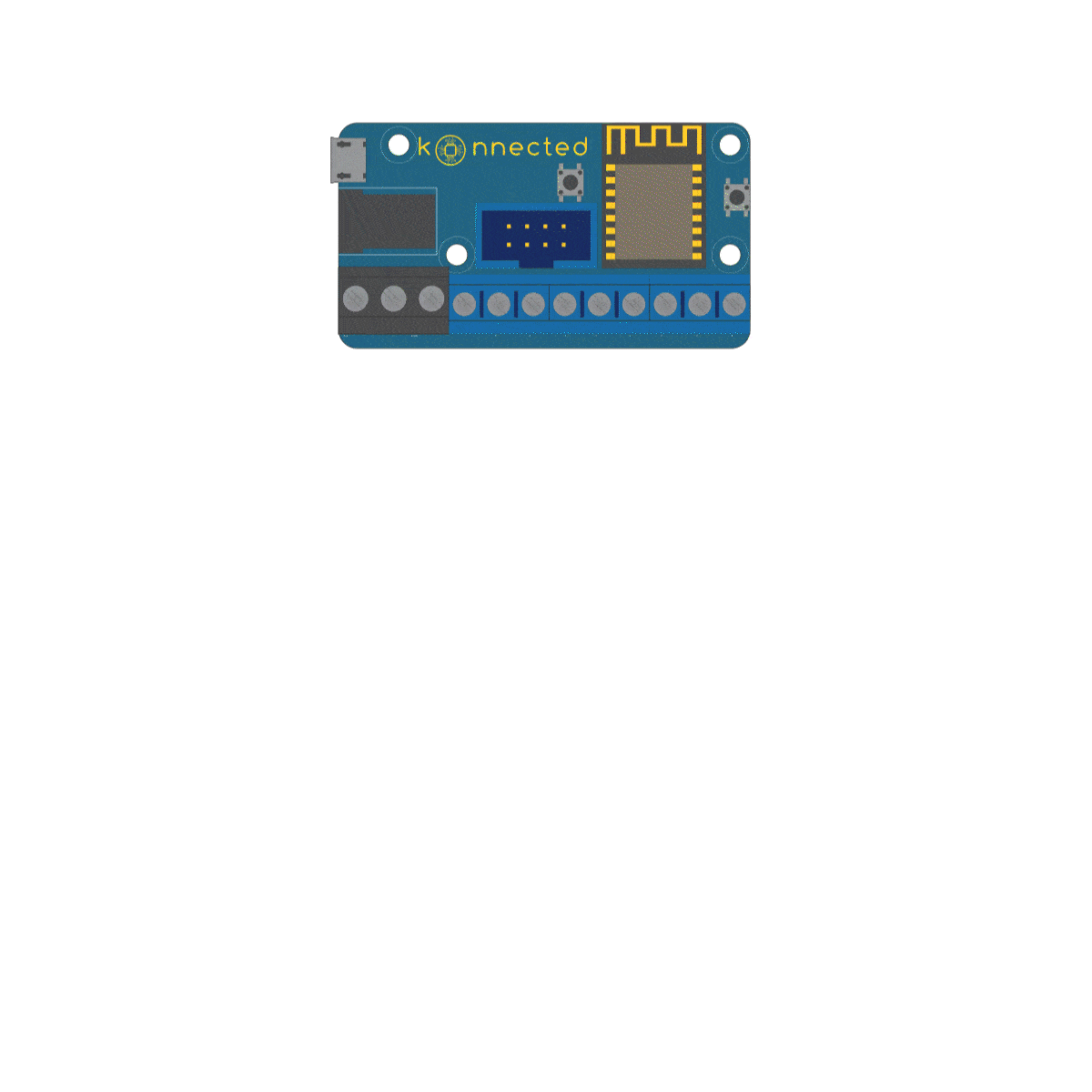 LOCAL AND/OR CLOUD BASED AUTOMATION
Konnected supports LAN-based local home automation or convenient & secure cloud based platforms via our free to use Konnected Cloud service. Learn more about cloud vs. local on the blog
Local Platforms
Self managed
Private
Flexible
LEADING SMART HOME INTEGRATIONS

Monitor and control smart devices and home appliances wherever you are.

Integrate your smart home monitoring with Alexa-enabled devices.

The open-source home automation platform that focuses on privacy and local control.

Compatible with popular home automation devices, may include a variety of built-in apps.

Community-oriented, native, powerful and beginner-friendly.

A universal integration platform for all things around home automation.

A general framework for controlling an IoT device from mobile, using your JavaScript files.

Control MQTT Enabled smart devices.
What Konnected Users Are Saying
"My experience with the store & setting up the Konnected panel was really easy to accomplish! Plan to purchase more & add-on's!"

"The instructions and videos guide you through the connections to the alarm panel, setting up the Konnected app, and then getting it into the SmartThings app. Worked right away out of the box."

"OMG, this piece of kit is outstanding and works seamlessly. It kinda pays for itself too because I've made some of my Smart Motion Sensors redundant and then sold them on eBay."
TECHNICAL SPECS
ALARM PANEL ADD-ON
Wireless: 
802.11b/g/n 2.4GHz
Microcontroller:
ESP2866
Inputs/Outputs: 
Up to 6 NC/NO sensor loop inputs
Zones 1-5 may also be used for 3.3V signal outputs
Dedicated 3.3V signal output
Power Requirements:

200mA @ 12VDC max power consumption (device only)
Total power consumption varies depending on attached auxiliary powered devices and siren.
DC barrel jack connector 5.5mm outer x 2.1mm inner (center positive)
Expansion Port: 
Works with the Konnected Alarm Panel INTERFACE module
Auxiliary Power Output:
Same as input power source (12VDC)
Signal Output:
5VDC supply (max 500mA)
3.3V output for switching a relay or piezo buzzer
Micro-USB port:
Upgradable and serviceable via USB connection
to a computer
Warranty:
1-year limited warranty. For help, visit
Help.konnected.io.
Physical:
63mm L x 35mm W x 19mm H
Weight: 24g
Mounting holes: 3mm diameter (x 4)
Designed in the USA 
Assembled in North America from foreign sourced components 
INTERFACE MODULE
Compatibility:
Compatible with nearly any 12VDC-24DC hardwired alarm system
Adjustable to accommodate EOL resistors of any value
Not compatible with addressable polling loop systems
Not compatible with zone doubling
Power requirements:
3.3VDC powered from the Konnected Alarm Panel
Built-in relay:
Dry-contact relay supports up to 2A for triggering a keyswitch
Adjustable Normally-Open or Normally-Closed
Triggered by a 3.3V-5V signal
FREQUENTLY ASKED QUESTIONS
Before purchasing this kit, please keep in mind that to ensure the correct operation of the Konnected Alarm Panel Pro 12-Zone Interface Kit, it is essential to program one of the outputs as a key switch. To achieve this,  you or the person carrying out the installation will be required to know the "installation code/engineer code" of the existing alarm system, as programming is involved via the existing keypad, and this code is needed. Once programmed, the key switch will enable remote arming and disarming of your alarm system through your smart home platform.  If you cannot program an Output to be a key switch, please do not buy the Interface Kit, you should consider the Pro Conversion Kit instead. This is a direct replacement for your existing alarm system, and therefore, does not require any key switch programming.
Please refer to our detailed guide on wiring a key switch with the Konnected Alarm Panel Interface.
A zone in the context of alarm systems refers to a sensor or a group of sensors. Each zone in your system will show up in your smart home app as an individual device that you can name. For example, a single door sensor wired to a zone may be named "Front Door". You may also have a group of windows wired together on one zone and call it "Downstairs Windows". A good place to start is by looking at your existing alarm system and count the number of zones. Often the keypad from your old system will have a zone listing either handwritten on a label, or programmed into the display.
Conversion kits work as a replacement to your traditional alarm panel or an addition to your new-pre wired home. Interface kits allow you to keep the traditional alarm panel and add smart home functionality to it.
If you'd like to keep using your existing keypad, make sure to purchase one of our Interface Kits (instead of the Conversion Kit). Interface Kits allow you to keep the functionality of your traditional keypad, while adding the all-new smart home possibilities controlled from your phone, tablet or computer. If you want to stop using your keypad and monitor your home only with smart home platforms, choose any of the Conversion Kits. No matter your requirements, Konnected has a solution for you.
Customer Reviews
Write a Review
Ask a Question
Filter Reviews:
system
Konnected
Smartthings
interface kit
zones
Nate
panel
alarm
sensors
status
30 Jul 2023
Chad M.

United States
Nice tech - not great support
I like the idea of this product and the tech to do everything with multiple manufacturers alarm systems. I started watching this company when they had a kickstarter campaign. I bought a system and had to contact support twice - they got me part of the way where I need to be but both times, they ended the conversation saying they didn't know the answer to what was happening and just ended our chat. I got past most issues but still have one and can't get support to address it. That makes an excellent product just ok in my books.
05 Jul 2023
Michael M.

United States
ADT panel monitor
We have an old ADT wired system (Ademco type board) and wanted to monitor door openings via the internet. Konnected interface kit was added in parallel with wired door contacts, and it works well. Thanks.
19 Mar 2023
Kevin G.

United States
Horrible
Terrible experience. The device doesn't work with Apple products. The manual connection of the device is listed on troubleshooting page of their website, however both links for the troubleshooting are broken links. I attempted to use the chat window for help several times with no response. Then when attempting to fill out a return form the link to that form is also broken. Completely and utterly awful customer service.
We are sorry you have had such a poor experience. We have responded to your inquiries via email. We are happy to help you diagnose the issues (which seem simply setup problems). Or we can arrange for a return. Just let us know.
26 Feb 2023
Ricardo C.

United States
Pretty easy to use!
Loved the product and instructions. Chat support is super helpful.
21 Feb 2023
Matt S.

United States
Alarm Panel Interface Kit
As a small security integrator, I had looked for a product to offer residential customers that wanted to monitor their own systems yet use a traditional alarm panel and devices. With the Konnected line I can now offer this and integrate it into several different home apps for them to use. Alexa and Smart things are just 2 options and very easy to set up and hand over to the customer. Dealing with Konnected team is also one of the things that has sold me on using their products. The team is a pleasure to deal with and always happy to assist.
19 Feb 2023
Daniel S.

United States
Not Reliable
I really had my hopes up with this device but it just isn't stable enough for my home security monitoring. It will initially connect to wifi and report correct sensor status to Home Assistant. But then it frequently will drop network connection and doesn't reconnect for quite some time. And sometimes even when connected, testing the sensors does not get a correct update in Home Assistant. This device is a great idea but it still needs some kinks worked out. For one thing, it needs to handle network connection faults better, and perhaps somehow provide feedback as to root problem. In my experience, it just stops working and I'm really not quite sure why.
24 Jan 2023
Wilson P.

Canada
System does not work
Installed Unit with some help from the help Centre. Seemed to work then blue light started flashing fast. Contacted help Centre and reinstalled software and sent them copy of log as requested. Sent several emails to help Centre but no further communications. The support started out great but then nothing. I have a system that does not work or anyway to get it to work. A waste of money
We are sorry but we never received the log from you. Please send those to us and I'm sure we can solve whatever issue is going on.
23 Jan 2023
Rocky

United States
18 Zone Kit
1) The 3 add-on boards and the 3 wifi boards worked perfectly. They are smaller in real life than they appear in the videos. The wiring from the Ademco 20P and the 4219 extension board was straight forward. Yes, you can use the power and ground pins common to the programmable outputs to power up the add-on boards. Installing the wires and tuning the potentiometers was easy with the included screwdrivers. The magnet kits are money well spent as they allow for optimal placement of the boards to the existing metal panels. Although located about 70 feet and 2 walls away from the router, the wifi boards work great with about 60% connectivity. 2) Programming the outputs using the Honeywell 6160 keypad was exactly as shown in the how-to videos. 3) Getting the Keyswitch to work was much harder than anticipated. The Konnected instructions make it look very simple. Wiring to the extension board with a resistor in series did not work. Wiring to Zone 1 on the main board with resistor in series or parallel did not work. (No matter how the zone programming was configured.) My third attempt was to return to an open zone on the extension board, place a 2K ohm resistor across the terminals, change the relay on the Konnected board from Normally Closed (NC) to Normally Open (NO), delete the zone on the keypad and then re-add it again to clear existing faults. 4) The Konnected App was simple and straight forward. The migration to the SmartThings App was a bit of trial and error, but eventually we got the whole system to work as advertised.
23 Jan 2023
Michael B.

United States
Great product
Very Good no problems at all
15 Jan 2023
greg b.

United States
So far...so good...
Ok, on the surface, integrating this interface kit into our 23 year old alarm system seemed a bit daunting, but after some careful review, labeling of wires, I have the interface connected to all 7 of my zones and have them integrated with my SmartThings hub. I also have Home Assistant that I'll eventually migrate to. I'm not done yet, I now need to get a programmable keypad for my system, and reprogram my first zone (which I vacated), then figure out how to detect trigger, and see if it can arm/disarm my Vista 20se.
13 Jan 2023
Daniel P.

United States
Konnected gets you connected
Products do what they are intended for, support of products is amazing, asked a question.. pretty much got an immediate response and instructions worked. Only thing I would say as a DIY king of guy, YouTube videos are information, but I feel I had to watch the video several times to really catch some of the installation, I would have to take screenshots to mirror my setup to Nate's videos as some of the verbal instruction were left out.. But the overall follow-up support from Andy really tied everything together. I give 5 stars to Konnected and am looking forward to deploying several more solutions around my house.
11 Jan 2023
Sean P.

Ireland
Much improved experience
Much easier to set up than the original. I gave up on that (but not Konnected, obviously) and I'm pleased to say that the experience with this version of equipment and SmartThings integration are waay improved. I have it all connected, sensors reporting through your app and also SmartThings.
19 Oct 2022
Gerald J.

United States
Installed and working with Hubitat in a bit over an hour!
I had studied the Interface install video before making the purchase decision, so I had a very good general idea as to what to expect, excepting the Concord 4 Alarm System (vs Ademco) and configuration into my Hubitat Elevation Hub. Install into the Concord 4 was a piece of pie, all inside the box as I have a Wifi Access Point less than 8 feet away, and the Concord 4 continued to operate normally. Would love to know all of the Concord 4 config information to add status and the ability to enable/disable it. Configuration into the Hubitat Hub was also a piece of pie, and I now have access to the door contact status information, which I now use in the Hubitat automations as a safety interlock before activating a Smart Door Lock. At this point, it is sort of a pricey add-on just to get door status information, but it does save the cost of adding additional door contacts to each door. Getting access to the Concord 4 status info would make it much more valuable. I'd love to see a tutorial on that System!
25 Jul 2022
Shane L.

United States
Great Device
I followed the video instructions quickly to set up the Interface kit to connect to a 6-zone alarm and the instructions were very helpful. Also, Nate responded quickly to a question regarding my current alarm panel. I am us SmartThings because I didn't want to punch a hole in my firewall. This is a great product and I have been telling my friends!!!
06 Jul 2022
Howard O.

United States
Great Support
One board was DOA. Contacted by email and it was handled in the same day. A new board was sent out. Great support. I have this set on a vista 50p panel. Wireless zones are connected to Konnected board by a relay. Have a zone list programmed for each wireless zone and assigned to a 4204 relay. Also have zone 1 programmed to fire a 4204 relay. Other zones are connected by interface board. Have a 4204 relay set up to arm and disarm smart things. Programed to change state at end of exit time and disarm. Also have a remote arm and disarm switch setup. This system works prefect. I'm glad I purchased it.
01 Jun 2022
Patrick C.

United States
Alavrm starter kit
I had to return it for refund because of installation and operation issues.