Regular price
$149.00
Sale price
$119
Unit price
per
SALE!
Sold out
Make your alarm system smart with easy DIY installation! The Starter Conversion Kit with 6-zones per panel and Wi-Fi connectivity is a cost-effective replacement for all traditional wired alarm systems and a great home security solution for pre-wired homes. Control and monitor your smart home with apps like SmartThings, Home Assistant, Amazon Alexa, and more - without any monthly fees! 
Consider purchasing our Backup Battery with this purchase.
Kit Contents

Alarm Panel board
Alarm Panel Add-on board(s) (in larger kits)
12V Power Adapter
Piezo Buzzer (2x with 24 zones)
Power Splitter (12 zones & more)
Jumper Wires
Adhesive-backed Mounting Standoffs
Mini Screwdriver-pen
Wire Labels Sheet
Konnected Window Stickers
Features

Compatible with top smart home platforms and voice assistants
Easily expandable with the addition of any of our alarm panels
Enjoy the freedom of no mandatory monthly fees or subscriptions
Receive real-time notifications for remote home monitoring
Automatic arming and disarming of your home
Select your preferred smart home app
Utilize your existing wired sensors and siren
Create personalized smart home routines and automations
Documentation

Check out the product details & manual here.
View full details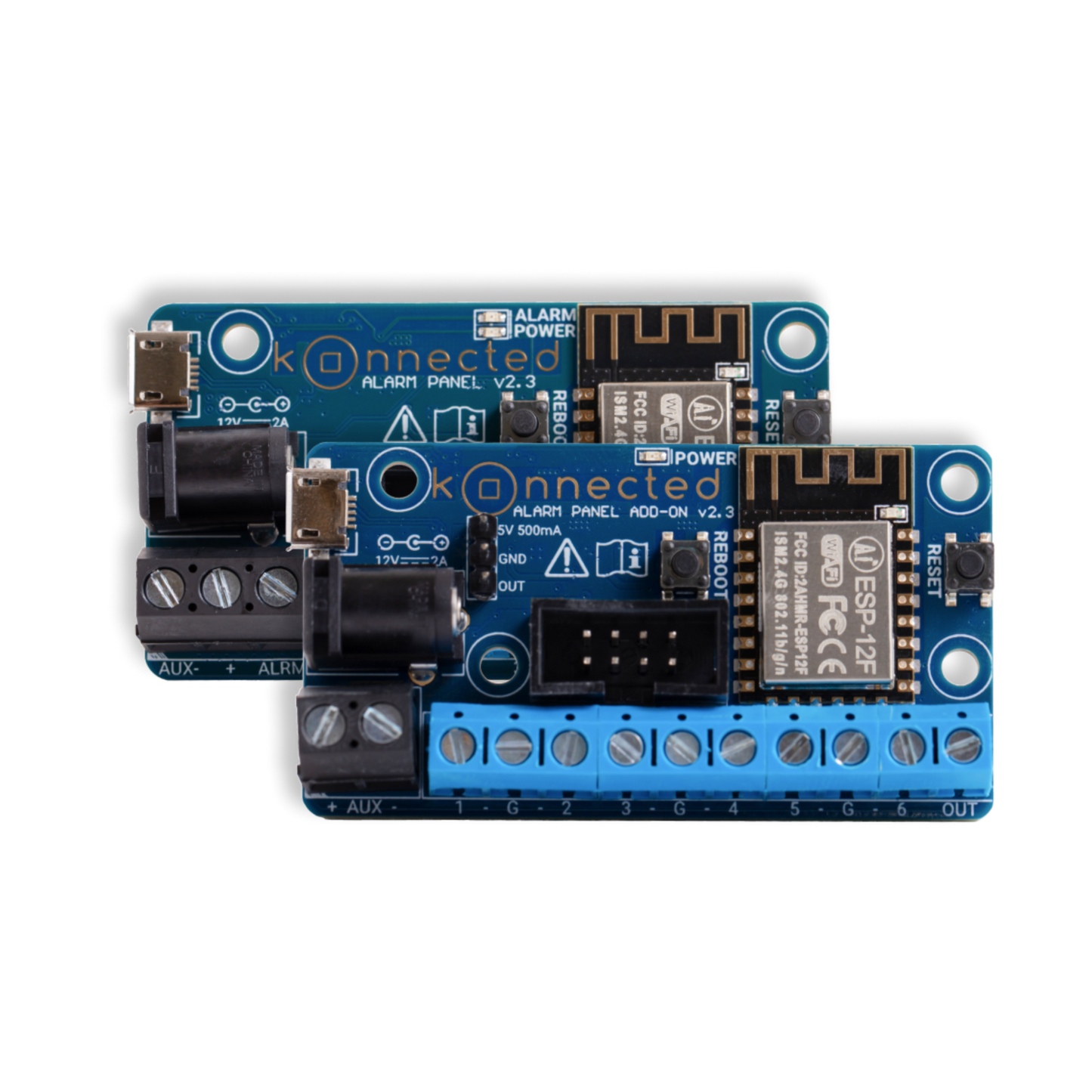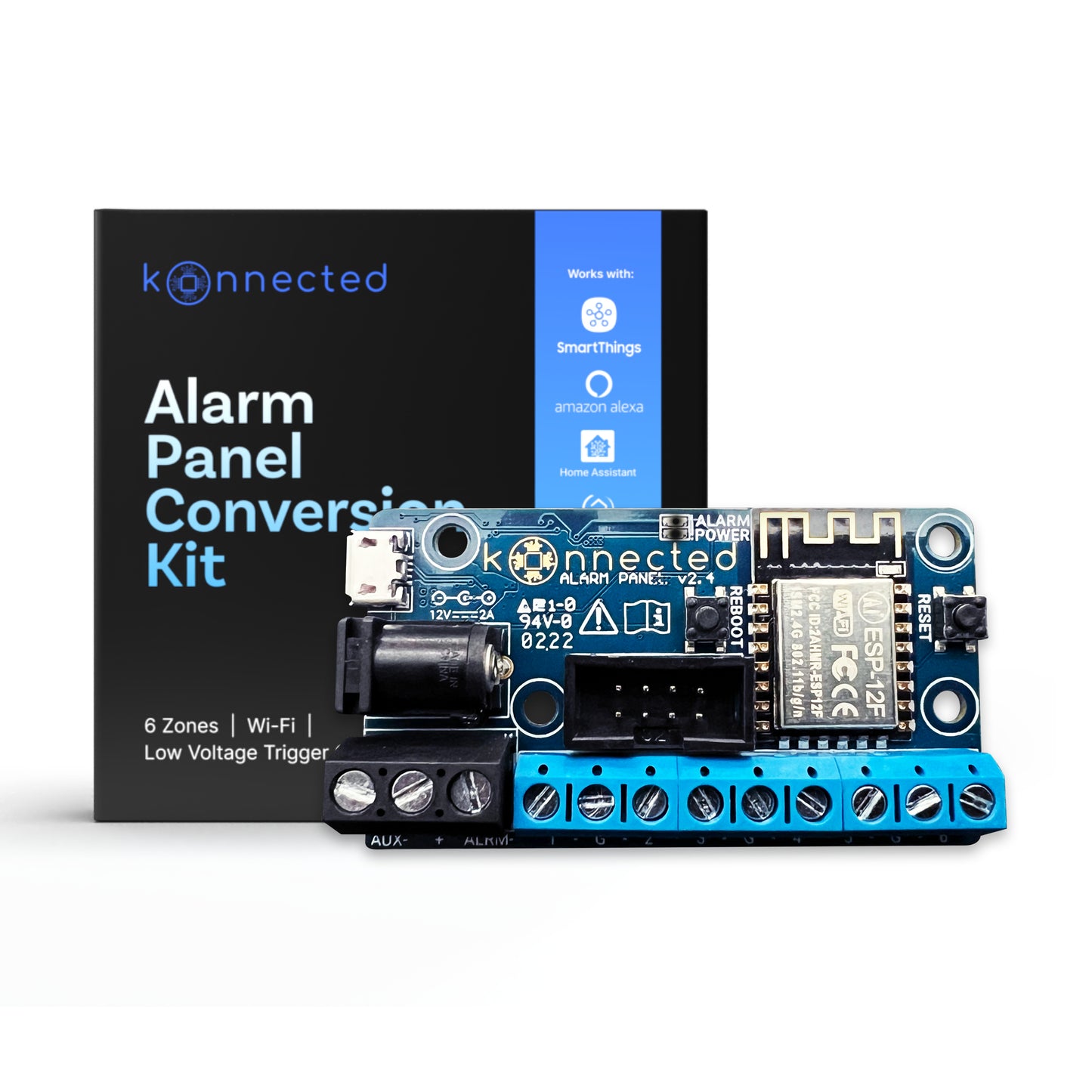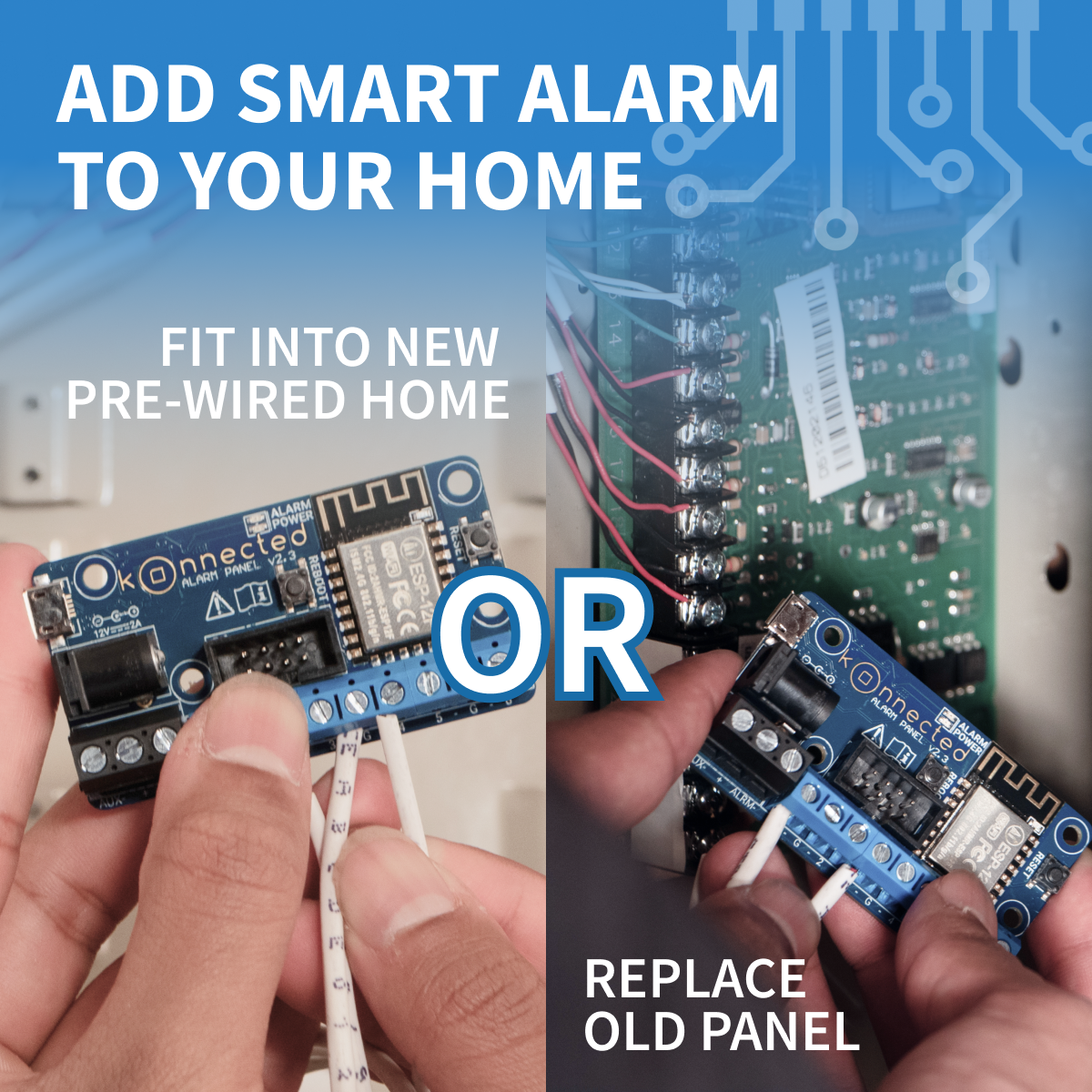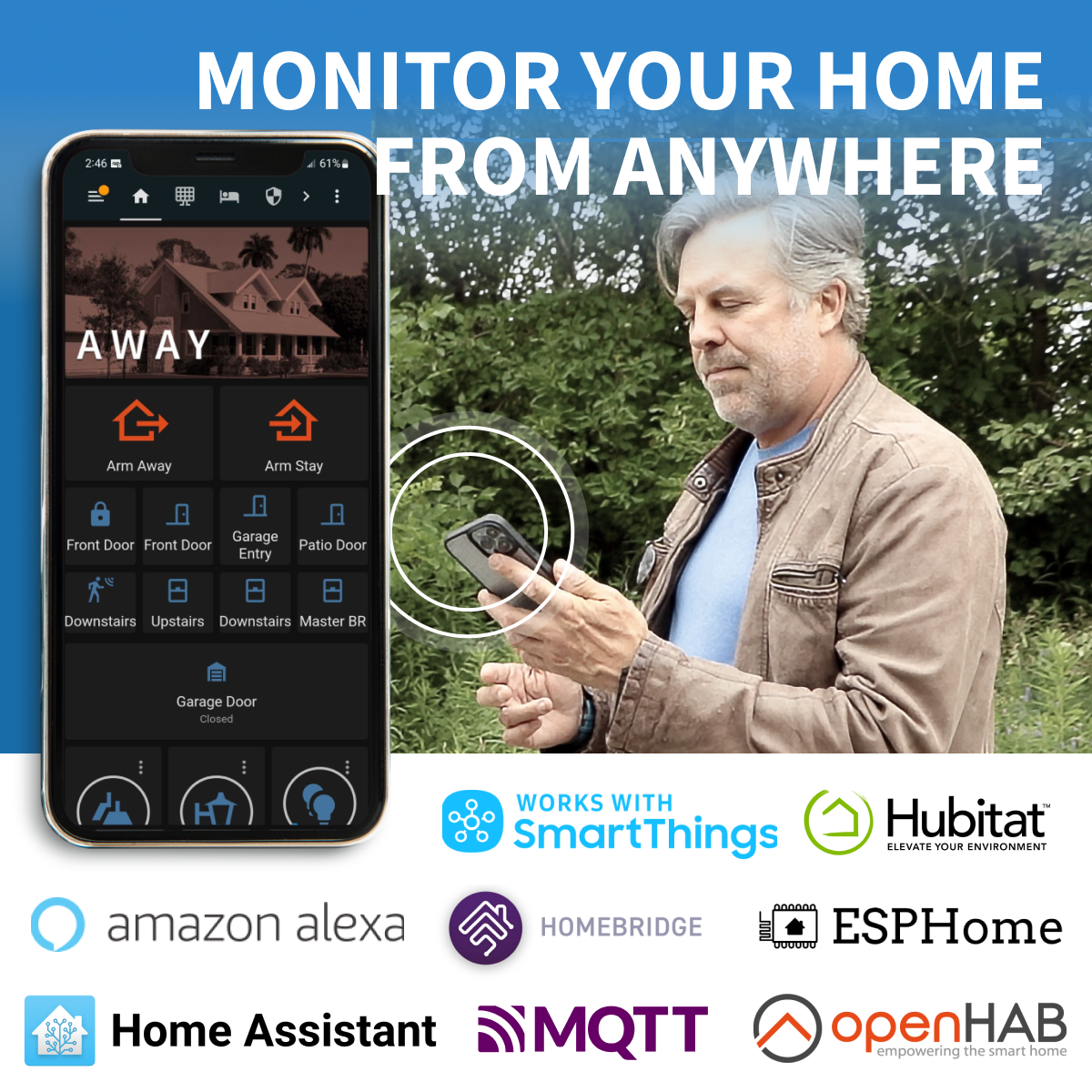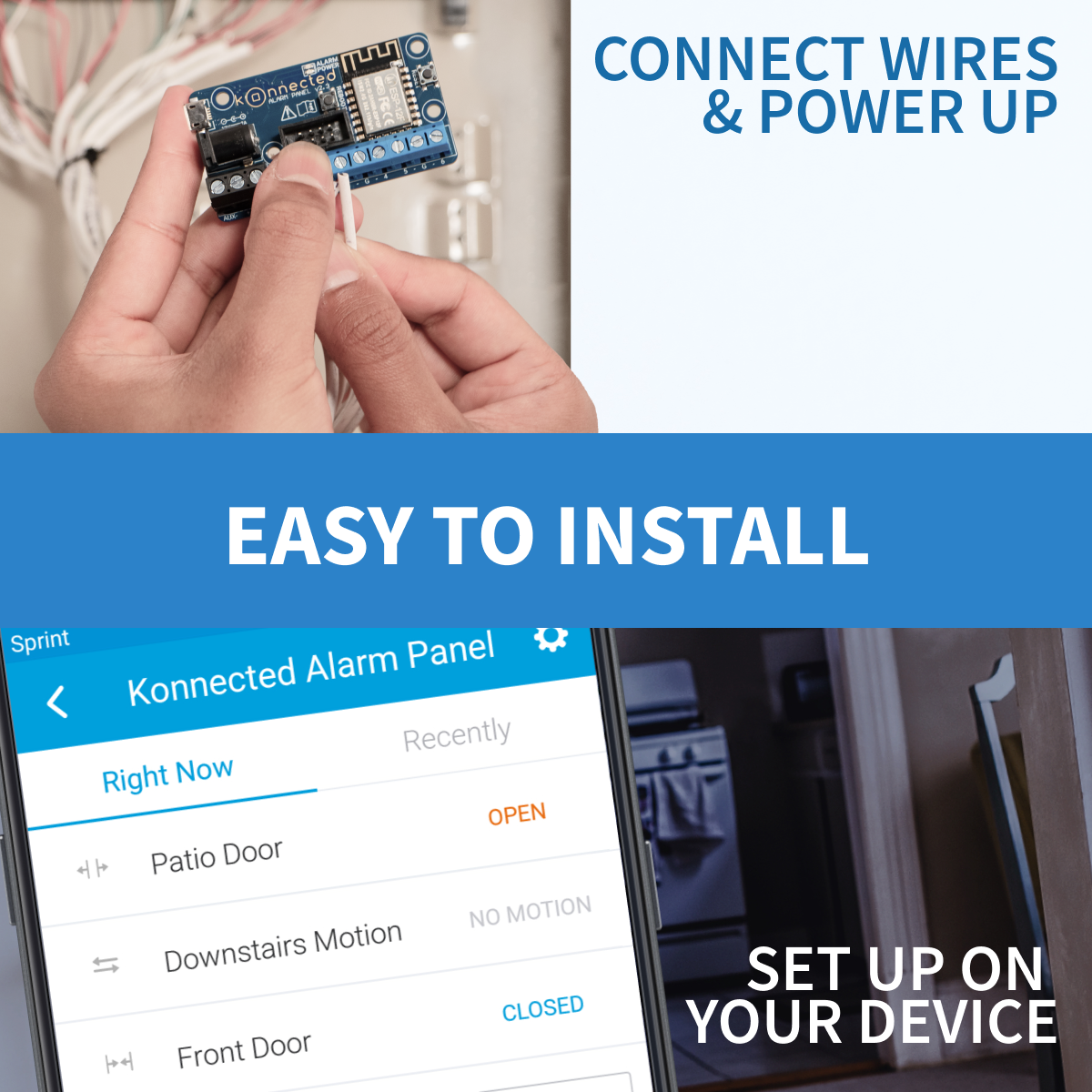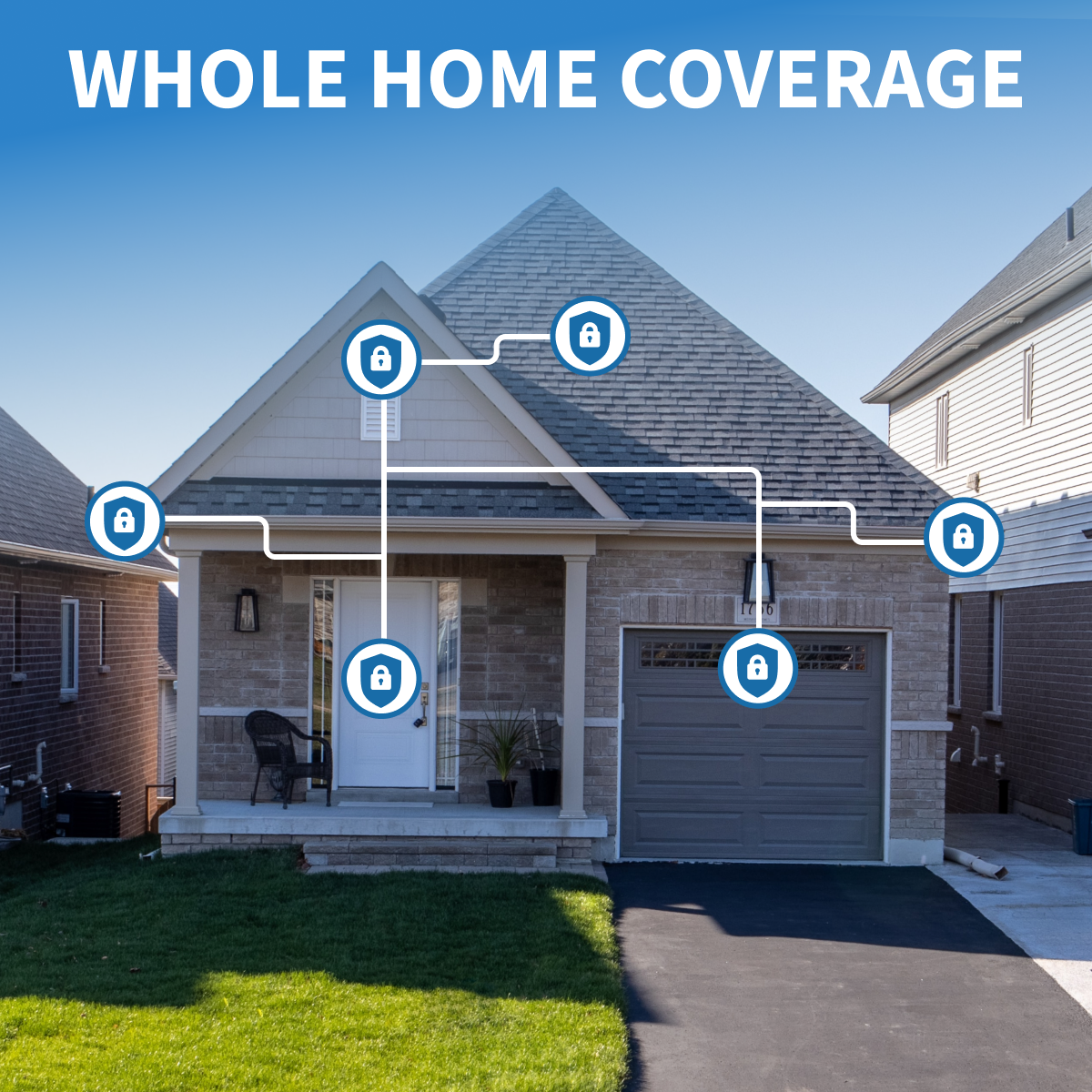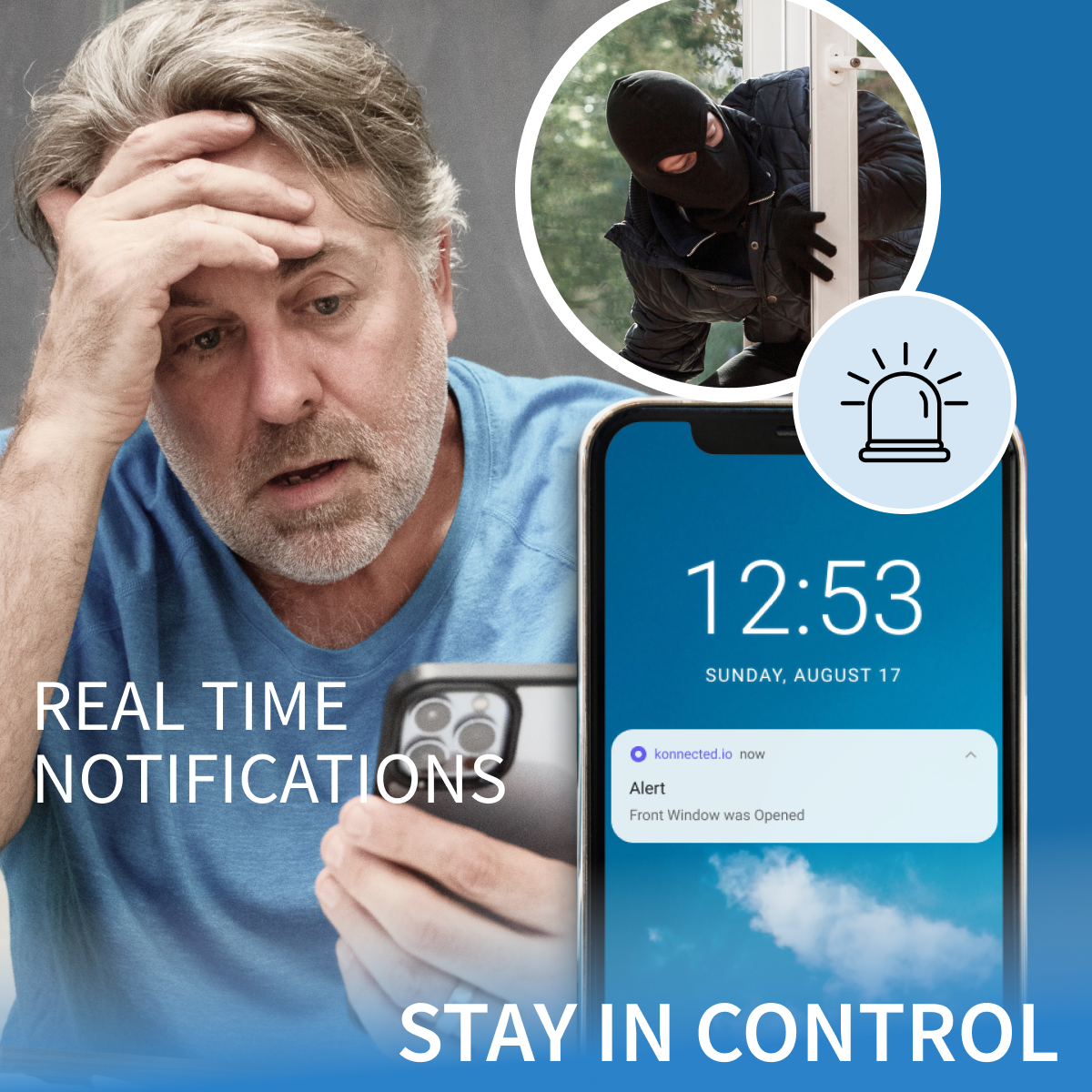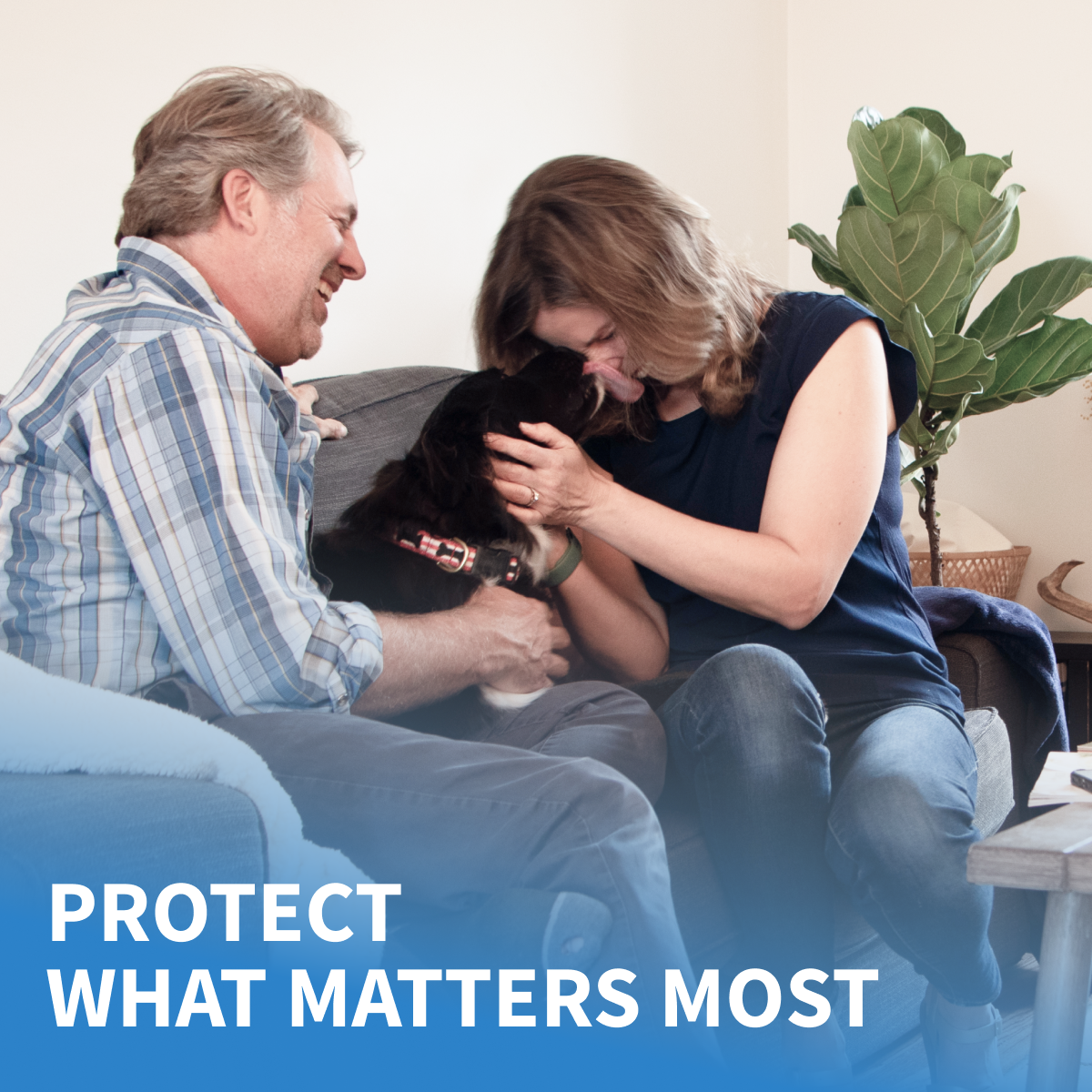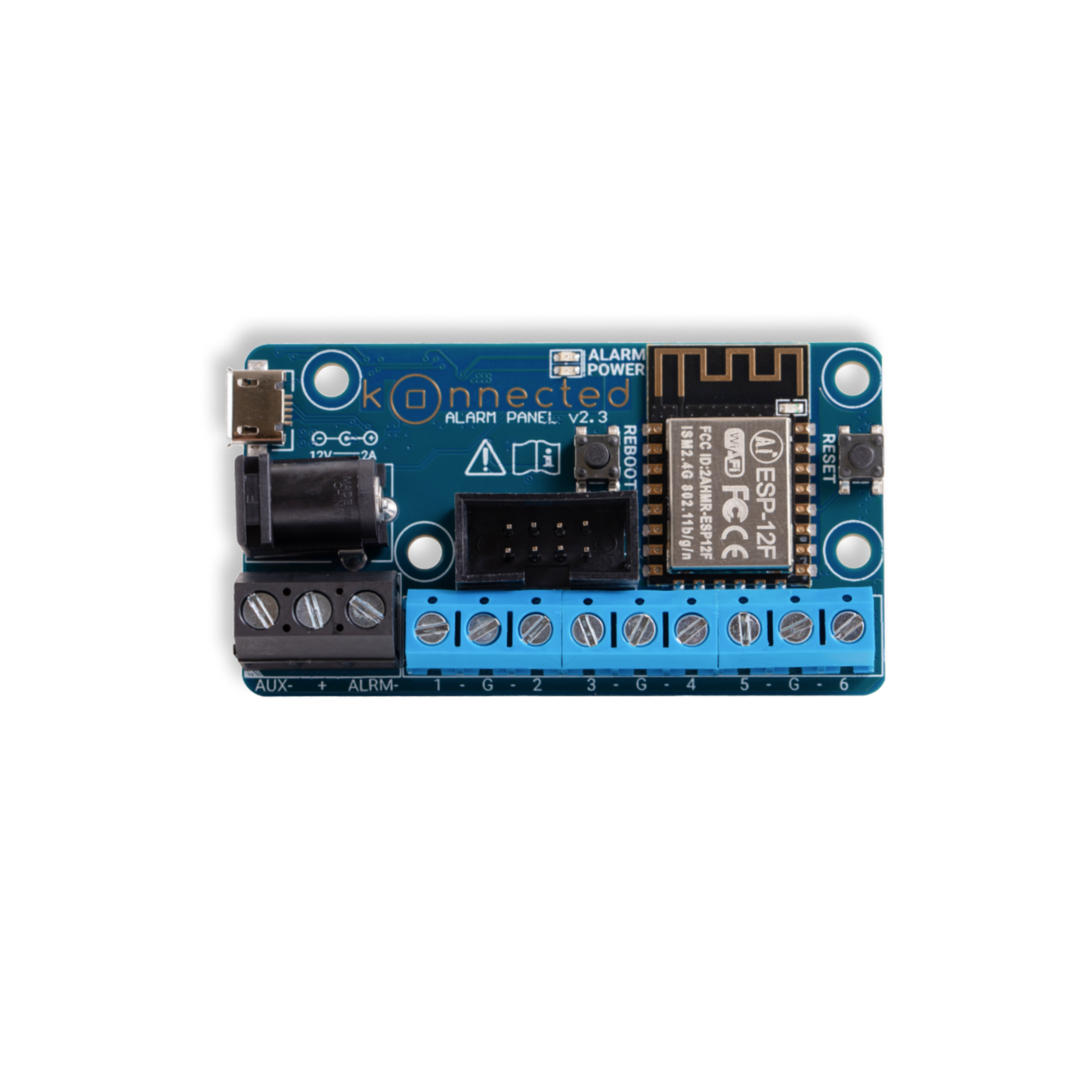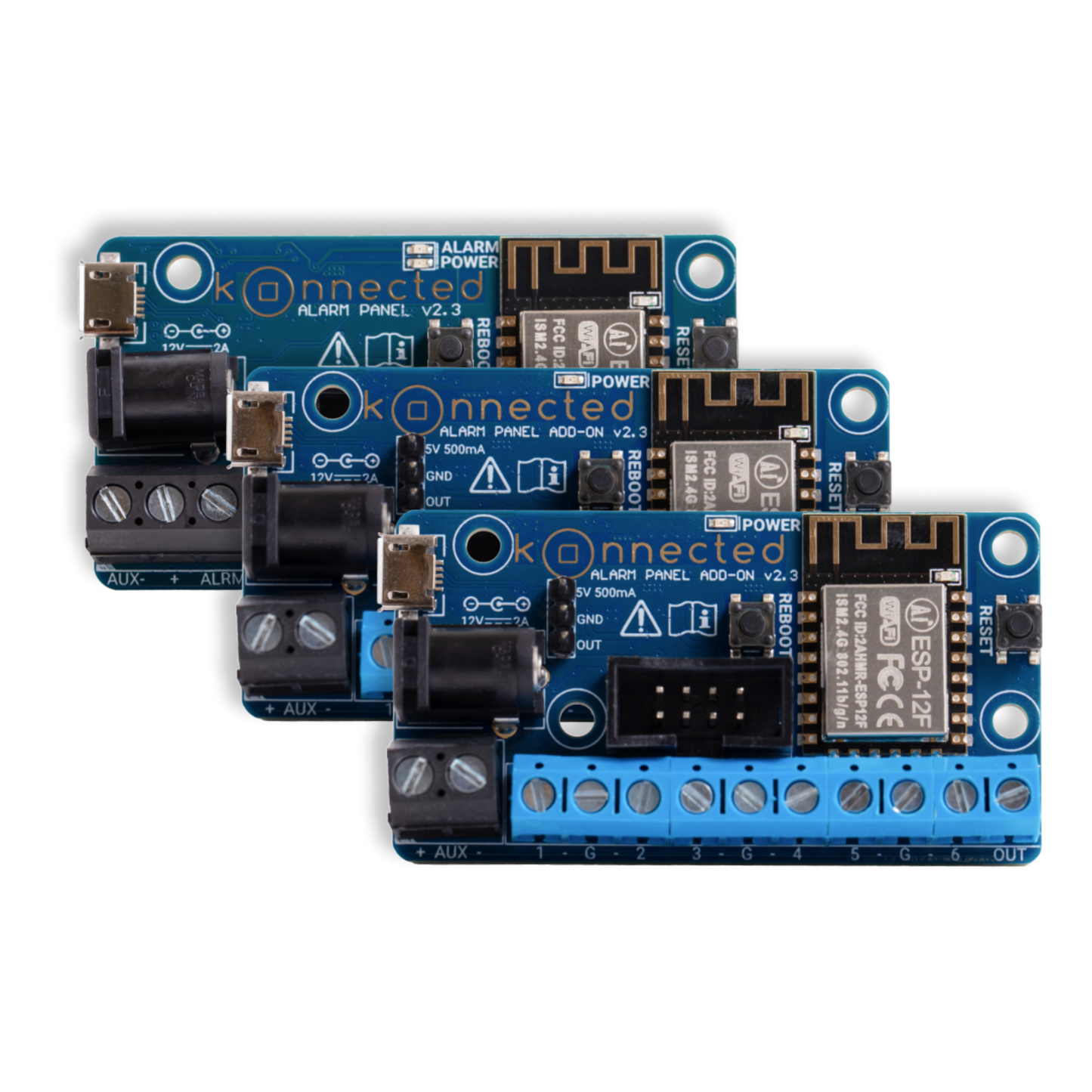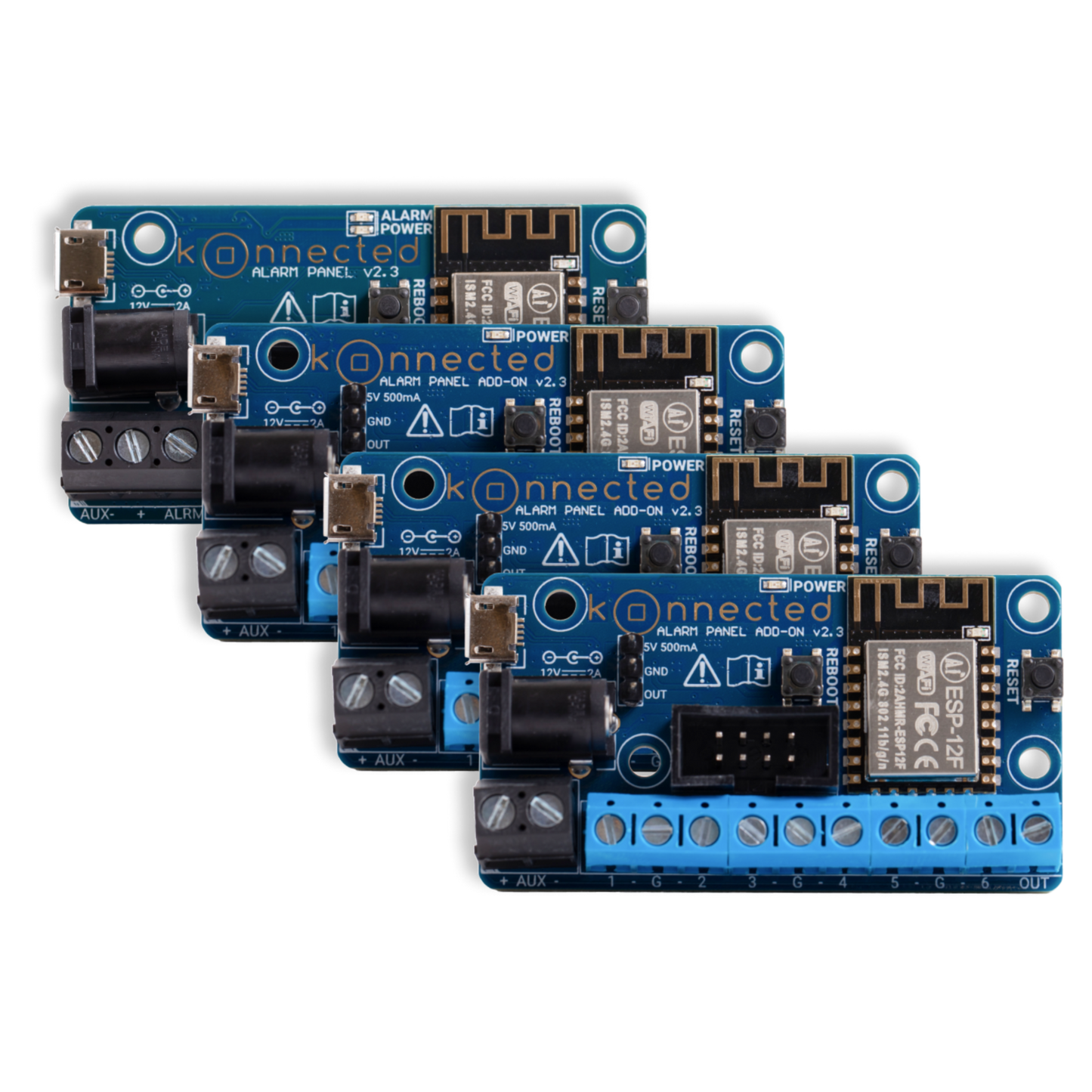 use existing wired sensors
get notifications anywhere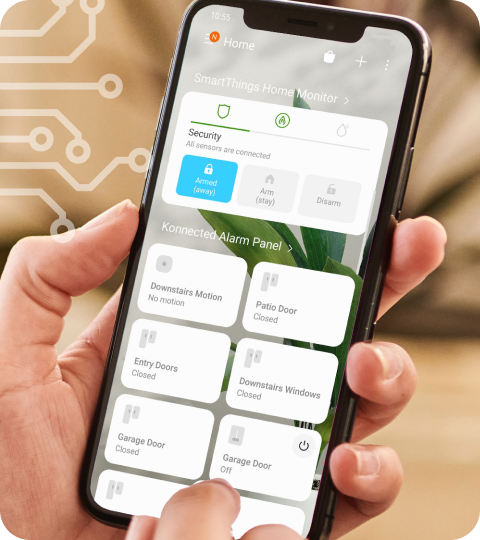 Use Your Existing Wired Security System Sensors to Create a Smart Home Alarm
Your home, like millions of others across the country, is pre-wired for an alarm system.
With the Konnected Alarm Panel, you can easily replace your old alarm panel or take advantage of your newly pre-wired home and create a smart alarm system. 
This do-it-yourself (DIY) solution to retrofit any wired alarm system works with leading consumer smart home platforms that allow you to monitor and control your home from anywhere, without monthly fees!
Not into DIY? We've got you covered with a network of Konnected Resellers and Installers.
Konnected works with most leading smart home platforms:
How The Alarm Panel Conversion Kit Works
The Konnected Alarm Panel replaces a traditional wired alarm system through your existing wired alarm sensors in five easy steps. If you wish to fit it into your newly pre-wired home, skip Step 2.
Check out these five easy steps!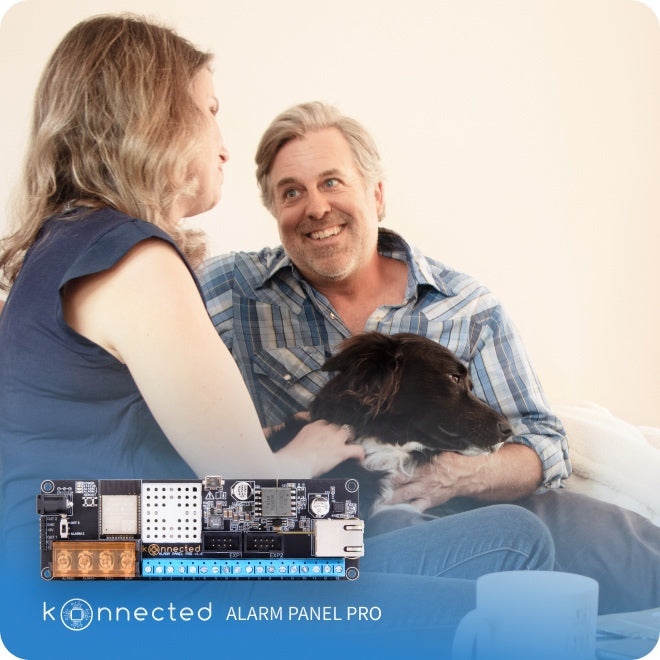 Choose the Alarm Panel Conversion Kit If You:
Need the most value for money Konnected panel
Only seek Wi-Fi connectivity
Don't want to pay any monthly fees and switch fully to app-based self-monitoring
Don't want to use the original alarm system anymore
Want the ability to replace original keypads with touch-screen tablets
Have a pre-wired home without any alarm system installed yet
Compare with Alarm Panel Pro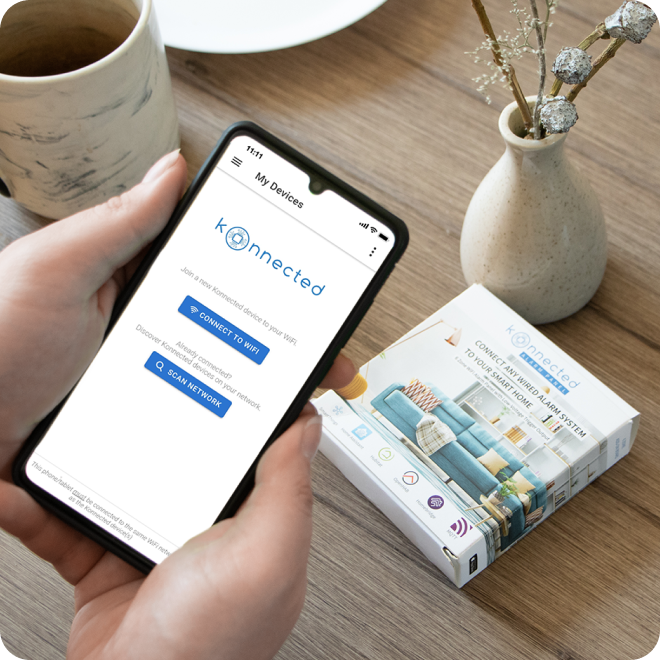 Reasons to Love Konnected for App-Based Home Monitoring
Works with leading smart home platforms and voice assistants
Infinitely expandable by adding any of our alarm panels
No required monthly fees or subscriptions
Real-time notifications so you can monitor your home from anywhere
Automatically arms/disarms your home
Choose your favorite smart home app
Uses your pre-existing wired sensors and siren
Create smart home routines and automations
Compare Kits

Conversion Kit

Interface Kit

Conversion Kit

Interface Kit

Starting at

$69

$109

$199

$259

Makes any wired alarm system smart

✓

✓

✓

✓

Makes any wired alarm system smart

Works with common wired sensors & signaling devices

✓

✓

✓

✓

Works with common wired sensors & signaling devices

Works with leading smart home platforms

✓

✓

✓

✓

Works with leading smart home platforms

No required fees or subscriptions

✓

✓

✓

✓

No required fees or subscriptions

Smartphone monitoring & notifications

✓

✓

✓

✓

Smartphone monitoring & notifications

Replaces traditional wired alarm panel

✓

–

✓

–

Replaces traditional wired alarm panel

Adds smart home features by connecting to any traditional alarm panel

–

✓

–

✓

Adds smart home features by connecting to any traditional alarm panel

Open-source technology

✓

✓

✓

✓

Open-source technology

Wi-Fi connectivity

✓

✓

✓

✓

Wi-Fi connectivity

Ethernet connectivity

–

–

✓

✓

Ethernet connectivity

Power-over-Ethernet (PoE)

–

–

✓

✓

Power-over-Ethernet (PoE)

More zones by adding Konnected panels

✓

✓

✓

✓

More zones by adding Konnected panels

6-zones per panel

✓

✓

–

–

6-zones per panel

12-zones per panel

–

–

✓

✓

12-zones per panel

Availability
Infinitely Expandable
Konnected is infinitely expandable by simply adding more Konnected Alarm Panel boards! Our unique decentralized approach means that each Konnected Alarm Panel board works independently and has its own WiFi connection to your smart home platform. You can add any of the Konnected devices, even mix either 6-zone WiFi model or the Alarm Panel Pro, anywhere there's a WiFi signal. The smart home app syncs everything together into one cohesive system.
6 Zones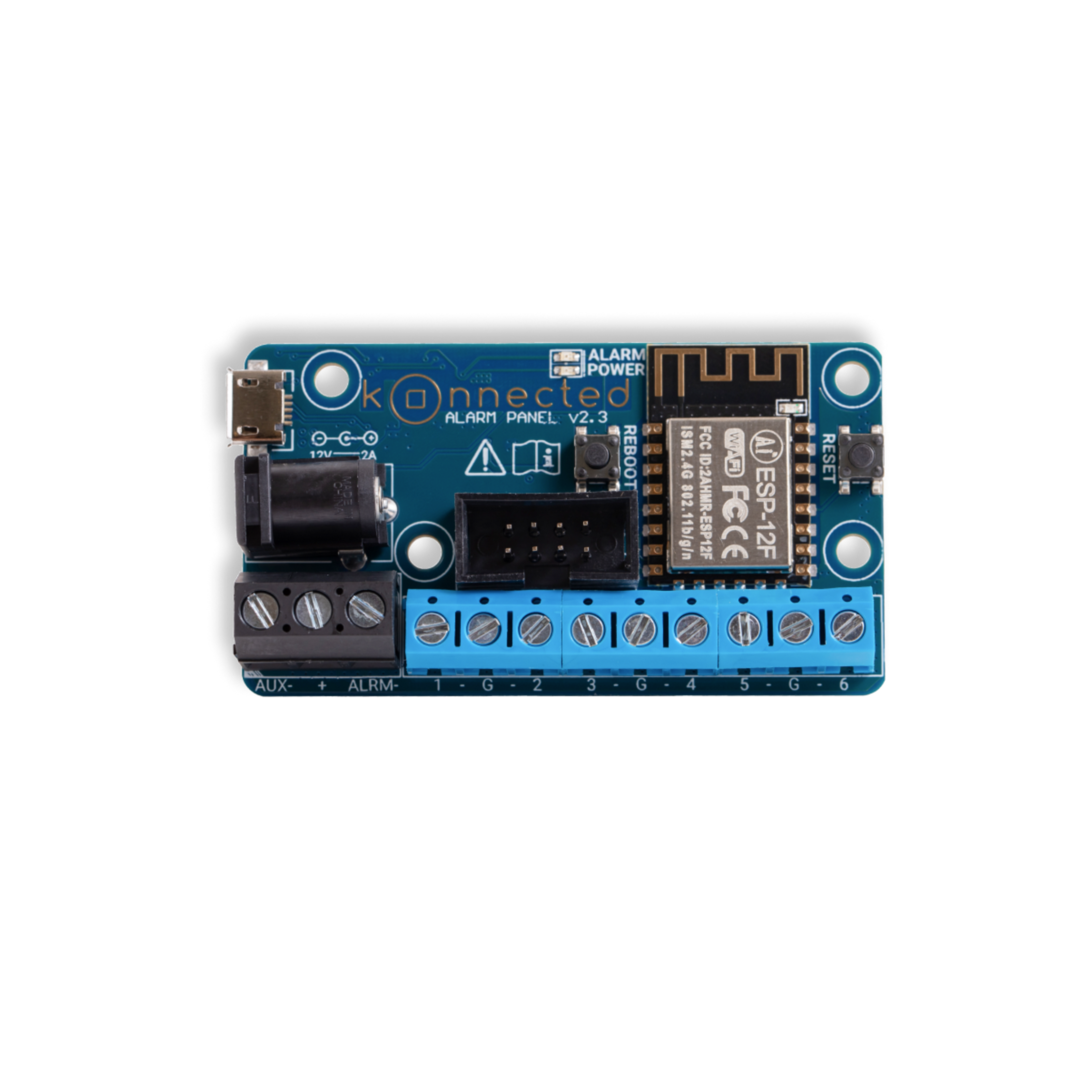 12 Zones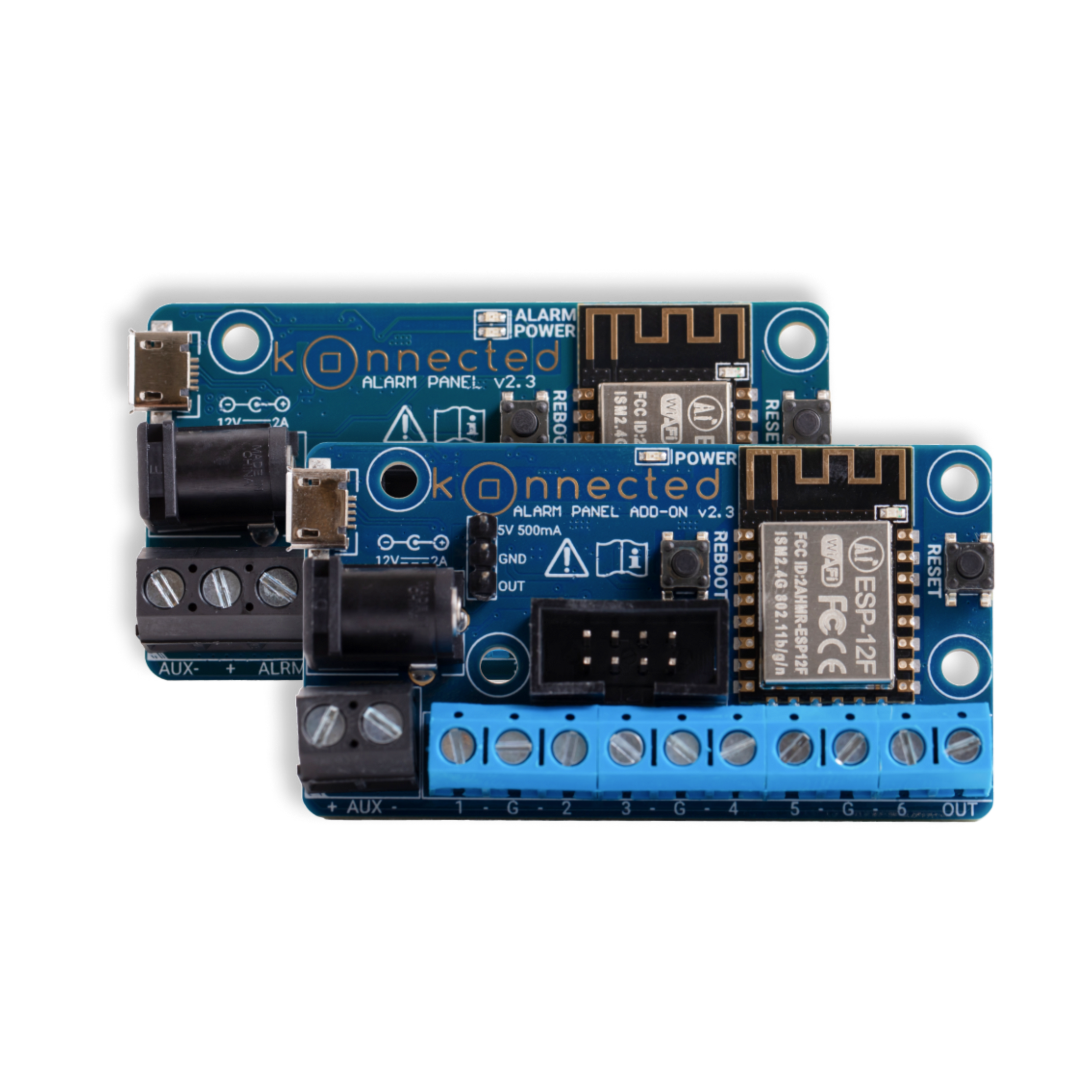 18 Zones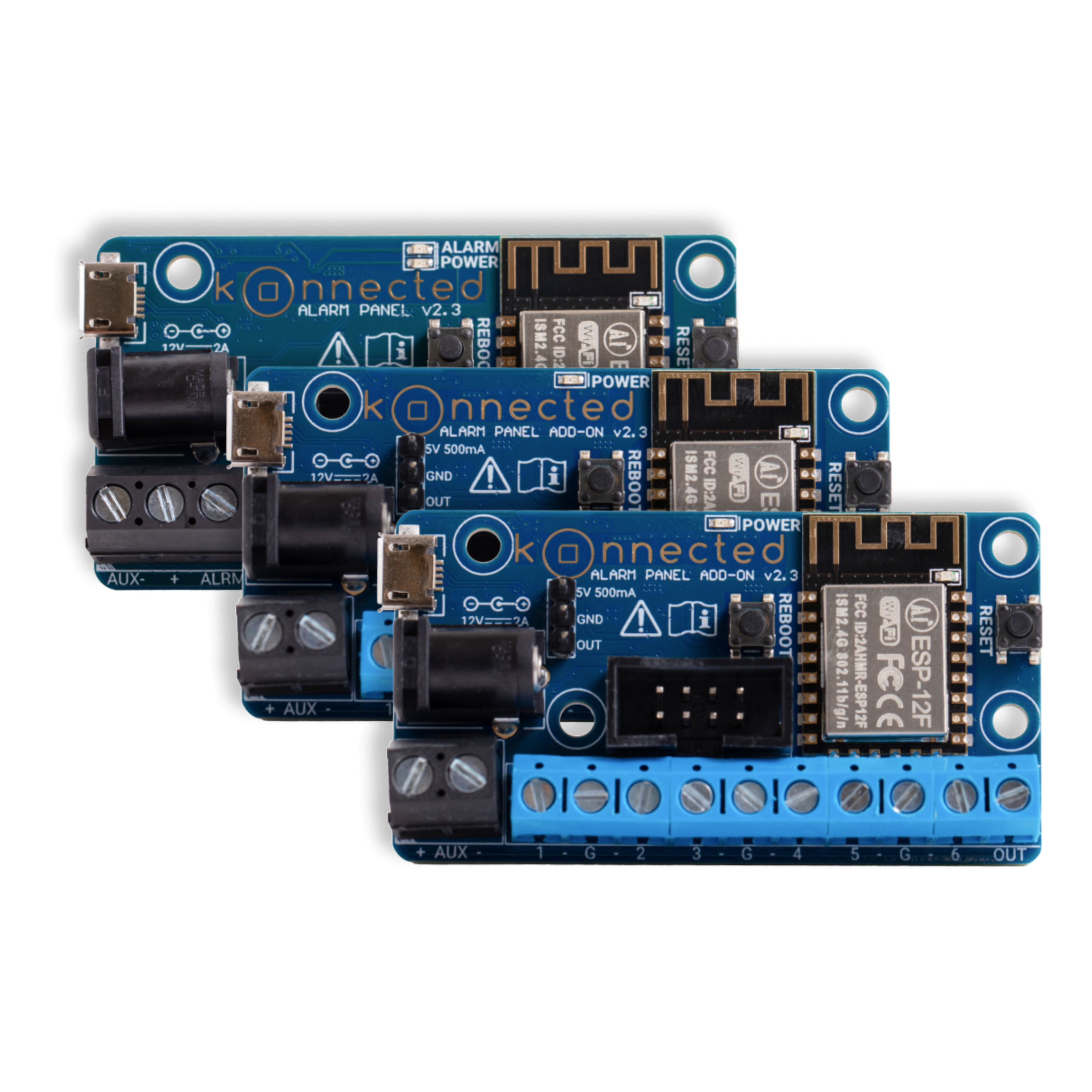 24 Zones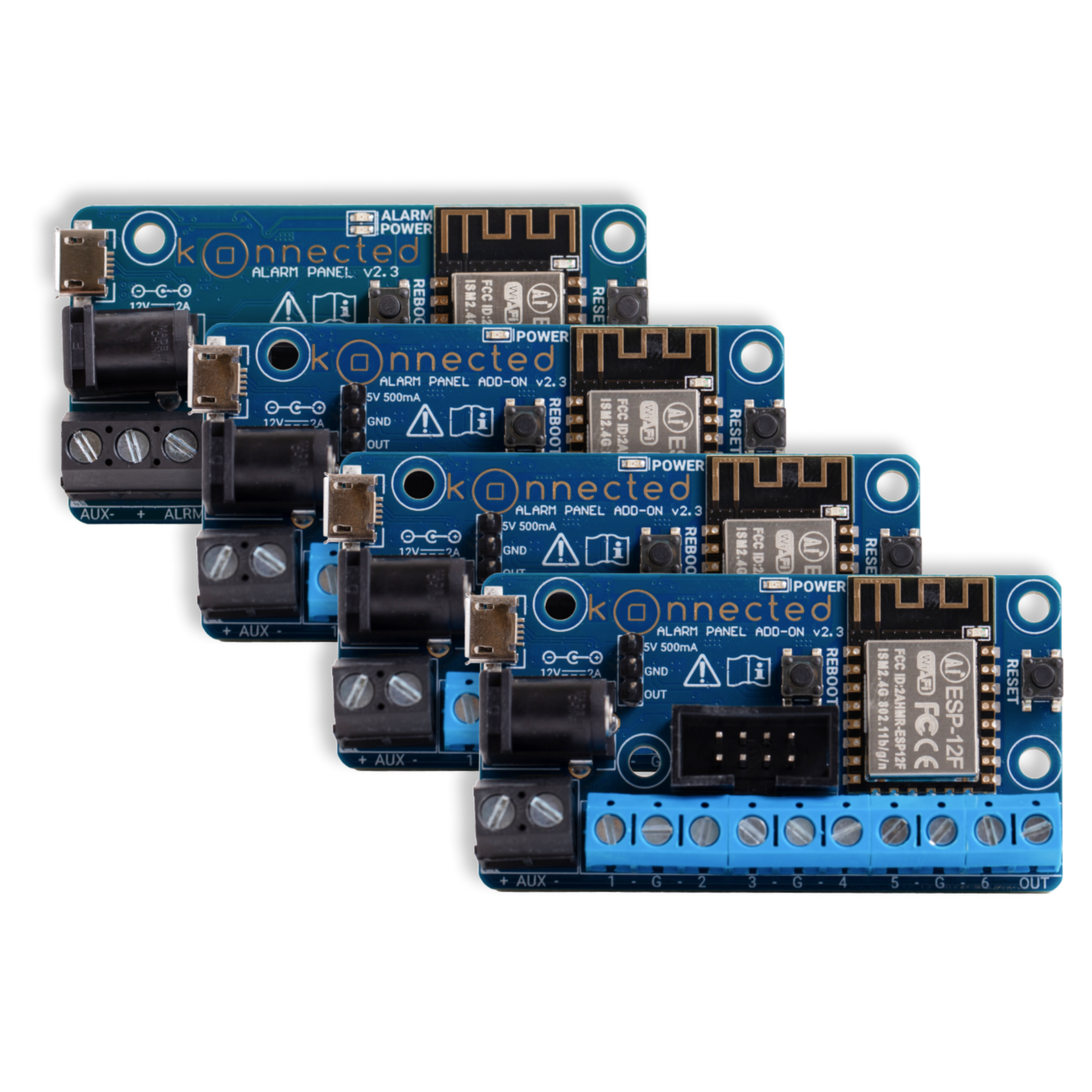 6 Zones (with Add-on board)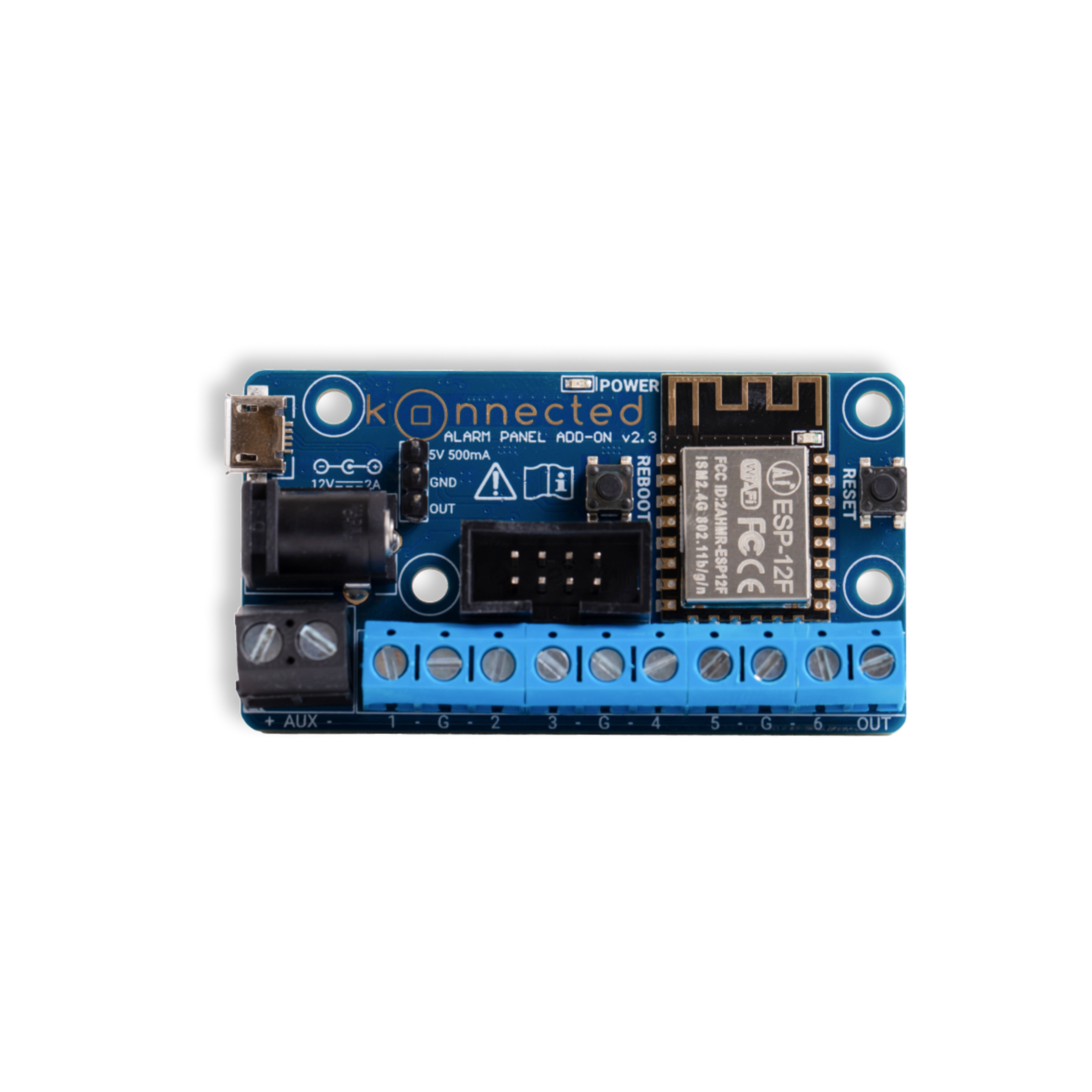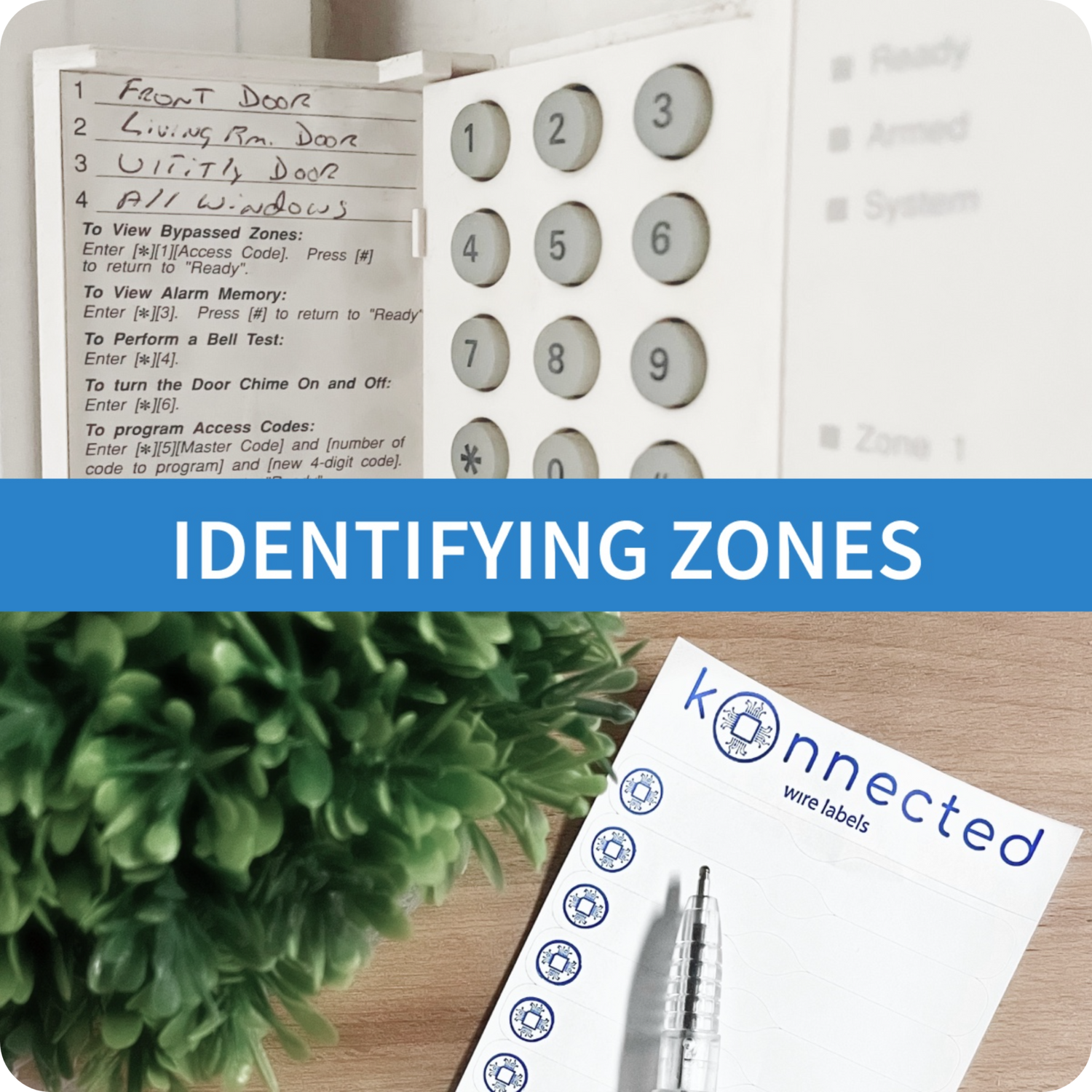 How Many Zones Do I Need?
A good rule of thumb is that smaller homes usually require less coverage. But don't worry, there's an easy way to learn how many zones you need.
If your home has a pre-existing traditional alarm system, the zones are most likely listed by the keypad or inside of the alarm system box (the one with all the wires). Count them and voila - you're ready to select the right Konnected panel!
Not sure how many zones you need for your new pre-wired home? The industry standard is grouping your windows together - each floor or cardinal direction is one zone. We also recommend that you keep each door and motion sensor as separate zones to ensure the most precise monitoring possible!
Alarm Panel Features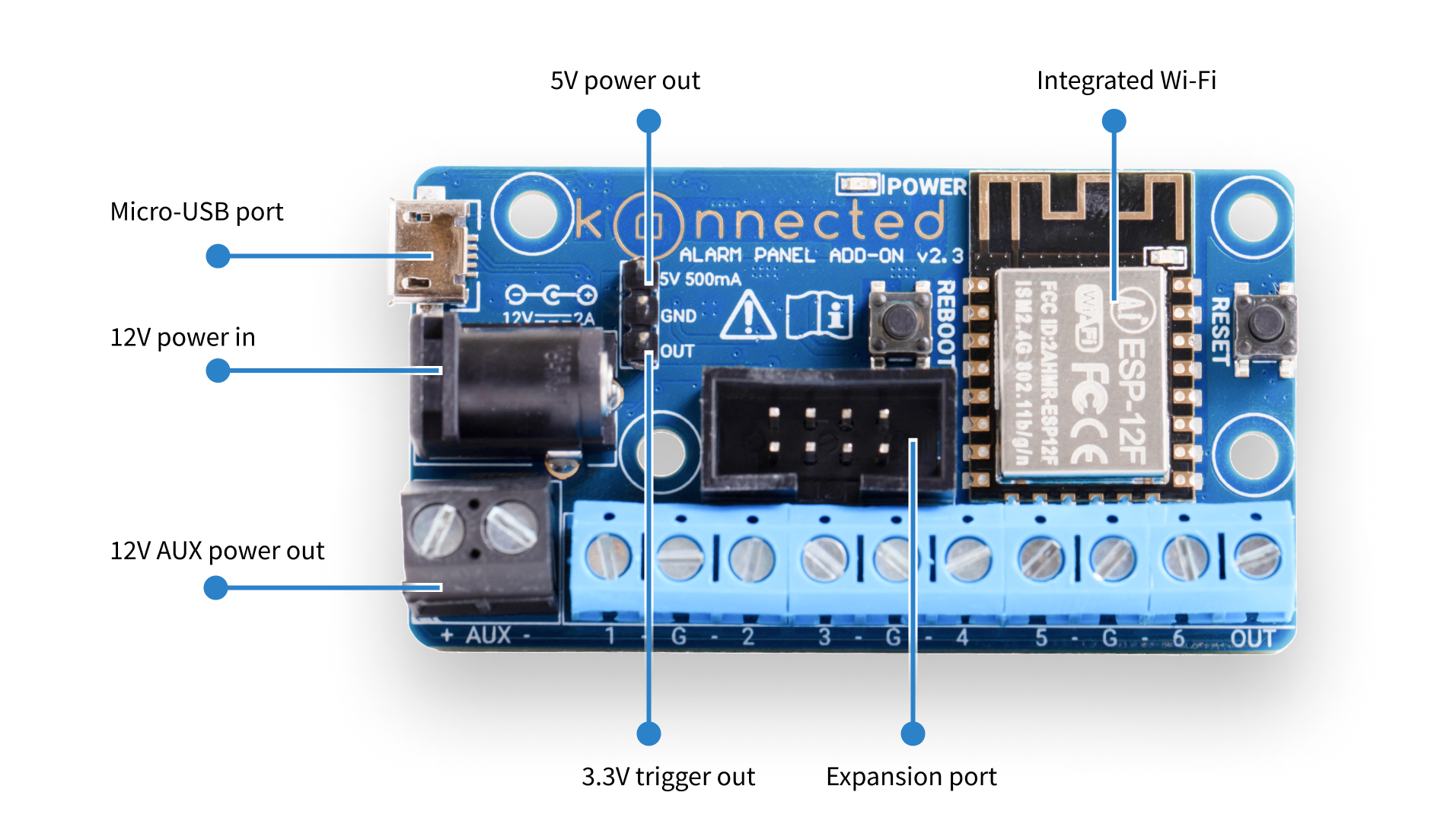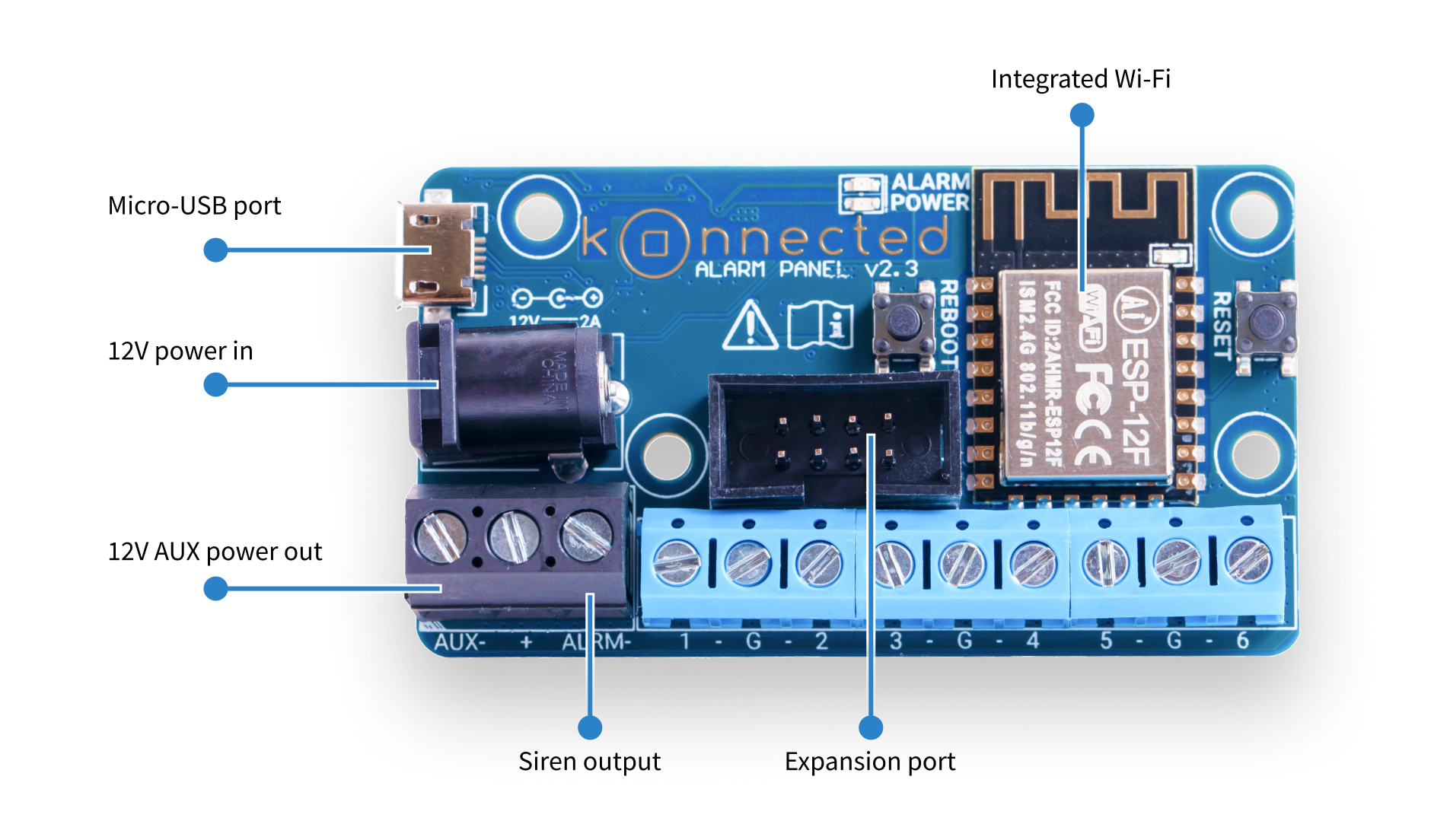 Micro USB port
Integrated Wi-Fi
12V power in
12V AUX power out
Siren output (Alarm Panel only)
Expansion port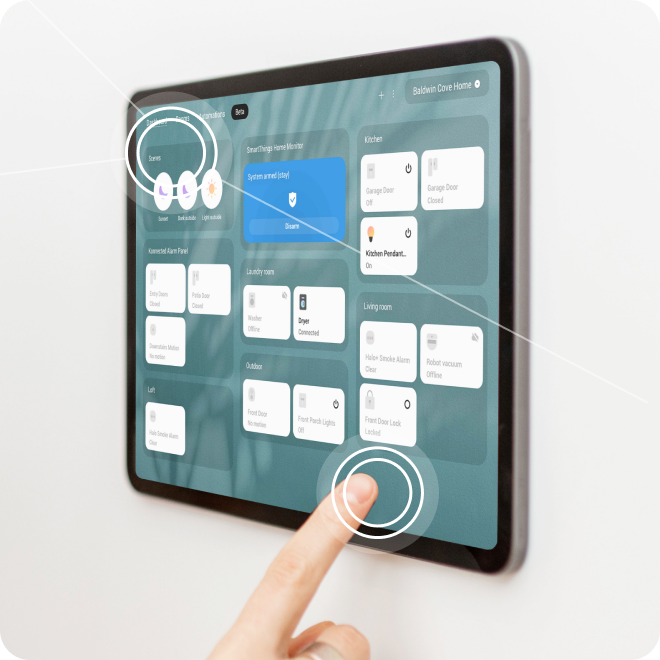 Looking to Replace Your Old Keypad?
You can upgrade the look and function of your home by replacing your old alarm system keypads with wall-mounted tablets after you've converted your wired alarm system. Wall-mounted Amazon Fire tablets are a beautiful and inexpensive way to create a DIY smart home dashboard.

Run power to the tablet using your alarm system's pre-existing keypad wiring and our 12V to 5V USB adapter and 3D printed tablet frames.

Prefer to keep the traditional keypads? Shop our Interface Kit that allows parallel connection with your existing system.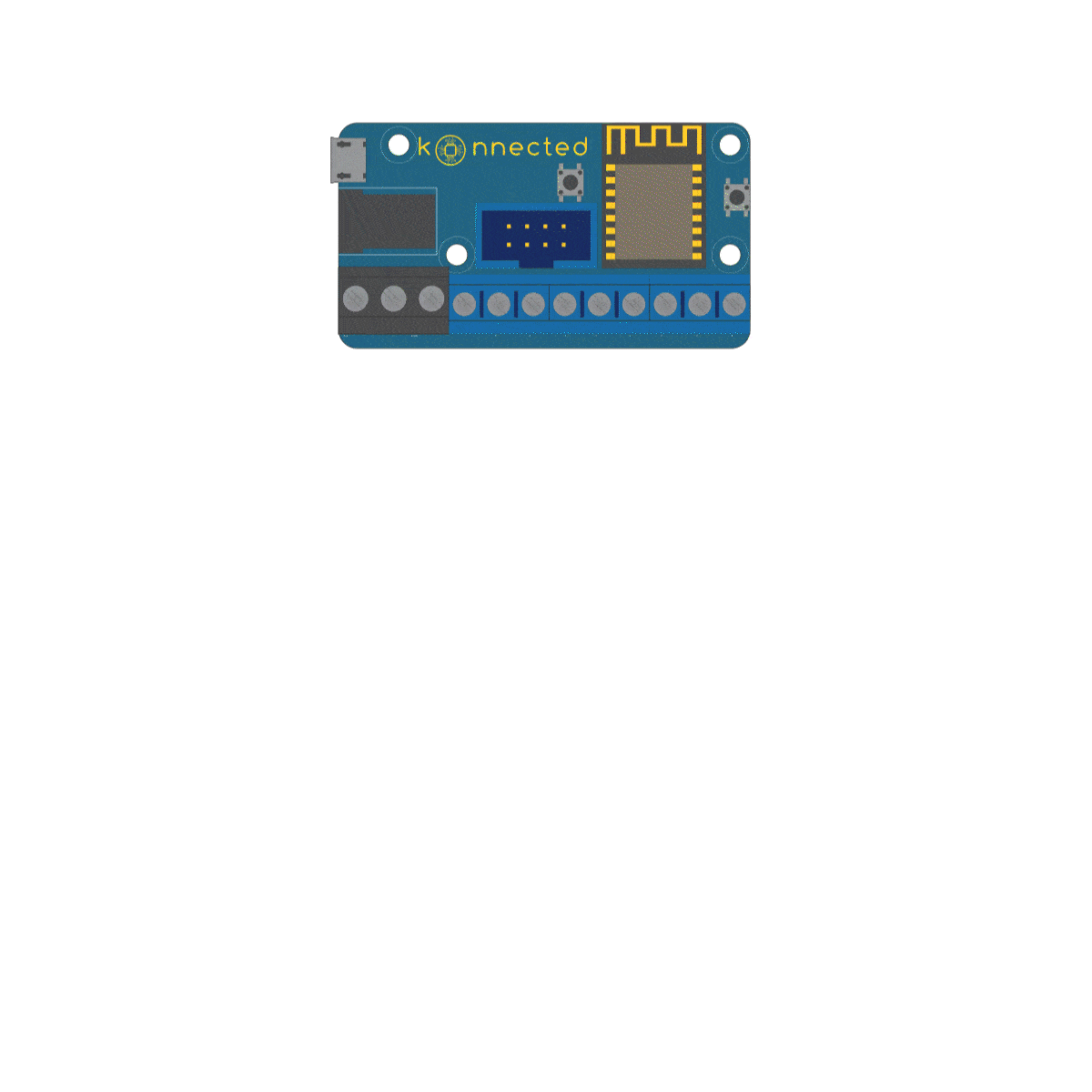 LOCAL AND/OR CLOUD BASED AUTOMATION
Konnected supports LAN-based local home automation or convenient & secure cloud based platforms via our free to use Konnected Cloud service. Learn more about cloud vs. local on the blog
Local Platforms
Self managed
Private
Flexible
LEADING SMART HOME INTEGRATIONS

Monitor and control smart devices and home appliances wherever you are.

Integrate your smart home monitoring with Alexa-enabled devices.

The open-source home automation platform that focuses on privacy and local control.

Compatible with popular home automation devices, may include a variety of built-in apps.

Community-oriented, native, powerful and beginner-friendly.

A universal integration platform for all things around home automation.

A general framework for controlling an IoT device from mobile, using your JavaScript files.

Control MQTT Enabled smart devices.
What Konnected Users Are Saying
"My experience with the store & setting up the Konnected panel was really easy to accomplish! Plan to purchase more & add-on's!"

"The instructions and videos guide you through the connections to the alarm panel, setting up the Konnected app, and then getting it into the SmartThings app. Worked right away out of the box."

"OMG, this piece of kit is outstanding and works seamlessly. It kinda pays for itself too because I've made some of my Smart Motion Sensors redundant and then sold them on eBay."
TECHNICAL SPECS
Wireless:
802.11b/g/n 2.4 GHz
Microcontroller:
ESP8266
Inputs/Outputs:
Up to 6 NC/NO sensor loop inputs
Zones 1-5 may also be used for 3.3V signal outputs
Dedicated siren/strobe switch (alarm board only)
Dedicated 3.3V signal output (add-on board only)
Expansion port:
Works with the Konnected Alarm Panel INTERFACE module
Power Requirements:
200mA @ 12VDC max power consumption (device only)
Total power consumption varies depending on attached auxiliary powered devices and siren.
DC barrel jack connector 5.5mm outer x 2.1mm inner (center positive)
Auxiliary Power Output:
Same as input power source (12VDC)
Siren/Strobe Output (Alarm board only):
Works with most 12V alarm sirens up to 2A
Signal Output (Add-on board only):
5VDC supply (max 500mA)
3.3V output for switching a relay or piezo buzzer
Micro-USB port:
Upgradable and serviceable via USB connection to a computer
Warranty:
1-year limited warranty
Physical:
63mm L x 35mm W x 19mm H
Weight: 24g
Mounting holes: 3mm diameter (x 4)
Designed in the USA 
Assembled in North America from foreign sourced components
FREQUENTLY ASKED QUESTIONS
A zone in the context of alarm systems refers to a sensor or a group of sensors. Each zone in your system will show up in your smart home app as an individual device that you can name. For example, a single door sensor wired to a zone may be named "Front Door". You may also have a group of windows wired together on one zone and call it "Downstairs Windows". A good place to start is by looking at your existing alarm system and count the number of zones. Often the keypad from your old system will have a zone listing either handwritten on a label, or programmed into the display.
Conversion kits work as a replacement to your traditional alarm panel or an addition to your new-pre wired home. Interface kits allow you to keep the traditional alarm panel and add smart home functionality to it.
If you'd like to keep using your existing keypad, make sure to purchase one of our Interface Kits (instead of the Conversion Kit). Interface Kits allow you to keep the functionality of your traditional keypad, while adding the all-new smart home possibilities controlled from your phone, tablet or computer. If you want to stop using your keypad and monitor your home only with smart home platforms, choose any of the Conversion Kits. No matter your requirements, Konnected has a solution for you.
Customer Reviews
Write a Review
Ask a Question
Filter Reviews:
Konnected
system
Smartthings
videos
Nate
sensors
Instructions
alarm
setup
board
01 Dec 2023
Jesus S.

United States
Great system!!!
I was skeptical based on some of the reviews. After the installation, I was surprised about its performance. It was the perfect solution for the outdated alarm system in my first home.
01 Dec 2023
Mike R.

United States
Repeat buyer
Great product. My original installation is still running great after 3 years. Now installing into another home.
05 Aug 2023
Stephen W.

United States
Konnected alarm conversion
Seamless experience…. Connected wires and app was a breeze in getting items set up for SmartThings. Would highly recommend for anyone wanting to convert their existing wired alarm to a smart wireless solution.
15 Jul 2023
Michael H.

United States
Great little piece of hardware, helpful docs
Great little piece of hardware for upgrading an old VISTA system. Docs were mostly helpful, including one dedicated to a VISTA board. I appreciated the YouTube video walkthroughs, too. I ended up not using it in the end because I couldn't find all the wiring in my house for some of our sensors, like the glass break sensors. So, if the previous owners hadn't cut or stripped out old wiring, I'd definitely be using this today. I may hook it back up just for the siren one day.
04 Jul 2023
Michael G.

United States
My Second Panel
Works great. Easy setup.
20 Jun 2023
Chad D.

United States
Innovative alarm replacement that's truly customizable
This is the perfect solution for those looking for a customizable replacement for wired alarm systems. I'm currently using it with Home Assistant as I do not like the idea of public cloud companies having access to my devices. This device is highly capable, though can be a bit finicky, so you can't be afraid to get your hands dirty with troubleshooting - though it does appear to be solid once a good configuration is applied. There are tons of helpful videos from Nate and others to give you ideas along the way.
08 Jun 2023
Christopher S.

United States
Perfect product for existing wired alarm systems
I recently purchased a home that had an existing wired alarm system from the mid 90's. The previous owner had a panel that was monitored by a large monitoring company that I had experience with before and did not want to spend a fortune on new equipment and wanted something that could use the existing wired sensors. I came across Konnected online and read their reviews and watched their tutorials and was very impressed with what I saw. I ordered a 6 Zone Alarm Panel with Siren Output and a 6 Zone Alarm Add-on Panel to accommodate the 12 zone system wiring I had in place. The Konnected package arrived and included everything I needed to perform the install. The Konnected panels are small and easy to place in an existing cabinet. I started with getting the panels on my wifi via the Konnected app. Next I installed Smart Things and began to setup zones. I setup my system to interface with Amazon Alexa and it works perfectly. Now I have every window and door that was previously wired online and monitored via Smart Things and Alexa. I get announcements over my system, messages to my phone and/or emails about any zone opening. Super easy and best of all monitored completely free and got to use my existing wiring. Konnected has developed a great product and fills a much needed market. In addition to the Konnected panels, I purchased the Konnected 7800mAh backup battery to place in my panel box to keep it powered in the event of a power outage and it also works great! If you are thinking of a way to use your existing hard wired alarm system sensors and want to customize it to what you need for a great price, then look no further than Konnected.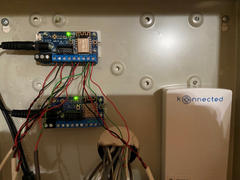 03 May 2023
Whitney

United States
Perfect solution for pool door alarms
This product does exactly what it says it will do - converted my old wired alarm system to a smart home. I was looking for a solution for a pool alarm on every exterior door and this was a very cost effective solution for me. Connects directly to Alexa and through my echo dot I programmed to say "Living room door open, please check the pool" each time that door opens. I did this through the Alexa app for each exterior door, saving me hundreds of dollars and aesthetically is much more pleasing to the eye to seeing nothing but the door and not any affixed single door alarm box. I added some chimes and repeated the message for 30 seconds to satisfy the local requirements. I'm not an electrician or any type of contractor, but do enjoy DIY projects and this was easily doable for me. The online instructions were easy to follow. I did have a couple of dud existing door and window sensors that were installed when my house was built 20 years ago. I ordered replacements on amazon for under $10 and switched out the bad ones. Easy peasy. :)
01 May 2023
Jerry K.

United States
Third timer buyer - Works Great!
Love the new version.
14 Apr 2023
Ethan P.

United States
08 Apr 2023
David D.

United States
Confusing set-up, but works well afterward
I had some difficulty setting up the device. When configuring it for my wifi access point, the blue light stopped blinking. Since it didn't continue in the Android app wizard, I assumed it had gotten confused. I thought I had to flash the firmware again. I went through that process multiple times, with different access points, and it did the same thing. Apparently the blue blinking light is *supposed* to stop blinking once it connects to the access point. For whatever reason, it couldn't communicate properly with the app. I finally found a way, by installing drivers on my Microsoft Windows computer and connecting to the device over USB, to get to a terminal session and see the IP address and port that the device was operating on. I then programmed the Android app to use that IP address and everything worked as it should. I've integrated it with SmartThings and it worked. I intend to integrate it with Home Assistant when I get some time. I haven't tried adding a buzzer or siren to it yet. I am using it with a sewer backup sensor.
07 Apr 2023
Markus S.

United States
Works well giving new life to my old DSC system
Had the typical 1990's DSC alarm that relied on a landline I no longer have. I swapped out the brains with the 6-zone Konnected kit and it is working well. In place of the keypad I put a blank wall outlet panel with the piezo buzzer and connected it to the alarm panel with the old keypad wires.
28 Mar 2023
Alex M.

United Kingdom
Excellent concept. Can be improved.
Great little system. Could do with more/better info on the control of the unit (how the functions work in each type of app used. Also, could do with a way of connecting an external WiFi antenna. My old alarm box is metal and I hadn't considered this prior to purchase. Have had to purchase a new plastic enclosure to allow for the signal. In retrospect, should have bought the pro system.
17 Feb 2023
Jerome R.

United States
Install
The install to connect existing sensors was very straightforward but the instructions need to clarify the screws do not alternate hot and ground. Some zones share a ground screw on the bottom of the card. First time connecting the wires I ran out of screws connecting the wires for the six zones and had to go back and double up the grounds.
19 Jan 2023
Terry A.

United States
Love the self monitoring
My old system was 6 zones. Now I have 11 zones. It was very easy to take out the old board and install the 2 new ones. I really like the idea of more separate zones. One thing I did not like was both motion sensors were on the same zone, now they are split up. My only complaint is I wish it was a lot easier to integrate into my smart home system.
17 Jan 2023
Jomo T.

United States
Excellent Product
Bought a fixme upper that has a DSC panel and all windows and doors monitored with internal motion sensors. It no security wiring knowledge and YouTube I was able to add these sensors to Home Assistant and enhance my automation.